Fresh erosion in Malda
Water gobbles 30 homes in hours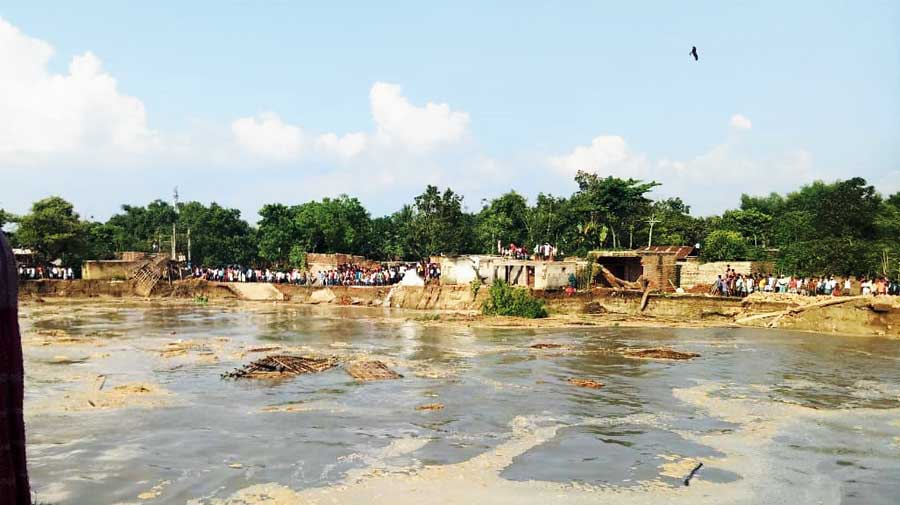 Ganga submerges land at Durgamtola village in Malda district's Baishnabnagar block on Thursday.
Soumya De Sarkar
---
Malda
|
Published 04.09.20, 02:05 AM
|
---
A fresh bout of erosion by the Ganga caused havoc at Birnagar-I panchayat in Kaliachak-III block of Malda on Thursday, gobbling nearly 30 houses in a couple of hours since the afternoon.
The erosion, which again turned acute after a respite of three days, worsened the situation in the area as the river also swallowed a 250-metre stretch of concrete road, to the dismay of the residents of Durgaramtola village.
Alarmed by the expanding erosion, officials of district administration, who had earlier spoken with the Farakka Barrage Project (FBP) Authority — responsible for protection work in areas where the river is engulfing land on its left bank — are now sending a letter to them on the gravity of the situation.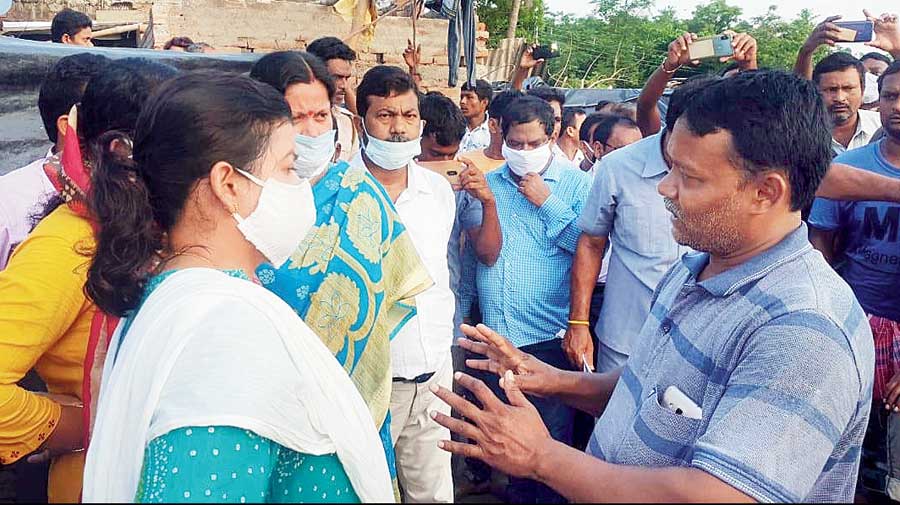 The state irrigation department will send a separate letter to FBP authorities, said sources.
Villagers said people who lost their houses on Thursday are mostly migrant workers at Durgaramtola village. Many of these families are in economic distress for the past few months as workers are back home and jobless amid the pandemic-induced lockdown. Now, they are homeless too.  
"We were resting at home when suddenly erosion started in the afternoon. Before we could do anything, nearly 30 houses were swallowed by water. People could shift only some of their belongings, the rest were submerged," said resident Birbal Mandal.
Manik Mandal, a member of the panchayat was seen standing helplessly with neighbours Serajul Sheikh, Kalu Sheikh, Subhash Mandal and others.
"Nearly 200 families have started dismantling their houses to shift to nearby mango orchards overnight," the panchayat member said.
"The damage to the road has caused further trouble as Durgaramtola is now inaccessible by even a two-wheeler," schoolteacher Mohammed Jiaul Haque said.
Rajarshi Mitra, the district magistrate of Malda, said: "The block administration has been directed to adopt all possible measures to cope with the situation. Preparations for rehabilitation of the erosion victims are underway. We already had a discussion over the situation with FBP authorities. Now, a letter would be sent to them on Friday, detailing the situation," he said.
Mausam Benazir Noor, Rajya Sabha MP, and the district Trinamul chief of Malda visited the affected areas with some party leaders on Thursday. "It is the barrage authorities who are responsible for this situation. We will raise the issue at necessary quarters and also take up political activities in protest," said Noor.
Erosion by the Ganga in Kaliachak-III block started in June-end when stretches of farmland and some homes were lost at Chak-Bahadurpur. The irrigation department adopted preventive steps. In August-end, erosion was seen in China Bazar and Sarkarpara areas.