Flood of irrigation funds in pipeline
Despite submission of detailed project reports, the demand for funds from the department had been gathering dust for the last few months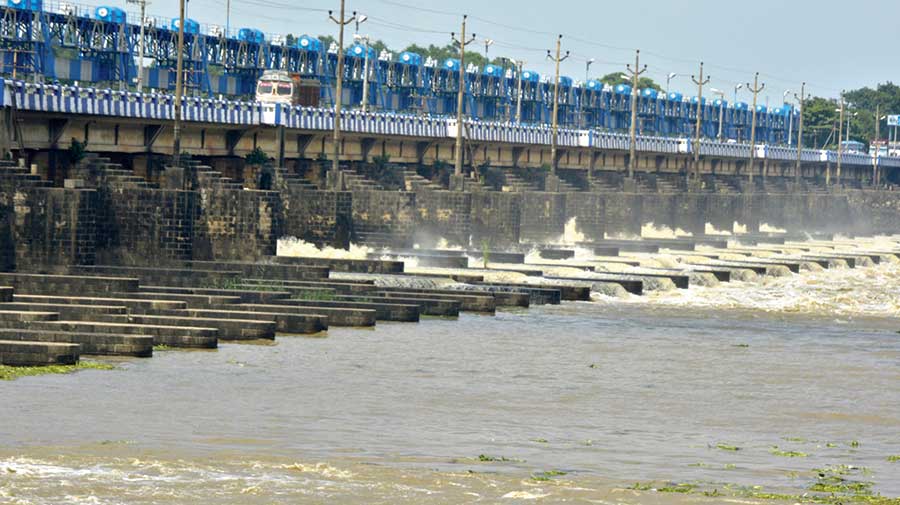 ---
|
Calcutta
|
Published 02.01.21, 03:02 AM
---
The Bengal government has released Rs 150 crore for carrying out important irrigation projects and more funds are being lined up for the irrigation department amid murmurs that Nabanna is planning to give special emphasis to the department that was helmed by Suvendu Adhikari, who joined the BJP last month.
Despite submission of detailed project reports, the demand for funds from the department had been gathering dust for the last few months.
"A sum of Rs 150 crore was released to undertake pending projects of the irrigation department a few days ago. The department has also been assured that soon, another tranche of Rs 800 crore will be released to take up the pending projects," said a senior government official.
According to sources, the irrigation department had put forward files of several projects, including strengthening of Durgapur Barrage and repair and restoration of its sluice gates, a few months ago. Moreover, files of projects like strengthening of some river embankments in Sunderbans and restoration of Muriganga in North 24-Parganas were also sent for finance department's approval.
"According to a rough estimate, projects worth Rs 200 crore were pending for approval from the finance department. The department had put forward the files in the midst of the Covid-19 pandemic considering the importance of the projects. Finally, the majority of the projects were approved a few days ago with an assurance that more funds would be allotted soon," said a source.
Sources said files were cleared a few days ago amid murmurs that the delay was because of the uncertainty over Suvendu's political future. The former minister, after months of bargaining with the Trinamul top brass, severed ties with the party on December 17 after he had submitted his resignation as a Trinamul MLA from Nandigram. Prior to this, Suvendu had resigned as a minister on November 27.
These days, the irrigation department reports to the chief minister after she decided to hold the charge following Suvendu's resignation.
A senior Nabanna official, however, said release of funds for the irrigation department had no connection with the resignation of Suvendu from the helm of the department.
"No projects, except some urgent ones, were being cleared till the end of November because of the crisis of funds. The finance department relaxed its austerity drive on December 21 and since then, funds are being allotted for various projects. It has no connection with the resignation of the minister," the official explained.
But some officials aware of the developments said that during the pandemic, funds were being allotted for some departments, including municipal affairs and urban development department.
"But projects of the irrigation department are also important and time bound as these have to be completed before the monsoon. It is still not clear whether the delay would hit the projects as most of the projects would require six to eight months to get completed," said a source.