Fair closed in wake of festival tragedy
A team of Panihati municipality came to the fair premise on Monday and made the announcement on behalf of the district administration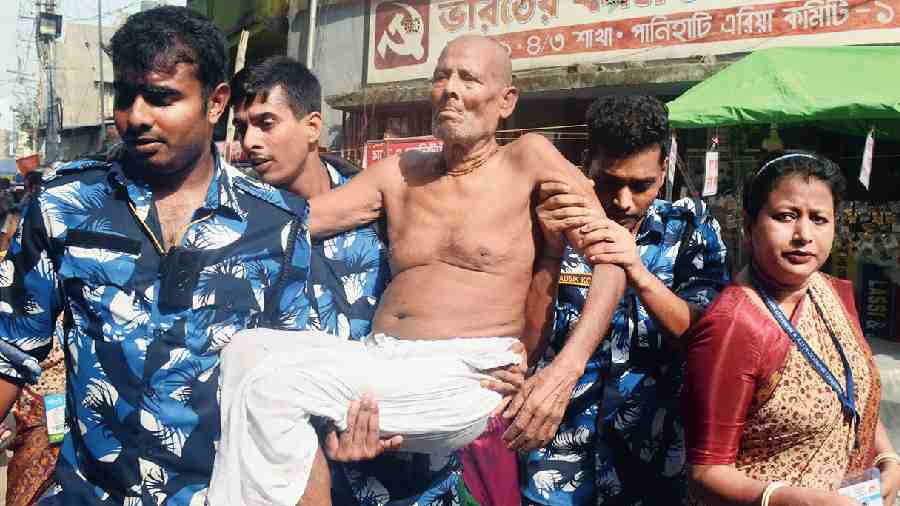 An elderly devotee being evacuated by volunteers from the Iskcon temple at Panihati, North 24-Parganas, on Sunday.
File photo
---
Calcutta
|
Published 14.06.22, 02:01 AM
|
---
The district administration in North 24-Parganas on Monday announced the closure of the sevenday religious fair associated with the Danda Mahotsava in Panihati, where three persons died and many more fell ill owing to excessive heat coupled with the rush of devotees on Sunday afternoon.
A team of Panihati municipality came to the fair premise on Monday and made the announcement on behalf of the district administration.
According to police and district administration sources, around 10 lakh devotees gathered to offer prayers at the open space in front of three main temples, including an Iskcon temple, and other smaller ones in the Mahotsava Ghat area of Panihati on the occasion of Danda Mahotsav also known as Chira Dadhi Utsav, a 500yearold festival of Vaishnav faith is associated with legends of Sri Chaitanya and his disciple Raghunath Das.
The fair also started on Sunday. Hence, it was closed on its second day.
The huge gathering as well as people clogging narrow approach lanes threw crowd management arrangements off track.
Three devotees, all senior citizens, were declared dead at a nearby hospital.
While people were evacuated following the tragedy on Sunday, the district administration on Monday closed the fair for this year to avoid further accidents.
Bankubehari Mukhopadhyay, one of the priests, however blamed police for failing to manage the crowd on Sunday.
 "The huge crowd and police failure in managing it led to the accident on Sunday. Hope police take lessons from the incident,' he said.
Prabir Acharya, a councillor of ward 4 of Panihati municipality, also a member of the fair committee, said: "We decided to close the fair in public interest this year to avoid any possible accident. If the fair was allowed to continue, the possibility of a fresh rush of devotees could not have been ruled out."
The administration, however, allowed individuals to have a "darshan" of the deities from a distance under police protection. But no one was allowed to enter any of the three temple premises.
The district administration on Monday also handed over cheques of Rs 2 lakh each to the next to the kin of the three deceased persons.