Erosion leaves villagers homeless in Malda district
Residents call it 'unbelievable' and a fresh blow to migrant workers who returned and are jobless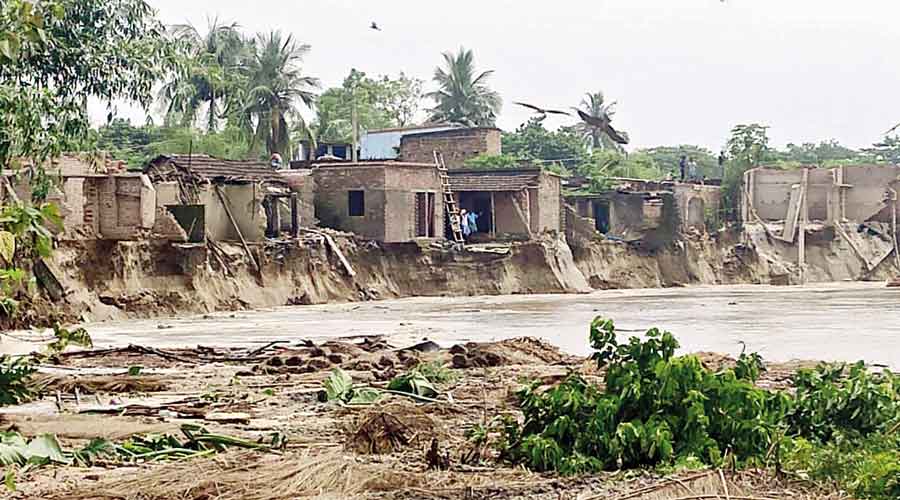 Ganga erodes land and homes at a village in Malda on Sunday morning
Soumya De Sarkar
---
Malda
|
Published 31.08.20, 01:55 AM
|
---
River bank erosion along the Ganga in parts of Malda district turned acute on Sunday, prompting hundreds to vacate homes.
The river is fast submerging chunks of land in two villages on its left banks — China Bazaar and Sarkarpara — in Kaliachak-III block since Sunday morning, residents said.  
Manik Mandal, an elected panchayat representative, called it "unbelievable". "The river is guzzling homes, fields and whatever else there is, people are dismantling homes to shift to safer places with their belongings. If this persists, we doubt how much land these two villages will have left." 
Schoolteacher Jaiul Haque called this a fresh blow for migrant workers. "Many had returned home (in the early days of the Covid lockdown) jobless, now they are homeless."
Though the district administration and state irrigation department officials conceded the severity of the situation, they said they could not do much as the maintenance of the riverbank in these villages falls under the Farakka Barrage Project (FBP) Authority's ambit. However, Malda district magistrate Rajarshi Mitra spoke to Farakka barrage authorities on the situation, sources said. 
"Around 60-odd families bore the brunt of the erosion. They have been shifted to safer places and given relief," said Arnab Chatterjee, additional district magistrate (development) of Malda.
State irrigation officials have also given a report to the administration. "Though the area is not within our jurisdiction, we are keeping watch," said an executive engineer of the department.
Officials of the barrage authority refused to comment.
Sources said that after a major erosion in 2016 that damaged the home of Swadhin Sarkar, BJP MLA of Baishnabnagar, some jobs were undertaken in 2017 and 2018. 
"Since then, no major erosion in the area occurred. Now that it has been reported again, a team will make a spot assessment," said a source.
Youth Trinamul leaders of the district visited the affected villages, took photographs and recorded videos to send them to Youth Trinamul president and MP Abhishek Banerjee. 
"It is because of the indifference of the barrage authorities that people have become homeless. The river bed was not dredged for decades and no proper work was done to protect the banks. We have sought our youth president's permission to launch a movement against authorities," said Biswajit Mondal, a district Youth Trinamul leader.