Trinamul workers bank on central forces
East Midnapore TMC supporters seek paramilitary help to return home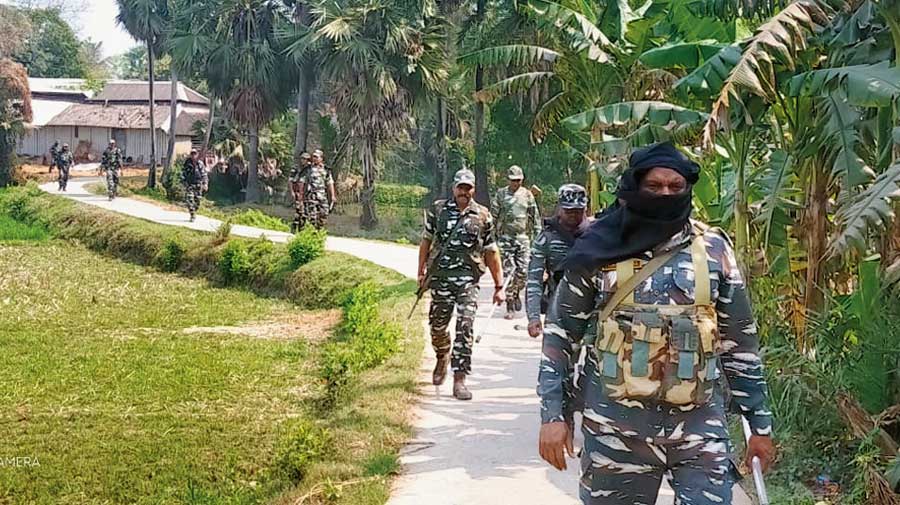 ---
---
Around 500 Trinamul Congress leaders and supporters, who have been rendered homeless in four blocks of East Midnapore following the outbreak of political clashes that coincided with former transport minister Suvendu Adhikari's switch to the BJP in December, are banking on the neutrality of central forces for their "ghar wapsi" ahead of the Assembly polls.
Sources said Trinamul workers in several parts of East Midnapore, including Bhupatinagar, Moyna, Khejuri and Potashpur, were living in "exile" for fear of political retribution from the BJP.
Several Trinamul leaders said as their multiple pleas to police to escort their men back home had fallen on deaf ears, they asked the district administration to use the central forces for the job.
"Around 500 leaders and supporters have fled homes because of political clashes. We are hopeful that with the arrival of the central forces, they will be able to return home," said Trinamul district coordinator Mahmud Hossain.
Trinamul leaders in the Bhaganwanpur block submitted a list of 42 supporters, including Arjunnagar panchayat chief Tanmay Pradhan, to Bhupati Nagar police station on Saturday seeking the help of central forces for their return home.
While Pradhan and a few others have been at their in-laws' homes for the past three months, most are said to have sent their children and wives away to relatives in Calcutta and elsewhere.
"We were forced to flee in the environment that ensued after Suvendu's defection. We feared for our safety and couldn't return home," said Pradhan, adding they had repeatedly appealed to the police for help but to no avail.
Subrata Malakar, block president in Moyna's Bakcha gram panchayat, said he and at least 100 others had fled their homes nearly a year back to avoid attacks from BJP workers.
The complaints of Trinamul workers who fled their homes have resurfaced in the midst of deployment of central forces in Bengal districts for pre-poll area domination. Sources said one company was already active in East Midnapore and four more would reach the district this week, reportedly for deployment at "250 more vulnerable" booths.
East Midnapore superintendent of police Praween Prakash on Tuesday said: "We have received some complaints of (Trinamul) workers willing to return home. We will investigate."
The BJP attributed Trinamul workers' flight to "intra-party rivalries". "It has got nothing to do with the BJP," said Contai district president Anup Chakraborty.
Till the 2019 Lok Sabha polls, it had been CPM supporters who begged the administration to facilitate their "ghar wapsi" in the district.
Ever since the land agitation of 2007, thousands of CPM workers and leaders, particularly in Khejuri and Nandigram, had to flee their homes following alleged attacks by Trinamul. Before every poll, the CPM would submit to the district administration a list of names of people wanting to return home. Ironically, this time the CPM has not submitted any such list while the ruling party is trying to get their men back home.
"They are simply reaping what they themselves sowed with their violent tactics over the past several years," said a CPM leader.
In several south Bengal districts, political parties are preparing lists of vulnerable areas and pockets where their supporters are facing trouble to campaign or write wall graffiti.
CPM leaders in Birbhum and East Burdwan said they had asked their local leaders to send name of the pockets and areas where they were facing threat and violence.
"We have a list of areas where our workers are being stopped from carrying out political activities. However, we are waiting for the election to be announced to take up the issue with the administration," said Apurba Chatterjee, a CPM leader in East Burdwan.
Personnel of central forces have started carrying out route marches in several districts, particularly in sensitive pockets.
"We are conducting route marches, along with police and central force personnel, in vulnerable pockets. If any political party comes to us with complaints, we will act accordingly," said Sukanta Saha, the subdivisional officer of Diamond Harbour in South 24-Parganas.
Sandip Nandi, BJP president in East Burdwan, said: "We have a list of allegations against several Trinamul leaders for spreading violence in the district. But we will list our complaints only with the Election Commission."