Doctors prescribe sleep hygiene at an interactive symposium in Calcutta
Phone, TV hamper sleep hormone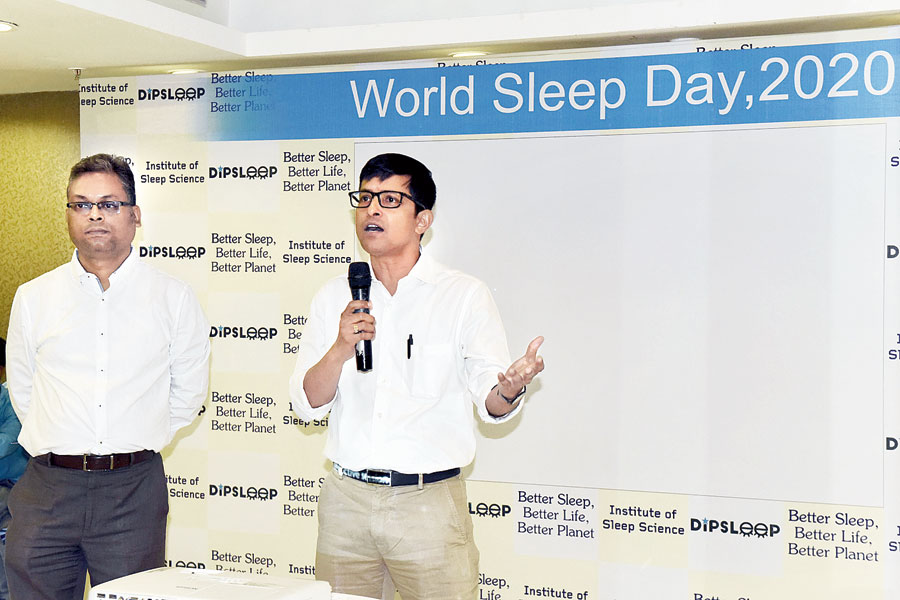 ---
|
Calcutta
|
Published 13.03.20, 09:09 PM
---
Do not check your phone when you are in bed because its blue light hampers the sleep hormone, doctors said on Thursday while discussing healthy sleep habits.
The doctors were speaking at an interactive symposium — organised by the Institute of Sleep Science, a state government-authorised sleep laboratory — in Salt Lake on the eve of World Sleep Day.
"The blue light of smartphones, laptops and television sets hampers the secretion of melatonin, a sleep hormone," Dipankar Datta, consultant ENT and sleep apnoea surgeon, said. "It gives the brain a signal that it is dark and time to go to sleep. But the blue light hampers with it in giving that signal."
Melatonin, though, does not have any role in the maintenance of sleep; it only provides the trigger to go to sleep, Datta said. "People, especially in countries like the US and the UK, have a false perception that melatonin capsules can be taken to compensate for the sleep. But that does not happen and its role is only to reset the biological clock of jet-lagged people or those whose work shifts change frequently."
Datta advised against "acclimatising" oneself with the bed before going to sleep. "If there is multiple exposure of the back to the bed, while eating, working on a laptop or watching television, then it will hamper the natural sleep process."
A sleep hygiene involves an alarm for "bedtime" and not one for waking up, according to doctors.
"We should allow ourselves to wake up in our natural cycle and only when we feel fresh. If the sleep is driven by an alarm clock, it leads to a sleep shortfall," Datta said.
Sticking to a sleep schedule, not lying in bed awake and not exercising too late in the day are the other sleep hygiene.
"The idea of the symposium, which we organise every year, is to create awareness on the importance of sleep and how our lifestyle impacts sleep," Somnath Maity, the director of the Institute of Sleep Science, said. "One has to be aware of the importance of sleep hygiene and try to go to sleep at the same time every day and have a soothing room temperature."
Consultant pulmonologist Arup Kumar Halder said deficiency in sleep led to early ageing. "It leads to diseases such as hypertension, diabetes and obesity at a young age. We don't take sleep history from people and even in the medical school curriculum there is just an hour of teaching on sleep."