DHR authorities to come up with more joyrides from October 1
They have lined up a three-week-long festival from mid-November to encourage conservation of the heritage railway and promote it among tourists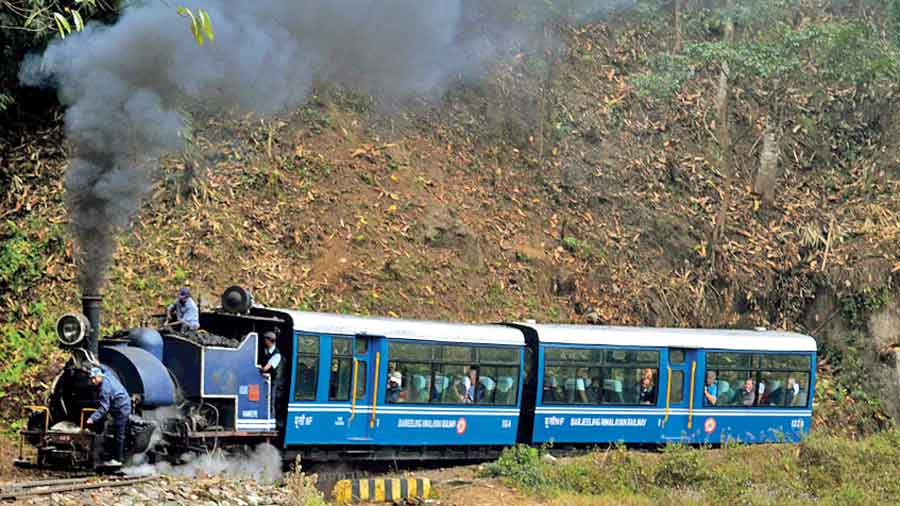 Senior officials of DHR and the Northeast Frontier Railway made the announcements here on Monday.
File photo
---
Siliguri
|
Published 28.09.21, 02:21 AM
|
---
Authorities of the Darjeeling Himalayan Railway (DHR), a Unesco recognised world heritage, have decided to come up with more joyrides from October 1.
Joyrides are the most popular toy train rides.
DHR authorities have also lined up a three-week-long festival from mid-November to encourage conservation of the heritage railway and promote it among tourists.
Senior officials of DHR and the Northeast Frontier Railway (NFR) made the announcements here on Monday.
"To ensure that more tourist enjoy joy rides between Darjeeling and Ghoom, it has been decided to engage more coaches and add more rides along the route from October 1," said Sanjay Chilwarwar, the additional divisional railway manager of the NFR in New Jalpaiguri.
As of now, there are three joy rides in steam locos and an equal number of rides in diesel locos.
"The plan is to introduce two more rides (one each in steam and diesel loco) and increase the number of coaches from two to four in each ride. This will help accommodate more tourists," said a railway official.
A couple of years back, for the first time in the history of DHR, the number of toy train passengers (joy rides and regular services) had crossed  one lakh in a year.
But last year, toy train services  stopped owing to the Covid-19 pandemic. This year, DHR resumed joy rides from August 16 and regular service between NJP and Darjeeling from August 25.
On the winter festival, railway officials said they had named the three-week event "Ghum Festival" after Ghoom, the highest railway station in India above sea level.
"Ghum Festival will commence on November 13 and continue till December 5. There will be visits to the heritage railway museum, Tiger Hill (the famed sunrise viewpoint), performances of local bank and folk groups, a trekathon, mountain biking and tour of local tea estates," said ADRM Chilwarwar.
Tourists can also enjoy an exhibition of local food, handloom and handicraft products.
"The idea is to popularise DHR and integrate locals and tourists so that they can contribute to its conservation and promotion," the railway official added.