Amphan relief deceit allegation
Money to rebuild homes went to ineligible applicants: Professor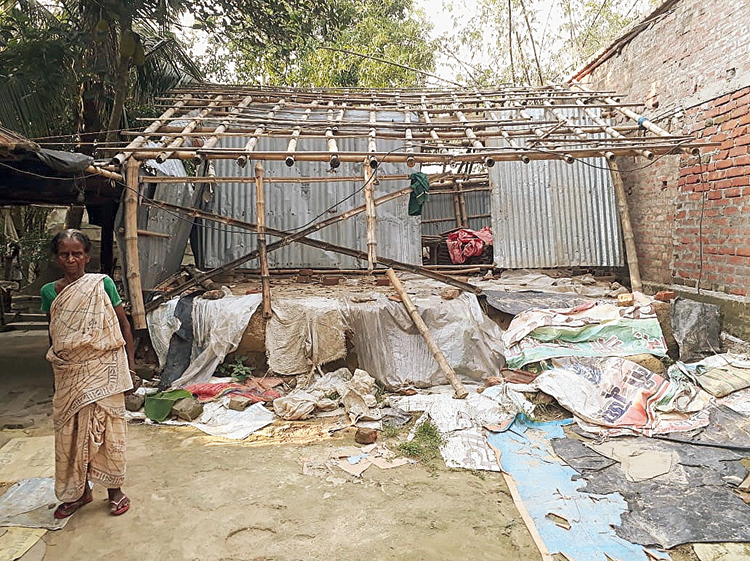 ---
|
Kalyani
|
Published 06.06.20, 11:39 PM
---
A university professor in Nadia district has alleged that 27 residents received government compensation to repair homes that were not damaged by Cyclone Amphan, prompting the district administration to order a probe.
Rabindra Bharati University professor and Madanpur resident Narayan Halder on June 2 lodged a complaint with the SDO and BDO of Kalyani that 27 residents of Madanpur's Majhida village who were ineligible for the State compensation had received Rs 20,000 each in their bank accounts. The probe started from June 4.
Halder told The Telegraph: "I was shocked to hear that some people badly hit by Amphan did not receive compensation and that their names were missing from the beneficiary list. On the other hand, names of those who live in double-storey buildings were on the list and they had received money too."
"I personally conducted a survey and found that people using their political clout got compensation," the professor said, adding that he then went to the SDO.
The professor said some Trinamul Congress leaders had threatened him on Friday. He has filed a complaint at Chakdah police station.
In order to rehabilitate those severely impacted by Amphan, the Bengal government had on May 29 announced a cyclone relief fund of Rs 6,250 crore. Chief minister Mamata Banerjee had announced that Rs 20,000 would be directly transferred to each of the 5 lakh families, spread over nine districts, who lost their homes.
The state government had granted Rs 48,000 per family for building their homes.
The rest Rs 28,000 would be part of their wages for 100 days of work under the MGNREGS, the state had said.
When The Telegraph visited Majhida village on Saturday, residents who said they suffered losses but were not included in the list of beneficiaries said they had been told that people living in double-storey concrete houses got compensation.
Kalyani Majhi, an elderly widow whose bamboo home collapsed in the cyclone, said she did not get any compensation. "I heard many of my rich neighbours got money for the damage. But I have been paid nothing," she said, standing in front of her damaged house.
A few steps away, Somenath Adhikary, who owns a double-storey house, said he had received compensation for damage to the structure. Somenath, the brother of local panchayat member and Trinamul leader Bappa Adhikary, said: "This is government money, I have not cheated anybody."
Another resident said panchayat member Pabitra Santra, who also owns a double-storey house, had received compensation. Santra said: "I appealed for compensation like others, the government approved it. I have done nothing wrong."
Senior Trinamul leader and Nadia zilla parishad member Rupali Saha said: "A detailed probe will prove who was responsible."
Gram panchayat pradhan Kumud Sarkar was not available for comment.
A source in the district administration said that the list of beneficiaries that should have been prepared by the officials of the block administration was made by panchayat authorities.
"As a result, many of the persons listed as beneficiaries are not genuine victims of Amphan," an officer of Nadia administration said. "Instructions have been sent to respective bank authorities to suspend transactions of those bank accounts," he added.
Kalyani sub-divisional officer Dhiman Barui did not divulge details of the probe.
On Saturday, leaders of the Left and the BJP complained to a visiting central team that "compensation money was being usurped by Trinamul leaders and their relatives".