Showcause slapped on 200 with let-off rider
Trinamul acts on party men for cornering Amphan dole
Wrongful compensation attributed to 'sheer volume of work'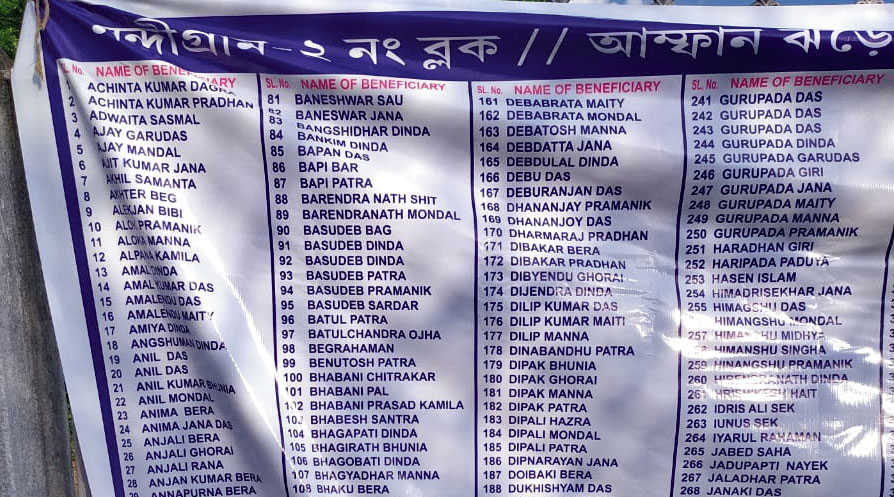 ---
---
The ruling Trinamul Congress on Friday issued showcause notices to at least 200 of its leaders and workers at the panchayat level in Nandigram-I and II blocks in East Midnapore, asking them to explain within seven days why their names were on the list of Cyclone Amphan beneficiaries.
Trinamul's move comes amid a state-wide furore over alleged irregularities in drafting of the lists of beneficiaries at panchayat and block levels for the state government's Rs 20,000 home-repair dole.
"The 200 showcaused persons include five pradhans and 35 elected members in addition to local leaders. If these persons cannot provide a satisfactory response within a week, we will take legal action in addition to getting the money back. If it was unintentional, we will take the refund and let the people off with a warning," said Trinamul Nandigram block president Meghnad Pal.
Nandigram, in particular, has witnessed protests and rallies led by Opposition parties demanding probe into the alleged role of Trinamul workers in siphoning off government dole.
Government officials said the rural bodies under scanner included 17 gram panchayats in Nandigram, five of which were being thoroughly investigated following major complaints. These include Bhekutia, Kendamari, Samsabad, Kalicharanpur and Amdabad II.
"The list of showcaused persons includes panchayat pradhans, panchayat samiti members, booth presidents and ordinary members, all of whose names — along with family members — were on beneficiary lists even though their homes did not suffer damage when Cyclone Amphan hit Bengal on May 20," said a Trinamul leader. "Investigations into wrongful compensations are on."
Chief minister Mamata Banerjee had instructed the state secretariat to look directly into the complaints of irregularities after receiving repeated reports of Opposition-led unrest against Trinamul's panchayat leaders in the Amphan-hit areas.
Following Mamata's directive, block offices in Nandigram have been working overtime to review beneficiary lists and weed out instances of fraud.
Protests in front of panchayat offices, including those at Amdabad and Bhekutia, erupted earlier this week. On Thursday, a group of 1,000 villagers staged a protest at the Hazrakata canal bridge which had been infamously destroyed during the 2007 land agitations.
"We have received the showcause and will respond to our party seniors," said Bhekutia pradhan Mamata Das, whose administrative body faces additional scrutiny following several complaints against a particular member.
Das, however, attributed the instances of wrongful Amphan compensation to the "sheer volume of work" involved in drafting of the lists within a short time, and added that they would get the money back from those who did not need it.
BJP area secretary Madhab Bhunia dismissed these "stories of overwork". "The Trinamul is busy spinning stories now. They did all these things deliberately," he said. "We demand legal action against the wrongdoers," he added.