Covid-19 travel restrictions: Double dose or negative test must for entry from Assam
Any resident of Bengal, who had been to the neighbouring state and were returning home, had to follow the same guidelines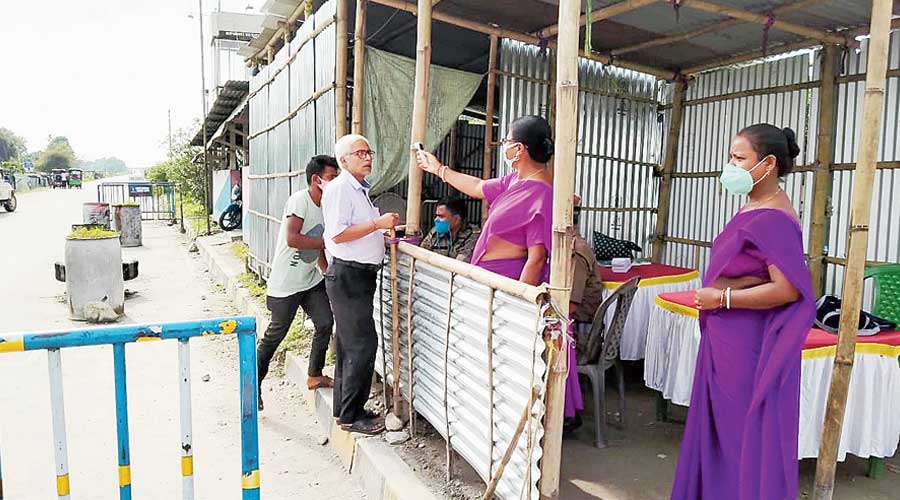 A health worker screens a person at the Bengal-Assam border in Pakhriguri, Alipurduar district, on Monday.
Picture by Anirban Choudhury
---
Siliguri, Alipurduar
|
Published 20.07.21, 02:42 AM
|
---
The Bengal health department and the administrations of Alipurduar and Cooch Behar districts which share borders with Assam imposed restrictions on entry of people from the neighbouring state from Monday because of a surge in Covid-19 cases in northeastern states.
"Anybody entering Bengal from Assam has to be either fully vaccinated or will have to carry an RT-PCR negative report issued not more than 72 hours ahead of his/her travel. At the border check-post, they will have to furnish the certificate of vaccination or a copy of the report to enter Bengal. The decision has been made to control the Covid-19 situation and because of the apprehension of a third wave," said Girish Chandra Bera, the chief medical officer of health of Alipurduar.
On Monday, health department staff and police were deputed at Pakhriguri in the Kumargram block of Alipurduar and at Baxirhat in the Tufanganj 2 block of Cooch Behar. Both Pakhriguri and Baxirhat share borders with Anirban Choudhury
While the health staff checked those entering Bengal from Assam, the police examined their vaccination certificates and RT-PCR reports.
Aminur Rehman, who was on his way from Guwahati to Siliguri with three friends, had to return because they could not produce either of the documents.
"All of us have taken the first dose of the vaccine and were going to Siliguri. But we were told about the restrictions at the border and asked to come with RT-PCR negative reports. We are returning to Guwahati now," said Aminur.
But Manish Kumar and his wife could easily cross the border. They were from Guwahati and headed for Siliguri. "Both of them are fully vaccinated and carried the certificates. They were allowed to head for their destination," said a policeman at the border.
While Assam logs around 17,00 infections a day on an average, Manipur records close to 1,000 new cases everyday.
Sources said any resident of Bengal, who had been to Assam and were returning home, had to follow the same guidelines.
"If he cannot produce either of the documents (vaccination certificate or RT-PCR negative report), he will be sent to a quarantine centre for at least seven days," said an official.
Tufanganj 2 block development officer Prasenjit Kundu said: "We are allowing people to enter Bengal according to the guidelines. There are many local people who cross over to Assam every day for work. We are conducting rapid antigen tests on a regular basis when they are returning."
Sushanta Roy, the officer on special duty (OSD) of the state health department deputed for north Bengal, held a meeting with officials of Darjeeling and Kalimpong districts in Siliguri on Monday on the possible third wave of Covid-19.
"It has been decided that in Siliguri, vaccination camps will be organised at the ward level. On each day, camps would be held in three wards of the city where 500 doses of vaccine would be available. While 400 doses would be administered to people in general, 100 doses would be kept for mothers who have children aged 12 years or less," said Roy.
He also mentioned that checkpoints would be raised at the entry points of the district so that people coming from outside could be checked.
"People coming from outside should have a negative RT-PCR test report or two doses of vaccination. We also have plans to start rapid antigen tests at these points so that people tested negative can enter the districts," the OSD added.