Virus scare shuts Victoria, museum
The Victoria Memorial garden will remain open, though, 'for now'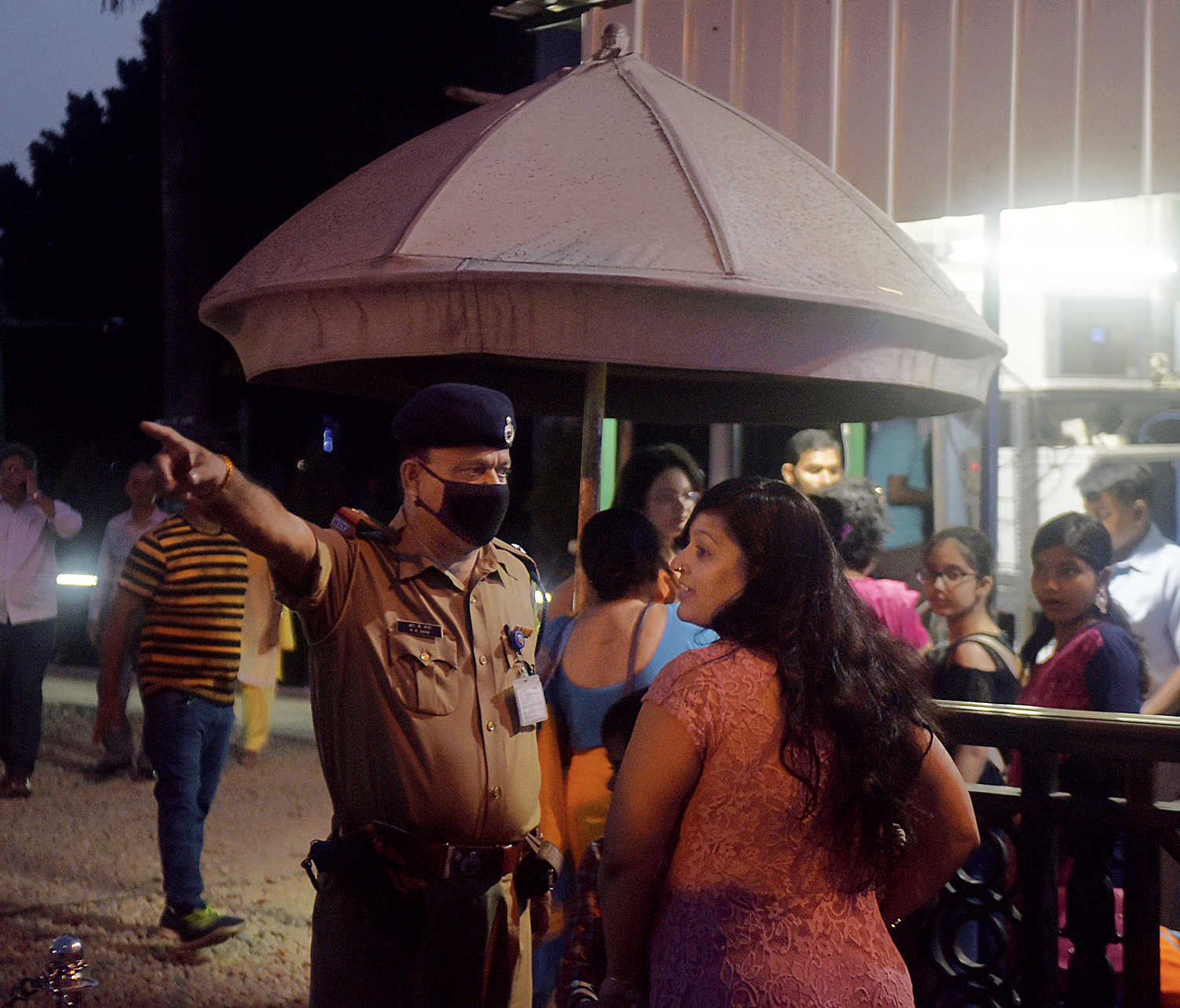 A policeman in a mask speaks to a visitor at Victoria Memorial on Saturday evening.
Picture by Bishwarup Dutta
---
Calcutta
|
Published 14.03.20, 08:43 PM
|
---
Victoria Memorial and Indian Museum will remain closed to public from Sunday to March 31 because of the coronavirus scare.
Both places attract a heavy footfall at weekends. While the museum has a footfall of 4,500 on Sundays, Victoria Memorial has 12,000-13,000 on Sundays.
"The health ministry issued an advisory to avoid mass gatherings two to three days back. Based on that advisory, we have decided to keep the museum closed till March 31," Arijit Dutta Choudhury, director-in-charge, Indian Museum, said.
"The museum is with the culture ministry, which has advised us on similar lines. This is a precautionary measure and we will periodically review the situation."
The Victoria Memorial garden will remain open, though, "for now".
"We had stopped public programmes following the health ministry's advisory on avoiding public gatherings. A talk on mica paintings scheduled on March 13 was postponed because of that. But the galleries inside Victoria Memorial were still open to public," curator Jayanta Sengupta said.
"On March 13, I wrote to the governor, who is a trustee of Victoria Memorial, and the culture ministry, seeking permission to close the museum because we have a high number of visitors in a constricted space. There is an ongoing exhibition on the Jallianwala Bagh. There is also manual frisking by CISF personnel. All this together was not conducive to adhering to sanitised conditions and practices," Sengupta said.
"So, in response to my letter the governor, who is the chairman of the board of trustees of Victoria, and the culture ministry gave permission to keep Victoria Memorial closed till further notice."
The garden, open for now, might be closed "if the situation demands".
At Taj Mahal, visitors have to go through thermal screening. "A district medical team carries out the thermal screening there... we do not have the scope to do so here. So, it is better to err on the side of caution," he said.
The Acharya Jagadish Chandra Bose Indian Botanic Garden will remain open. Garden authorities are waiting for a directive from the environment ministry.
"We will close the garden once we receive a message from the ministry," an official said. The garden receives more than 3,000 visitors on Sundays, but "with schools and colleges closed, the number will go down automatically", an official said.