Liquor sales low, dry days for state coffers
Excise revenues dragged down by a third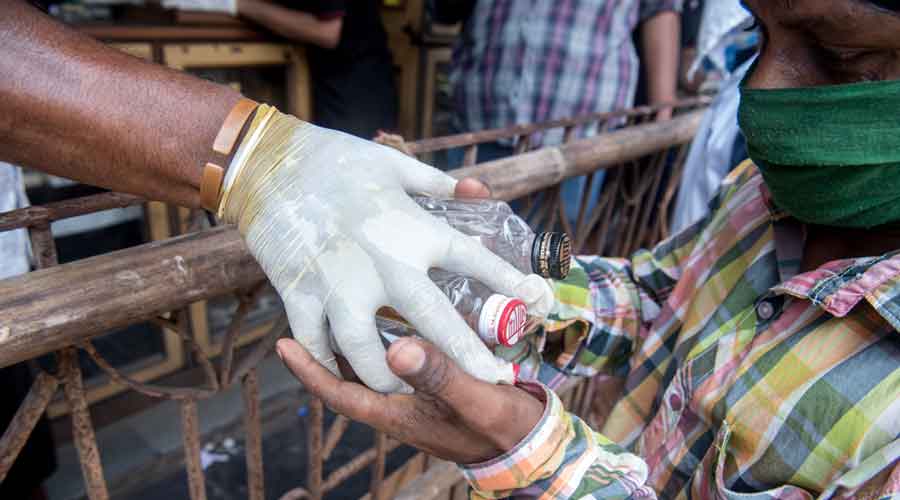 "There are chances that consumers of these items are shifting to cheaper hooch," a source said
Shutterstock
---
Calcutta
|
Published 12.07.20, 01:22 AM
|
---
The sale of liquor has dropped drastically in Bengal ever since liquor stores were allowed to reopen in May first week after 40 days of the Covid-induced lockdown.
Low sales have dragged excise revenues down by a third.
"There was much hype when the liquor off shops (where customers buy liquor and consume elsewhere) were allowed to open two months ago. But it did not help the state coffers as much as was expected. The state is generating only around Rs 350 crore a month from excise in the past two months, far lower than the normal pre-lockdown average of around Rs 950 crore," said a senior bureaucrat.
The reasons for this slide are many, said stakeholders.
First, there is a drastic drop in sales of low-end foreign liquor and country spirits, which account for nearly 50 per cent of excise revenue.
"Sale of low-end foreign liquor and country spirits is down drastically...There are chances that consumers of these items are shifting to cheaper hooch," a source said. Second, 30 per cent extra sales tax slapped on liquor before off-shops were allowed to open could have discouraged customers. "All liquor variants are now costlier," said an official. Third, some excise department officials felt that as the bars and on-shops (where liquor can be drunk on the premises) were not allowed yet, drop in sales was inevitable.
These apart, shops in containment zones are closed.
Senior finance department officials said that the the drop in excise collection is a big blow to the cash-strapped Bengal government. "We have started generating more revenue from stamps and registration fees in the past few months since e-registration was allowed during the lockdown," said an official.
Finance department officials said Bengal generated about 40 per cent of the expected revenue generation of Rs 5,500 crore a month since May, which had fallen to only a few hundred crores in April.
The financial problem of the state, sources said, has worsened over the unavailability of funds from Delhi.
"We received Rs 2,556 crore less under the devolution of central taxes head compared to what we were supposed to get between April and June this year," said a finance official.
As the revenues continue to lag behind projections, the cash-strapped state has decided to cut down expenditure in the non-Covid areas. "Only employee salaries and pension of retired employees, which need Rs 6,500 crore a month, and Covid-19 related expenses are allowed now. Still, Bengal better off than many other states that are generating some 20 per cent of their expected revenue these past two months," said a bureaucrat.