Conflict of interest: Friction erupts in Deocha-Pachami project area
A platform named Birbhum Jamee, Jeebon, Jeebika O Prakriti Bachao Mahasabha held a meeting in Dewanganj village on Sunday afternoon to oppose the coal mine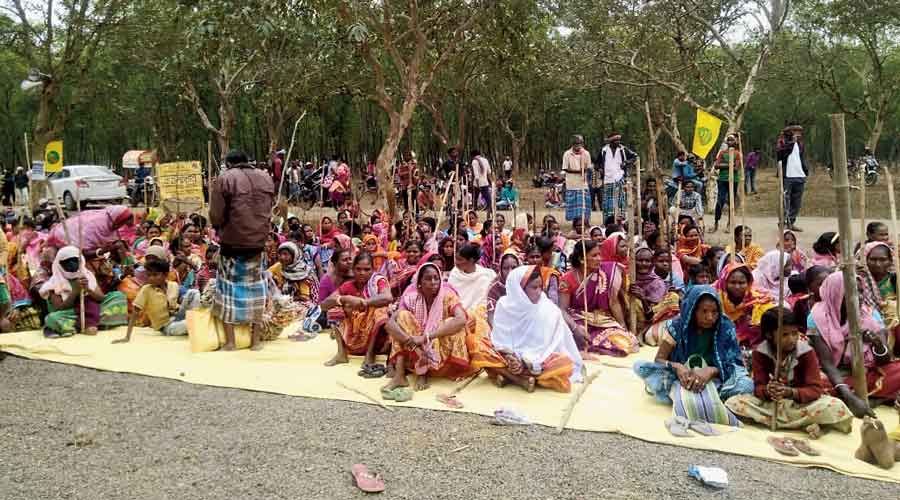 Villagers protest against the proposed coal mine in Dewanganj village on Sunday.
Telegraph photo.
---
Bolpur(Birbhum)
|
Published 21.02.22, 02:05 AM
|
---
Tension erupted in areas of the proposed Deocha-Pachami coal mine on Sunday evening, prompted by a "hostage-like" situation precipitated by the meeting of an anti-mine platform.
According to sources, a platform named Birbhum Jamee, Jeebon, Jeebika O Prakriti Bachao Mahasabha held a meeting in Dewanganj village on Sunday afternoon to oppose the coal mine.
Shortly after the meeting, a group  allegedly aligned to Trinamul detained participants, including a few from Calcutta, near Deocha More area on NH14. Then,  group of youths who organised the anti-coal mine meeting allegedly took a local Trinamul leader and his aide in "custody".
In the evening, police rescued a few members and sympathisers of the platform and brought them to Mohammedbazar police station.
Trinamul leader Sunil Soren, who is also a leader of tribal outfit Birbhum Advasi Gaonta, and his aide had not been set free when reports last came in. Police are working to rescue them.
"A group of outsiders tried to breach peace in the area by dividing people of the tribal community into two groups. Police are taking care of the situation now. Proper legal action will be taken," said Birbhum police chief Nagendra Nath Tripathi.
Members of the platform alleged that local Trinamul and police jointly precipitated the crisis after the platform's meeting was over peacefully.
"The meeting was done peacefully, many attended it to raise their voice against the coal mine. The situation turned like this after participants were stopped by Trinamul-backed persons on their way home," said Prosenjit Bose, an economist-activist from Calcutta present at the meeting.
Trinamul leaders denied the charge and accused a group of outsiders of instigating local residents. "Their meeting was peaceful and no one from our party caused any disturbance. A group of antisocial people kidnapped our leader on his way home and held him hostage. We condemn such forces that are trying to hamper  the government project," said Kali Banerjee, a senior Trinamul leader in Mohammedbazar.
"We don't have information about the condition of the duo under hostage. We have rescued the people from Calcutta and now our priority is to rescue the duo," said a police officer.