Class 10 girl found dead in Calcutta school
Krittika Paul was found dead in her school's washroom on Friday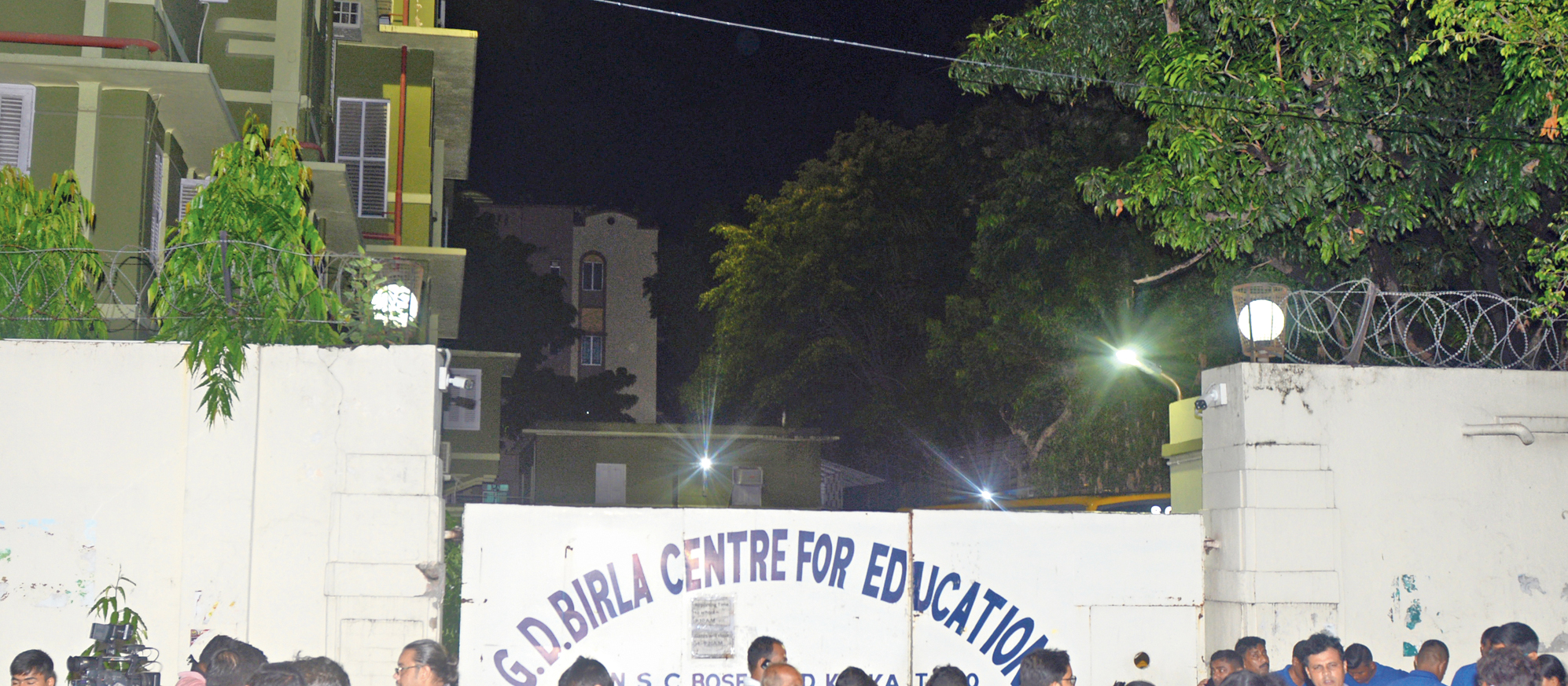 GD Birla Centre for Education
(File photo)
---
Calcutta
|
Published 21.06.19, 10:13 PM
|
---
Bright and meritorious, polite, always smiling — this is how teachers and friends remember Krittika Paul, who was found dead in her school's washroom on Friday.
The Class X student of GD Birla Centre for Education was always among the top five rank-holders in class.
"Krittika was an intelligent child. She was one of the few students who could score 100 on 100 in physics, mathematics or chemistry. At the same time, she was extremely obedient and never showed any disrespect towards teachers," said a teacher who had taught her. "The school has lost a student who would have brought much reputation to the institution."
The teachers couldn't believe that a "lively" and "cheerful" child like Krittika could kill herself.
A tutor who gave physics lessons to Krittika called her an "extraordinarily brilliant student". "She had an innate knack for science. Her marks in all the science subjects were very high in her Class IX annual examinations," he said.
Krittika is said to have been preparing for the IIT-JEE. She also attended dance and karate classes.
The 14-year-old was a "favourite" of teachers for her "politeness".
"Her bright pair of eyes would always sparkle when she was asked to answer a question in class. She would always smile whenever she stood up to answer a question. This is something which we don't see in most girls her age nowadays. This made Krittika even more special to us. It is hard to believe she is no more," a teacher said.
Another teacher who filled in for a colleague on leave for a few months remembered Krittika even from the brief stint. "When we take a class on behalf of another teacher once in a while, it is often not possible to remember the faces of all the students. But I distinctly remember how lively and sober Krittika was," she said.
Neighbours in Baishnabghata, where the family shifted a few years ago, were also fond of the "sweet-natured girl". "She would never forget to greet with a smile whenever I met her," said a neighbour.
Krittika's maternal uncle Saugata Basu said the family had no clue what could have prompted her to take such a drastic step. "Ours is a close-knit family. Krittika was a favourite child," he said.
Teachers and friends in school also vouched that Krittika seemed "fine" when she reached school on Friday morning.
Classes begin at 9.10am and she was seen chatting with friends like other days.
"Four periods are held in the morning before the tiffin break that lasts for 40 minutes from noon. She behaved normally in the first, second, third and fourth period. During the break, too, she seemed fine. After the break she returned with her friends and attended the physics class," a student said.
A little over an hour later, Krittika was found sitting on the floor of the washroom, her face covered with a polythene bag wrapped around her neck and her back resting on the door. She had used strings used to bind practical notebooks to tie the packet around her face.