Plasma therapy for critically ill patients at Calcutta Medical College
As part of the therapy, a patient will get 200ml of plasma, thawed after being stored in -80 degrees centigrade, daily for two days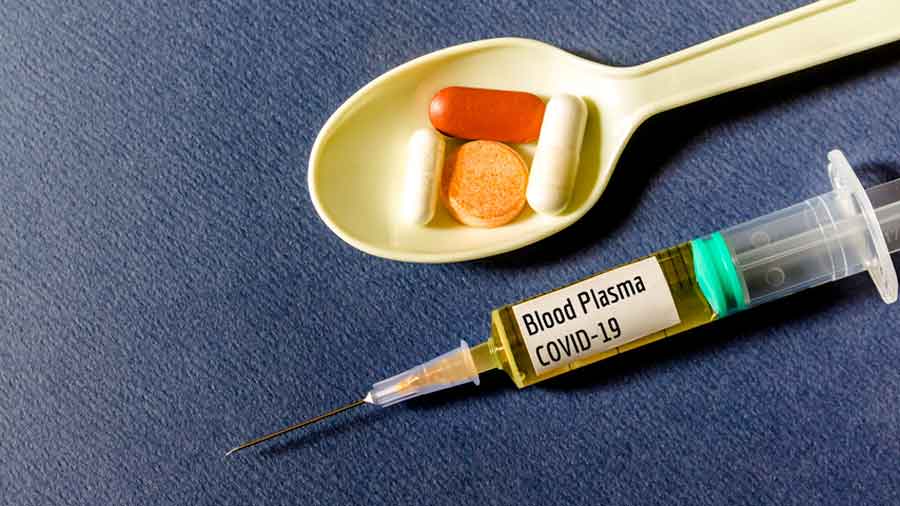 ---
|
Calcutta
|
Published 08.08.20, 03:48 AM
---
The Bengal government has decided to start plasma therapy for a select group of Covid-19 patients as an alternative treatment at the Calcutta Medical College and Hospital.
Immunohaematology experts will join a team of doctors engaged in treating Covid patients and decide who all can get plasma therapy, depending on their degree of infection and status of immunity. A team of doctors will closely monitor those receiving plasma therapies.
"We will start this therapy, hopefully, in the next two weeks," Prasun Bhattacharya, the head of the department of Immunohaematology and blood transfusion at the Calcutta Medical College and Hospital, said.
The hospital is now a dedicated Covid treatment centre. "Given the rise in the number of Covid patients, we had to start this therapy," Bhattacharya said.
In plasma therapy, plasma from the blood of a person who has recovered from Covid is transfused to a critically ill Covid patient. The blood of a person who has recovered from Covid develops antibodies. When injected into the blood of another patient, these antibodies are supposed to help the patient fight the virus.
Doctors will rely on the plasma bank that is coming up at the hospital, a health department official said. Plasma cells — donated by people who have recovered from Covid — from the bank will be infused into patients undergoing treatment for the disease, the official said.
Plasma collected from the blood of a person three to four weeks after he/she has recovered from Covid is expected to contain antiviral antibodies.
As part of the therapy, a patient will get 200ml of plasma, thawed after being stored in -80 degrees centigrade, daily for two days. After a few days, the blood will be analysed for immune-response.
"We have decided that only critically ill patients with acute respiratory distress syndrome (ARDS) will be chosen for the therapy," Yogiraj Ray, a specialist in the Covid expert committee set up by the health department, said.
"There is no shortage of plasma donors now; so, getting plasma will not be a challenge. A team of specialists will take the final call on the patient to receive plasma therapy. This team will include an expert in medico-legal affairs."
Several states, including Delhi and Maharashtra, have already started plasma therapy as an alternative treatment for patients whose oxygen requirement progressively increases despite using steroids.
Several private healthcare units in Delhi and Maharashtra have been giving plasma therapy to patients. In Calcutta, this alternative mode of treatment has started in a few private units.
"We tried plasma therapy on a young patient. He showed signs of improvement but unfortunately we couldn't save him," Rupali Basu, the CEO of Woodlands, said.
The infrastructure is ready at the Calcutta Medical College, a health department official said. The Drug Controller General of India has given the permission for this treatment.
The immediate requirement, though, is kits to collect plasma. "Each kit costs anything between Rs 8,000 and Rs 10,000. We are getting kits so that plasma can be collected and stored in the bank," the health department official said.
The treatment will have nothing to with the ongoing randomised controlled trial on plasma therapy, Dipyaman Ganguly of the Translational Research Unit at the Indian Institute of Chemical Biology said.
The trial is taking place at the Beleghata ID Hospital and initial findings have thrown up encouraging results. "We expect to complete the trial in another one-and-a-half months," Dipyaman Ganguly said.