Calcutta students share dengue tips
Awareness visits to neighbourhood slums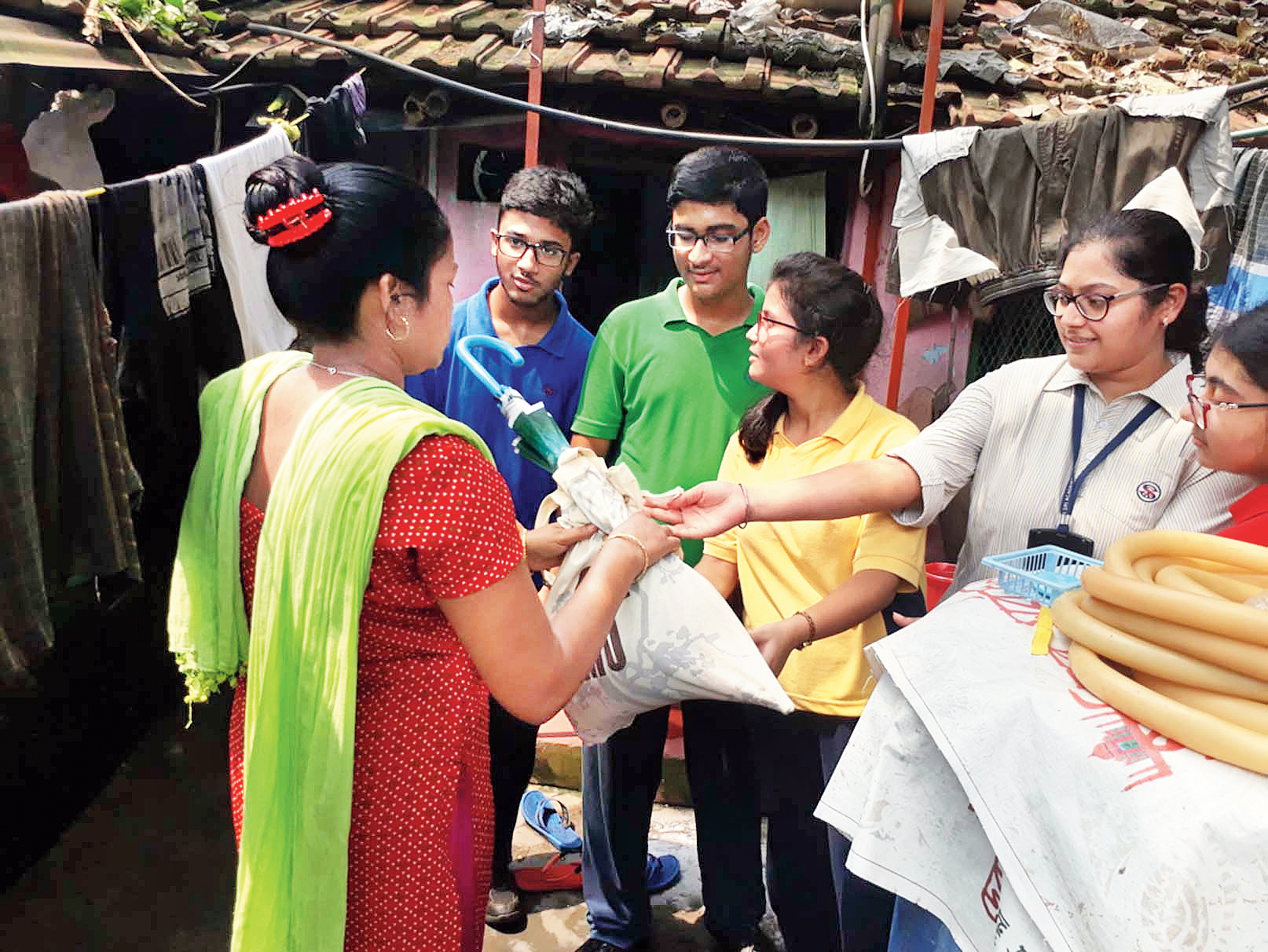 ---
|
Calcutta
|
Published 10.11.18, 09:40 AM
---
Groups of schoolchildren went door to door in their neighbourhoods to create awareness on how to keep their surroundings clean and prevent dengue.
Students of Sri Sri Academy and Apeejay School Park Street visited slums near their schools and urged residents not to store water for several days, leave stored water uncovered and let water stagnate. They also asked everyone to use mosquito nets and repellents.
Students of Bhavan's Gangabux Kanoria Vidyamandir in Salt Lake interacted with children of the neighbourhood slums and spoke to them about cleanliness.
Groups of eight students from classes VIII to XII at Sri Sri Academy visited three homes and two stores around Chetla over 10 days. They handed over "meaningful hampers" containing articles such as mosquito nets, phenyl, repellents and cloth bags.
Dengue has claimed several victims in the city this season. The dengue-causing Aedes aegypti mosquito breeds in fresh water.
The students' campaign was aimed at sensitising people and bringing about a change in their attitude.
"The children told the residents of the areas they visited to maintain hygiene because many of them are not aware of cleanliness standards or the consequences of not meeting them," said Suvina Shunglu, the principal of Sri Sri Academy.
"We told them not to throw waste on the road but in dustbins, which should be cleared in vats," said Samridhi Rajgaria, a Class IX student of Sri Sri Academy and a member of the school's Interact Club.
The teachers said such interactions with the community help students come out of the "bubble" they live in.
"The idea of giving repellents was to create awareness and make our children realise what they have studied filters down to people who perhaps have never gone to school," said Radhika Bagadthey, the teacher-in-charge of the Interact Club of Sri Sri Academy.
Students also spoke about the need to cut down on the use of plastic.
The students of the Interact Club of Apeejay School Park Street visited three slums in the neighbourhood to speak to them about clean habits and use of mosquito nets as protection against dengue.
"The children from these homes come to the schools' Anand Children's Library for regular classes and our students thought of visiting their homes to sensitise
their parents or guardians about dengue," said
Reeta Chatterjee, the principal of Apeejay School Park Street.