Burdwan past revisited
The station was thrown open in 1855, but the first train from Howrah with 1,000 delegates reached on August 15, 1854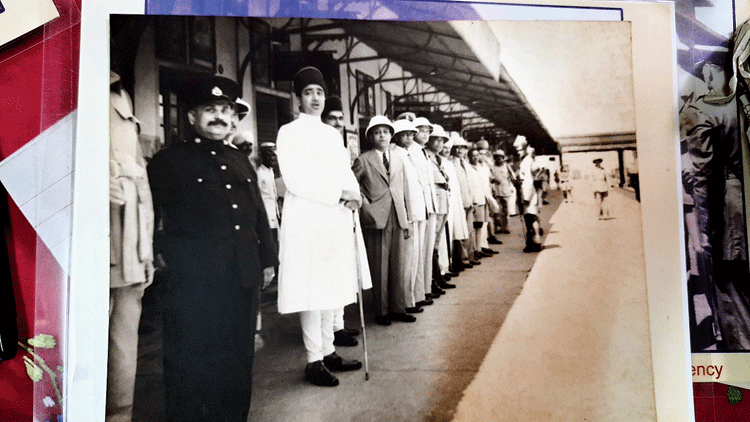 ---
Burdwan
|
Published 05.01.20, 11:33 PM
|
---
Octogenarian Nirod Baran Sarkar, who authored over 20 books on the history of Burdwan, was on Sunday busy going through old photographs of the railway station taken during the visits of historic figures.
Sarkar, now 83, was pained to see the alleged disregard for heritage, for which a large part of the 166-year-station's façade had crumbled on Saturday evening.
Sarkar, a descendant of generations of Dewans to the Burdwan Raj, has in his collection a large number of 19th and 20th century photographs of the town, including those of the railway station.
"The station and its structures bear the footprints of historic figures such as Lord Curzon, Sir John Herbert, Netaji Subhas Chandra Bose, Mahatma Gandhi, Rabindranath Tagore… the list goes on and on. The portico and the passage that collapsed bore their footprints," he said.
The station was thrown open in 1855, but the first train from Howrah with 1,000 delegates reached there on August 15, 1854 — three years before the Great Rebellion of 1857.
"The then king of Burdwan, Mahtab Chand, came with his courtiers and members of the royal family, along with horses and elephants. The train arrived and a grand welcome ceremony was organised. I heard from my father and grandfather (both Dewans of the Burdwan Raj) that it was a day of great joy, with the new station and the train in Burdwan," said Sarkar.
Within six months of that event, the railway tracks were extended to Raniganj for extraction of coal from the mines there.
The historian showed this correspondent several pictures of the Burdwan royals waiting on the platform of the station.
In one of the photographs, he showed Maharaja Sir Uday Chand Mahtab waiting for the arrival of Sir John Herbert, the Governor of Bengal between 1939 and 1943. In another photograph, the governor's wife, Mary Herbert, was seen posing with the king on the platform.
The station was deemed important since its inception, according to the register of the Eastern Railway gazette.
Several senior residents of Burdwan said Gandhi, Netaji and Tagore had come through the station and were felicitated in front of the structure that collapsed.
One of Gandhi's earliest visits was on May 8, 1925, for a lecture the following day. Tagore visited the palace of the royals in 1936.
Bengal minister Swapan Debnath, who has been at the site since Saturday evening, criticised the railways for alleged callousness in the conservation of such heritage properties.
"Burdwan station is a heritage property and the railways should have known it better. What happened was the result of sheer negligence by the Centre. This damage is irrevocable," said Debnath.