Bridge shut, trucks stuck in long lines
The bridge that forms a vital part of the Moregram-Haldia route was built in the 1940s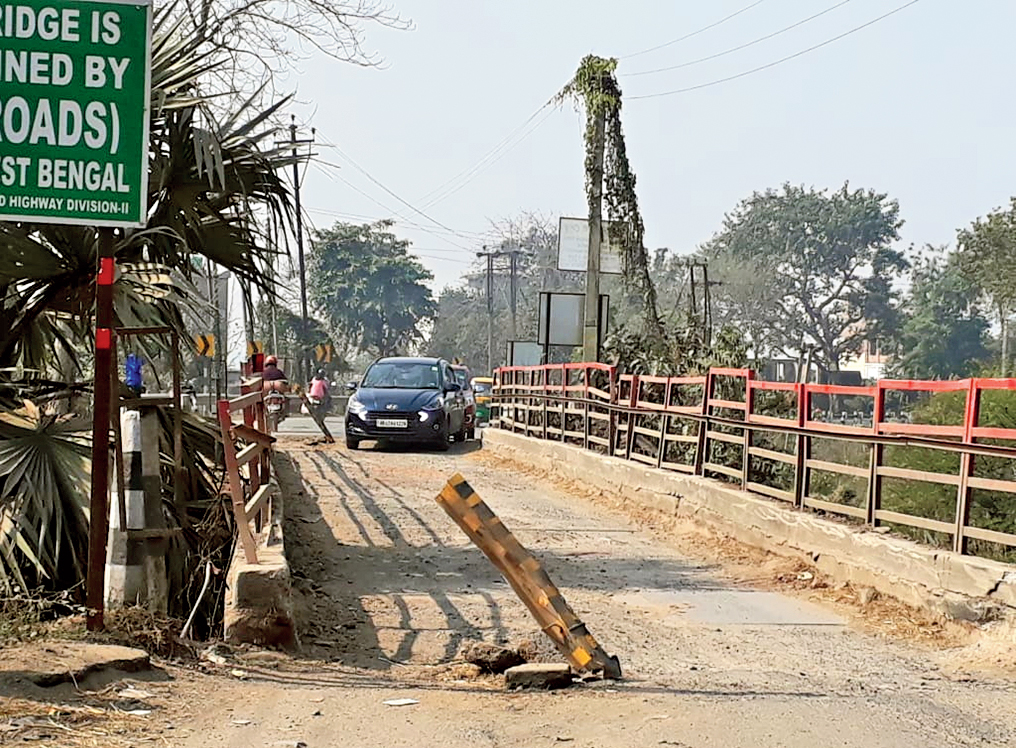 The bridge at Karalitala
(Picture sourced by Telegraph)
---
Burdwan
|
Published 19.01.20, 10:53 PM
|
---
A British Raj-era single-lane bridge has been shut to vehicles heavier that three tones at Karalitala in Murshidabad district for over a month, throwing traffic into disarray on the Kandi-Behrampore road of the Moregram-Haldia route.
The bridge that forms a vital part of the Moregram-Haldia route was built in the 1940s.
Residents of Karalitala village near Kandi said the bridge's closure forced trucks and other heavy vehicles to take a detour of 62km through Kuli and Dakbangla and resulted in monster jams on roads running through Kuli, Sherpur and Behrampore. Sources say a public works department health inspection on the 20m-long bridge in November yielded a list of structural issues, prompting officials to shut the bridge to vehicles heavier than three tons from December 12. Residents and drivers along the colloquially termed 'Badshah road' in Kandi have alleged "inconvenience" because of the closure of the bridge.
"Several heavy goods trucks used this bridge daily to travel to north Bengal. The Moregram-Haldia road allows vehicles to bypass Calcutta completely," said a truck driver stuck in a traffic jam at Kandi.
The road running from Moregram to Haldia via the bridge at Karalitala is a lifeline to scores of goods trucks plying from Haldia to north Bengal daily. In the wake of the closure of the bridge, trucks have to take a 62km-long detour via the Dakbangla area in Kandi and through the villages of Kuli and Sherpur before driving onwards to Moregram through Behrampore.
PWD officials and district sources said the bridge had remained unchanged since inception save for minor repairs.
"Though the roads on either end have three lanes, the bridge has never been widened," said a district official, before adding that several civic roads in the area — that are now having to bear additional loads were getting eroded and destroyed.
The PWD officials said they were aware of the problems being caused by the closure and were working on a solution. "The only solution is to demolish the structure and reconstruct a three-lane bridge. We have submitted the tender for a temporary bypass road," said PWD executive engineer Dipnarayan Shil.
"The traffic problems have been simmering here for almost a month now. It is quite probable that they will result in large-scale protests soon," said Mahalandi resident Abrar Hossain, adding that the civic road running through Mahalandi had seen several giant potholes caused by heavy-vehicle traffic over the past month.