Bimal Gurung to focus on hill solution not GTA polls
The Morcha leader said that he would work for a permanent political solution with the state government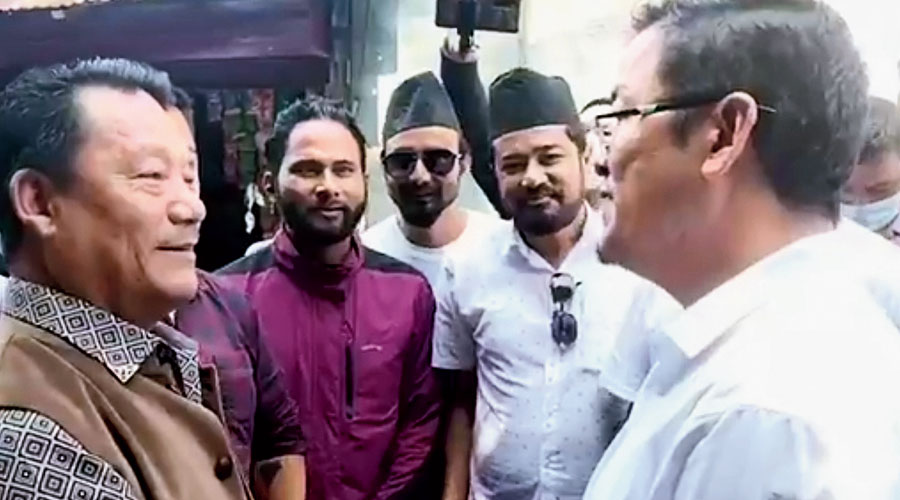 Bimal Gurung with former GNLF leader Ajoy Edwards in Kalimpong on Monday
Telegraph Picture
---
Darjeeling
|
Published 26.10.21, 01:56 AM
|
---
Bimal Gurung, president of the Gorkha Janmukti Morcha, on Monday said that he would not contest the Gorkhaland Territorial Administration (GTA) elections but would instead work for a "permanent political solution" with the state government.
Many believe that Gurung might have shot himself in the foot with the announcement as he has left no escape route if the state government does decide to hold the GTA election now.
The party in power in hill bodies like the GTA is considered to be the most powerful.
Gurung, who was in Kalimpong to attend the death anniversary of former councillor Barun Bhujel who died while in police custody during the 2017 Gorkhaland agitation, said: "I will not contest the GTA election as I have already resigned. I will work for a permanent political solution. Others might contest but not Bimal Gurung."
Since 2017, elections to the GTA have not been held.
The Morcha leader said that he would work for a permanent political solution with the state government.
Gurung ditched the BJP last year to join hands with Trinamul. Even though the Morcha leader said he was committed to working with the state government, he did reiterate that he would support a party that supports hill issues during the 2024 Lok Sabha election.
"Some say that Bimal Gurung has forgotten the community's issue but till Bimal Gurung is alive, he will continue to work for the community, land… their (martyrs') sacrifice will not go in vain," said Gurung.
A section of the hill people are also not taking his announcement seriously.
"Politicians, however, can never be trusted. They can easily come up with some other excuse to contest the election as they simply cannot walk away from such an important election. Such flip-flops by Gurung are nothing new," said an observer.
Meanwhile, Roshan Giri, general secretary of the Morcha, has been invited to the administrative meeting to be held in Kurseong on Tuesday.