Bhowanipore byelection: BJP fields advocate against Mamata
Priyanka Tibrewal came into prominence after she moved HC on behalf of the saffron party to demand CBI probe into alleged incidents of post-poll violence in Bengal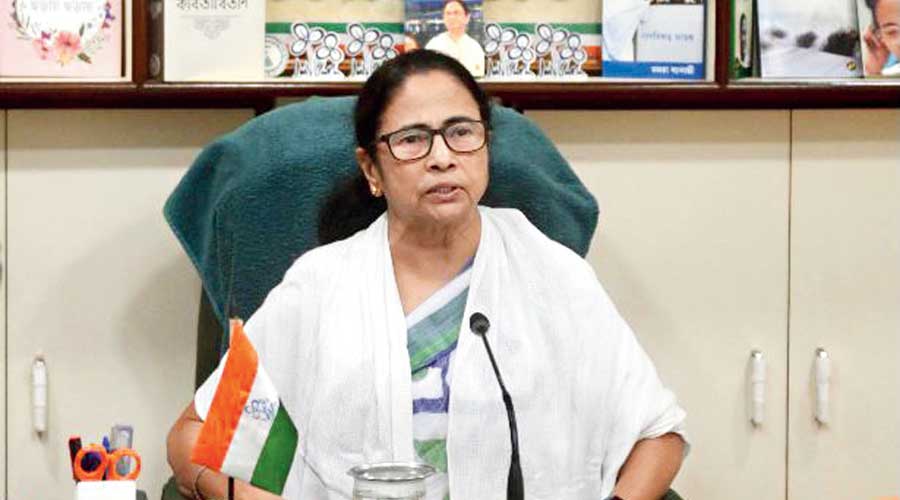 ---
Calcutta
|
Published 11.09.21, 12:52 AM
|
---
The BJP on Friday picked advocate Priyanka Tibrewal as its candidate to take on chief minister Mamata Banerjee for the bypoll to the Bhowanipore constituency, where voting will take place on September 30.
Tibrewal, who is the vice-president of the state youth wing of the BJP, came into prominence after she moved Calcutta High Court on behalf of the party to demand CBI probe into alleged incidents of post-poll violence .
"We had suggested Priyanka's name.... The central leadership has decided to field her at Bhowanipore. This fight will be against injustice and Priyanka will be our face.… The entire party is with her.… She had fought vehemently on the issue of post-poll atrocities," Bengal BJP chief and Midnapore MP Dilip Ghosh said at a news conference, with the candidate by his side.
While Ghosh claimed that Tibrewal's name was sent to the parliamentary board, which was officially done on Tuesday, sources said she wasn't the state unit's primary choice. According to multiple party leaders, Ghosh started considering Tibrewal's name only after he was told the South Calcutta organisational district, under which the Bhowanipore Assembly falls, wanted Tibrewal as the candidate.
Tibrewal, who joined the BJP in 2014, was a candidate in the 2015 civic polls. In 2021, the BJP had fielded her from the Entally Assembly constituency. She was defeated on both the occasions.
Tibrewal has made a name for herself among the BJP's ranks by fighting the post-poll violence case in Calcutta High Court. She has emerged as a leader who would stand beside the workers in their need, sources said. "Our focus would be to tell people about Mamata's tyranny.... We know we will lose Bhowanipore. But we can use this opportunity otherwise," a source said.
With Mamata's candidature, all eyes across the nation will be on Bhowanipore. A party leader said the BJP wanted to highlight the alleged incidents of post-poll violence during the campaign and paint a negative picture of the Bengal chief minister.
"This is exactly why Priyanka, who has been fighting these cases, has been nominated. Mamata has publicly said this bypoll is important for 2024. We will reach out to the people with that in mind," the leader added.
The drift of the saffron camp's campaign was made clear by BJP's IT cell chief and Bengal's co-minder Amit Malviya when he tweeted: "BJP has announced Smt @impriyankabjp (Tibrewal), who represented the victims of post poll violence in Calcutta HC and got the order mandating a CBI and SIT probe, as its candidate from Bhabanipore against Mamata Banerjee.
Bhabanipore must defeat Mamata Banerjee to stop Talibanisation of WB."
Speaking at the news conference, Tibrewal said her fight wasn't against an individual, it was against injustice.
"I'm ready to fight. This isn't a contest to become an MLA. This is a fight to reinstate democracy and against the post-poll atrocities," she added.
The BJP also announced the names of Milon Ghosh and Sujit Das as candidates for Samsherganj and Jangipur polls, respectively.
The BJP has also finalised a horde of popular leaders as star campaigners for the Bhowanipore constituency. The list includes dissident MP Babul Supriyo, central minister Smriti Irani, Shahnawaz Hussain, Hardeep Singh Puri, MPs Rupa Ganguly and Debasree Chaudhuri along with Ghosh and Adhikari.
Supriyo had recently announced that he wouldn't be a part of politics anymore. Sources close to him said that Supriyo didn't want to campaign for Tibrewal either.