Bengal unit divided, Amit Shah steps in
Attempt to address the fissures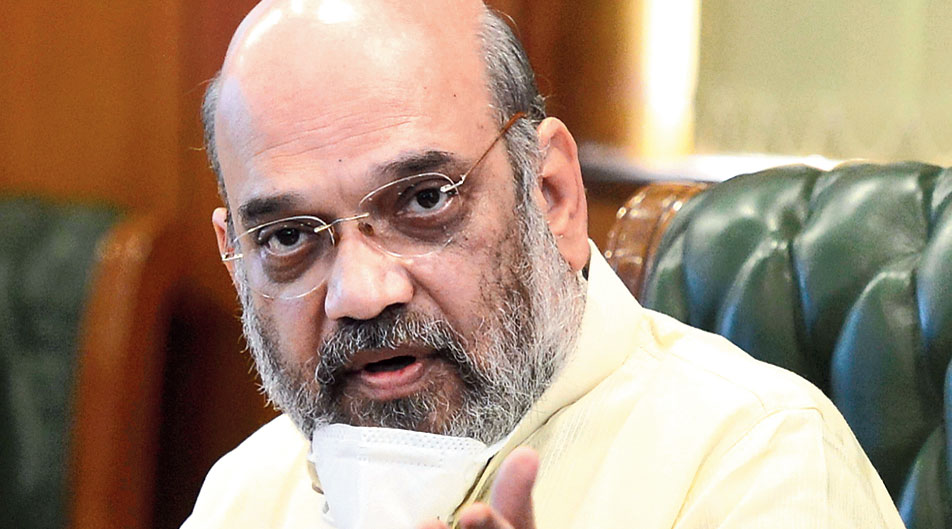 ---
|
Calcutta
|
Published 02.08.20, 03:30 AM
---
Union home minister Amit Shah met MPs Swapan Dasgupta and Arjun Singh and junior minister Babul Supriyo on Friday evening, prompting the faction-ridden Bengal unit of the BJP to spin seemingly conflicting narratives with a common thread that suggested the central leadership is trying to address the fissures.
Multiple sources in Calcutta and Delhi claimed the unscheduled meeting between Shah and the three MPs were triggered by reports of a luncheon in Delhi that Supriyo had hosted for several BJP leaders.
"That meeting was billed as a gang-up against Dilip Ghosh (the Bengal BJP chief). The home minister told the three leaders to resolve their differences with Dilipda," said a BJP insider who is close to the Ghosh camp.
"Amitji made it clear to the three leaders that Dilipda and general secretary (organisation) Subrata Chatterjee have to be supported in all their endeavours because Delhi has full faith in them," the source added.
But sources close to the anti-Ghosh faction claimed that Shah told the three leaders he would address their concerns and make necessary amends to ensure an inclusive leadership in the BJP in Bengal.
At the meeting, Singh apparently told Shah that the state administration had been harassing him with false cases and multiple raids at his home and the home minister promised to look into the matter.
"But the main takeaway from the meeting was that all leaders would have to work in close co-ordination with Ghosh," said a source.
Both Roy and Supriyo phoned Ghosh to wish him on his birthday on Saturday.
The Bengal BJP is now split into two camps — one backing Ghosh and the other grouping those not comfortable with Ghosh's rise in political stature.
Last week at a series of meetings in Delhi, Singh reportedly accused Ghosh of favouritism and said the state party chief was not involving those who crossed over from other parties. The anti-Ghosh camp, a source said, has recently started rooting for Mukul Roy who has been called to Delhi next week. The anti-Ghosh camp is seeing in the call an attempt to address his concerns and offer him some senior post in the organisation that will allow him to work "independently".