Bengal takes charge of security for Mukul, son
Roy will now be covered 24x7 by a team of specially trained personnel from the state's special security unit with at least four personnel covering him in close proximity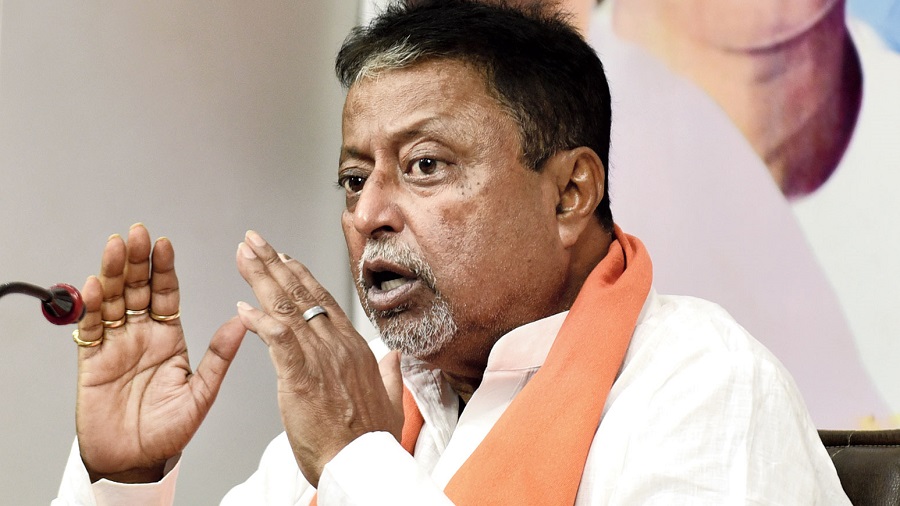 ---
|
Calcutta
|
Published 13.06.21, 02:52 AM
---
The Bengal government has decided to provide Mukul Roy, who left the BJP to join his former party Trinamul, of which he is a founder member, with security cover equivalent to the Z category that the Centre had accorded to him just before the Assembly polls.
The state government's move comes following Roy's decision to do away with a ring of CISF personnel that has been around him since March after the Centre decided to upgrade his cover from Y+ category to Z category.
On Saturday, Mukul wrote to Amit Shah's ministry of home affairs (MHA) asking for withdrawal of his security cover. The letter was sent within hours of the BJP's former national vice-president switching allegiance to Trinamul with his son Subhrangshu on Friday. 
While the withdrawal of central security cover is yet to be formalised, senior officers of the Barrackpore police commissionerate have drawn up a blueprint to cover Roy and his son. The son gets security equivalent to Y+ category.
Roy will now be covered 24x7 by a team of specially trained personnel from the state's special security unit (SSU) with a group of at least four personnel covering him in close proximity. A separate unit will be put in place for Roy and his son with security guards posted in three shifts with specific instructions of providing security to both during their movement and stay, across the state.  
Late on Friday night, a team visited Roy's Bijpur residence at Kanchrapara in North 24-Parganas and drew up a plan of how many personnel would be deployed as personal security officers (PSOs) for Roy and Subhrangshu and what would be the strength of personnel to cover his convoy, beginning Saturday.
In September 2017, two months before formally joining the BJP, Roy had asked the Trinamul state government to withdraw the Z category security cover provided to him.
"The category of security cover of an individual is based on a combination of threat perception and intelligence inputs," said a senior IPS officer. "Like the Centre, the state too has its own policy of providing protection to certain individuals. Mukul Roy and his son have been accordingly assessed."
As a BJP candidate contesting the recently concluded Assembly polls, Mukul won his Krishnagar North seat. But Subhrangshu lost the Bijpur seat to the Trinamul.
Senior police officers said Friday's shift to Trinamul by the father-son duo could invite outrage from a section of BJP supporters in Mukul's hometown Bijpur, particularly from a section who owe their allegiance to BJP's MP from Barrackpore, Arjun Singh.
"The local police have been already briefed about the possible threats to the duo and over the next 48-hours a full team would be in place to ensure security for the two VIPs," said a senior police officer from the Barrackpore police commissionerate.