Alarm over Covid curb flout in Digha hotels
This weekend the destination recorded over 25,000 tourists, well over the average weekend footfall in a regular year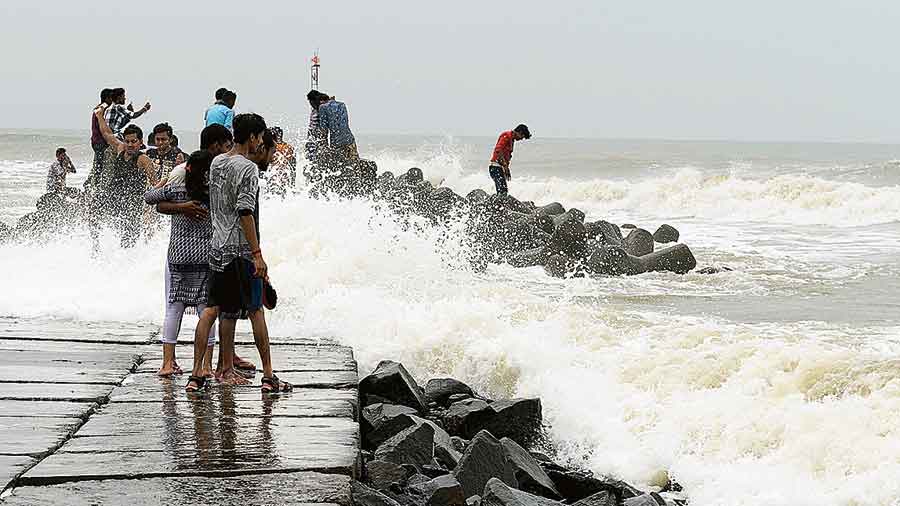 ---
Digha
|
Published 26.08.21, 01:01 AM
|
---
District authorities in East Midnapore's Digha are reportedly set to resume raids on hotels in the wake of reports that Covid-19 safety protocols were being flouted by some in exchange for inflated room tariff.
Following partial ease on statewide Covid curbs from August 16, Digha this weekend recorded over 25,000 tourists, well over the average weekend footfall in a regular year. However, sources said that many tourists were neither fully vaccinated nor carried with them a negative Covid test, but were still being allowed into a few hotels in violation of rules by brokers.
"Brokers have always been there in Digha. Now, they have turned their trade into a seedy one where they are leading unvaccinated guests into hotel rooms," said a district official.
In mid-July, a strict Covid protocol was started when the Contai SDO issued an order mandating outstation residents entering Digha to show proof of full vaccination (both doses) or a negative test report. Strict police vigilance, including raids on hotels, followed, but the trend is petering out in the last couple of weeks, said sources.
"We heard some brokers are flouting norms again, so we will resume raids and fine hotels accordingly," said Ramnagar-I BDO Bishnupada Ray.
On Tuesday, managers of three hotels were arrested in this connection.
"We estimate at least half of the tourists this weekend violated norms. But we will not allow this to happen again," said a New Digha hotelier. "We think some hoteliers caved in to the sheer financial duress from the past year (to violate Covid rules)," he added.
Bipradas Chakraborty, joint secretary of the local hoteliers' association, concurred. "There is a certain kind of hotel owner who we suspect does this, but by and large, most reputed Digha hotel owners won't," he said, adding the spectre of a possible third wave was "on everyone's mind".
"The financial toll on our industry has been immense. But we cannot cut corners on public health," he added.
Police sources said on Wednesday that guests from Calcutta and suburbs could also have driven in on nights this past weekend, hoping to evade strict police checkpoints that had made the news until late last month.