Ajoy Edwards, Anit Thapa raise political temperature in hills
Hamro Party and Bharatiya Gorkha Prajatantrik Morcha's political activism peaks in the run up to GTA polls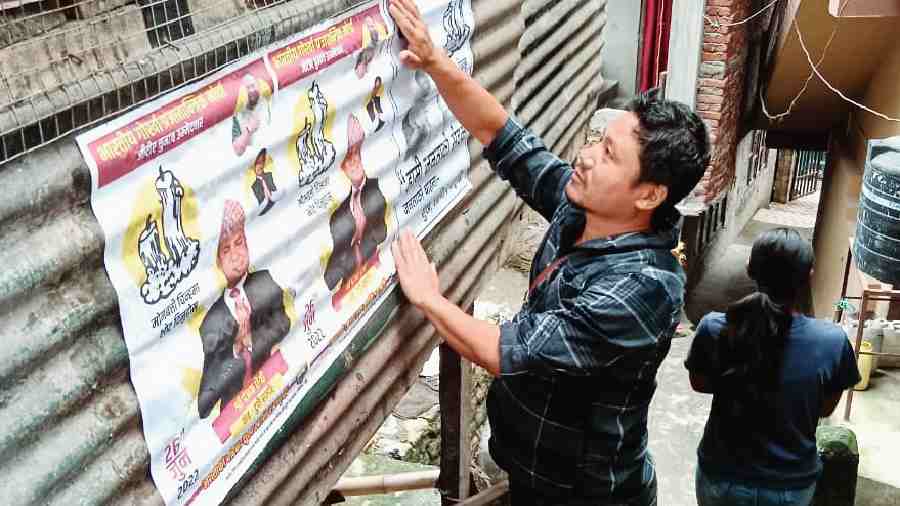 A person puts up a poster in support of a candidate of the Bharatiya Gorkha Prajatantrik Morcha in Kalimpong on Tuesday.
Telegraph Picture
---
Darjeeling
|
Published 15.06.22, 01:45 AM
|
---
Political activism, especially by Hamro Party and Bharatiya Gorkha Prajatantrik Morcha (BGPM), has peaked across Darjeeling in the run up to the June 26 Gorkhaland Territorial Administration (GTA) elections.
On Tuesday, Anit Thapa's BGPM held a dharna within the DM office premises demanding wages due to workers of 10 tea gardens owned by the Darjeeling Organic Tea Estates Pvt Limited.
On Monday, Thapa announced he would take care of admission fees of all tea garden students who have cleared their board exams, to which many claimed this violated the poll model code of conduct.
"If my effort to help students leads to violation of MCC and cancellation of my candidature, so be it," said Thapa.
On Tuesday, people of Darjeeling municipality ward 17, who allegedly are BGPM supporters, stopped civic vehicles from dumping trash at the chute. They demanded that the dumping site be shifted and claimed inaction by the Darjeeling civic board.
BGPM's ward councillor from the area Nitesh Gurung had recently threatened to stop dumping from Tuesday unless the issue was addressed by the Hamro Party-led civic body.
Gurung and other BGPM councillors had over the past few days been visiting various municipality sites to highlight "failures" of the civic board in power for "100 days".
The BGPM has eight commissioners and Hamro Party 18 in the 32-ward civic board.
Ritesh Portel, chairman of Darjeeling municipality, however, said that the board has not completed "100 days" in office as power was handed over only on March 22, 2022.
Portel said initiatives were being taken up to look into waste management issues.
Not to be outdone by the BGPM's multi-pronged attack, Hamro Party raised the issue of alleged politician-contractors nexus again.
Party chief Ajoy Edwards in over a dozen public addresses in Kalimpong on Tuesday spoke on the need to break this alleged nexus.
Darjeeling municipality on Tuesday released the finance report of the general fund of the civic body for May 2022. The civic board stated it had collected around Rs 86 lakh in the month and with around Rs 91 lakh expenditure, the civic body had around Rs 80 lakh as closing balance.
Many believe it is an attempt by Hamro Party to showcase "transparency", its major election plank
A Hamro Party supporter came up with an RTI report stating that GTA had not given utilisation certificates worth Rs 135 crore.
Thapa had been GTA chairman at one time. His party, the BGPM, on Tuesday said it was incomplete information and that the GTA had submitted certificates to the Centre in September 2021.
The BGPM added GTA's non-payment of dues amounting to around "Rs 370 crore" alleged by Hamro Party should not be construed as wrongdoing but was simply "routine procedure."