9 vehicles in flames off VIP Road
Fire caused by a short circuit in a car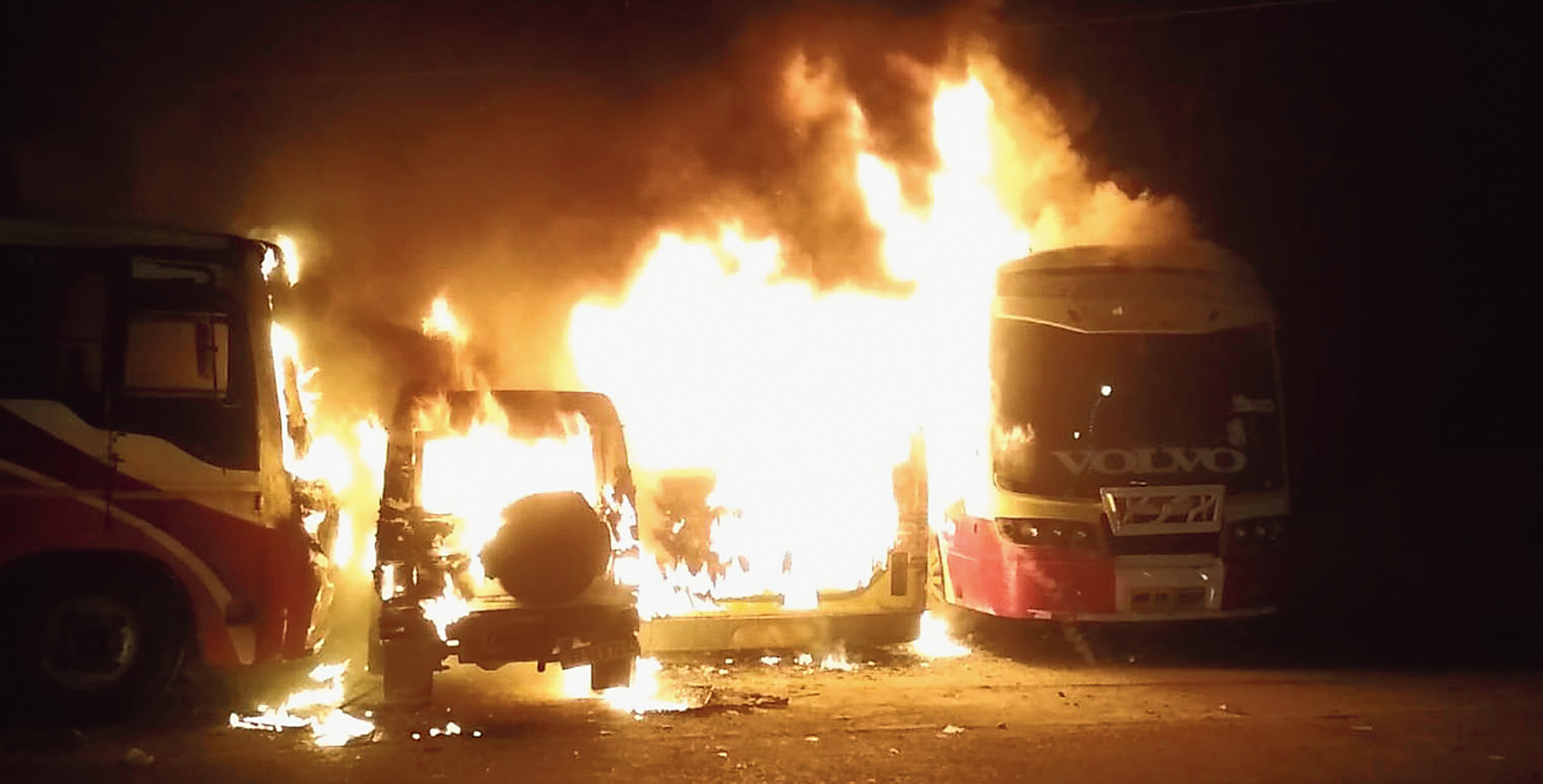 Vehicles parked in a lane in Narayantala off VIP Road up in flames early on Sunday.
The Telegraph picture
---
Calcutta
|
Published 02.06.19, 09:03 PM
|
---
Nine vehicles that were parked in a lane in Narayantala, off VIP Road near Baguiati, went up in flames early on Sunday.
"A short-circuit in a multi-utility vehicle (MUV) that was parked beside a bus apparently triggered the blaze. A strong wind fanned the flames, which soon spread to the other vehicles," an official in the fire services department said.
No one was injured.
Witnesses, including residents of the area, apparently told fire department officers that the flames were first spotted around 2.50am.
Residents and motorists plying down VIP Road saw dense black smoke billowing up and rushed towards the lane where the vehicles, including three buses, were parked.
Ramesh Mondal, who drives an app cab, said he and several others had tried to douse the fire by throwing water. But they had to step back as the tyres of the MUV and one of the buses started exploding.
The explosion of tyres, and strong winds, hastened the spread of the flames.
At least six fire tenders battled for an hour to control the blaze.
"Vehicles are usually loaded with inflammable materials such as fuel and engine oil. We were fortunate that none of the fuel tanks had ruptured," the fire department official said.
Fire and emergency services minister Sujit Bose said fire tenders had been sent to the spot within minutes of the control room receiving a distress call.
"The vehicles were parked close to one another. Findings of preliminary investigations suggest the fire was caused by a short circuit in a car," Bose said.
"The department is investigating the fire and a team of forensic professionals has collected samples from the area."
Many vehicles are allegedly parked illegally at night on either side of VIP Road and along adjoining lanes.
An app cab driver who had apparently dozed off rammed his vehicle into a truck parked along VIP Road, leaving the lone passenger critically injured and suffering fatal injuries himself.
Officers of the Bidhannagar commissionerate later said the truck had been parked illegally.