Will Vinod Rai's hand-picked panel be independent is the big question
Clearly, except Rai, just about everybody is convinced that Rahul Johri's continuance as the Board's CEO has become untenable.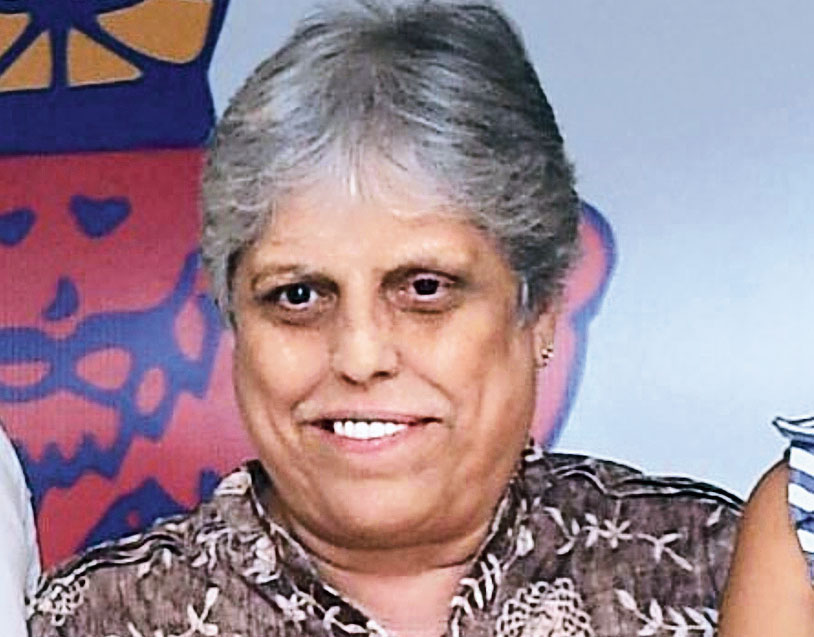 ---
|
Calcutta
|
Published 26.10.18, 10:12 PM
---
Administrator Diana Edulji's principled stand on Rahul Johri earned praise across the Board of Control for Cricket in India right through Friday. Equally, most of those associated with the 89-year-old organisation remained apprehensive that a "hand-picked" three-member independent panel may not actually be independent.
According to well-placed sources of The Telegraph, that Diana wanted Board CEO Johri to either be sacked or made to resign following allegations of sexual harassment, makes it abundantly obvious that Vinod Rai, who heads the two-member Committee of Administrators (CoA) appointed by the Supreme Court, alone decided on the independent panel.
Rai is a retired bureaucrat, while Diana is a former captain of the national women's team.
Nobody is casting aspersions on Justice (Retd) Rakesh Sharma, Barkha Singh and P.C. Sharma, but assuming the independent panel cookie did crumble in that unilateral manner, misgivings would naturally surface.
Clearly, except Rai, just about everybody is convinced that Johri's continuance as the Board's CEO has become untenable.
Come to think of it, Johri hasn't even been suspended pending the completion of the inquiry. So much for good governance.
In what will be seen as a related development, Kareena Kripalani, head of the Board's internal complaints committee (dealing with sexual harassment), has resigned.
While Kareena wasn't available for confirmation, at least two top sources said she had put in her papers.
The composition of the independent panel had, unusually, been announced around 10.45 pm on Thursday. It was done via a Media release from the Board.
Questions have been raised over the timing, with some in the Board suggesting it was deliberate. However, if the Union government could send the CBI director on forced leave well after midnight (on Tuesday), then nothing stopped the Board from emailing a Media release at a much more 'respectable' hour.
Diana refused to take calls and didn't respond to text messages too, but this Reporter understands that a "difference of opinion" over the contents of the Media release, between Rai and Diana, may have caused the delay.
The Media release neither enhanced Rai's standing among the affiliated state Associations of the Board and the sidelined office-bearers (acting president Chandra Kishore Khanna, acting secretary Amitabh Choudhary, elected treasurer Anirudh Chaudhry), nor did it increase the aam aadmi's confidence in the organisation.
Diana's stock, of course, soared.
An unnamed lady's post on another person's Twitter handle, on October 12, put Johri in the dock. The hope is that the lady and/or others would come forward and depose before the independent panel.
Very significant is that the independent panel could "take into account and/or probe all allegations of sexual harassment" against Johri during his innings in the Board. He's been the CEO for two-and-a-half years.
Why very significant?
Because in February/ March a lady employee of the Board complained against Johri and quit. Rai, one gathers, persuaded her to take back the resignation.
A most influential person in the Board was also roped in to "sort things out."
Word is that Diana had taken a tough stand back then too and her hard line position may have compelled Johri to tender a "written apology."
Johri should have been sacked outright/made to resign earlier this year itself.
There's plenty to ask: Why was Johri deemed indispensable by Rai in February/ March? Why did the office-bearers remain silent? Why does Rai still regard Johri as indispensable?
Why, indeed?
Isn't the BCCI above individuals? Shouldn't the organisation's image and the public's perception of it be treated as paramount?
Surely, it's worth noting that, over the past two years, Google has "sacked" 48 employees, including "15 senior managers," over sexual harassment "allegations."
Google made that public around the time that Board issued the Media release on Johri.
Ironic.