When Maradona found love and cigar in Calcutta
In legend's passing, city loses one of its favourite icons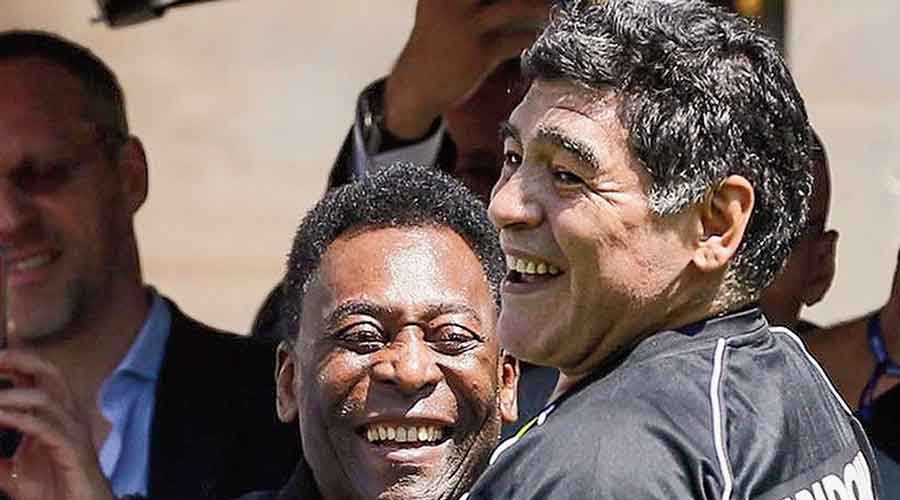 Legends: Diego Maradona with Pele
File picture
---
Calcutta
|
Published 26.11.20, 02:55 AM
|
---
Emotions are not best described in words, but if one attempts to understand Calcutta's love for Diego Armando Maradona, it is perhaps best to say amour de tendresse. Loosely translated, that means a great "tender love" in English and are the words that Argentine writer Victoria Ocampo used to describe her emotion for Rabindranath Tagore.
Maradona's passing away on Wednesday at the age of 60 would be a heartache like no other for his millions of admirers all around the globe. The grief of Calcutta would definitely drown in the sea of mourning for "El Pibe de Oro" (the golden boy) for we, as a country, do not belong among football's elite. But if someone would care to notice, the city has lost one of its favourite sporting icons, one who could evoke a spontaneous outpouring of unconditional love. Even on a chilly December night.
In 2008, in the wee hours of December 6, Maradona landed in Calcutta on a brief visit. Almost 50,000 people were there outside the airport to witness the legend in person. Age, gender, social status nothing mattered, or rather the Maradona magic had woven all into a singular whole of fan frenzy. It was a welcome worthy of the homecoming of the favourite son of the family.
Maradona was as awestruck with Calcutta as the city was with him. "I am overwhelmed that so many people know and love me in this part of the world. I have been surprised many times in my life and thought I cannot be surprised again. But today I have realised that there is more in store for me. I love the passion people have for football here and I will love to be back," the legend had told a media conference a day later.
Bhaswar Goswami, co-founder and executive director of Celebrity Management Group and the man who had toiled hard to bring Maradona to India, has not forgotten a single moment from those three eventful days and would effortlessly recount everything in detail. "Diego had forgotten to bring his cigar with him and when we were asked to arrange some, we had a hard time in finding his brand at the city shops. Luckily, a small shop in New Market bailed us out," Bhaswar said on Wednesday.
That trip saw Maradona attend an exhibition match at the Salt Lake Stadium, visit the Mohun Bagan tent at the Maidan, meet Jyoti Basu and also pay a visit to Mother Teresa's Missionaries of Charity headquarters on AJC Bose Road.
Legend has it that at the exhibition match, when all eyes in the packed Salt Lake Stadium, the common man and the VIP included, were fixed on the Argentine, the man himself was desperate to avoid all adulation and watch the game instead. Who but Maradona would do that?
At the crowded and unruly Bagan tent, Maradona somehow made his way to the centre of the field and was overjoyed to find the footballs there. The superstar, darling of the galleries all his life, spent the next 30 minutes kicking those balls into the stands.
He was emotional when he visited the Missionaries of Charity, but that's understandable, he never dodged emotions.
Maradona visited the city again in 2017 but the euphoria of 2008 was special.