Warner's tip: Be brave to battle the Bumrahs
India's disciplined bowling attack has troubled the Australian batsman for the better part of the series, never mind the loss in Adelaide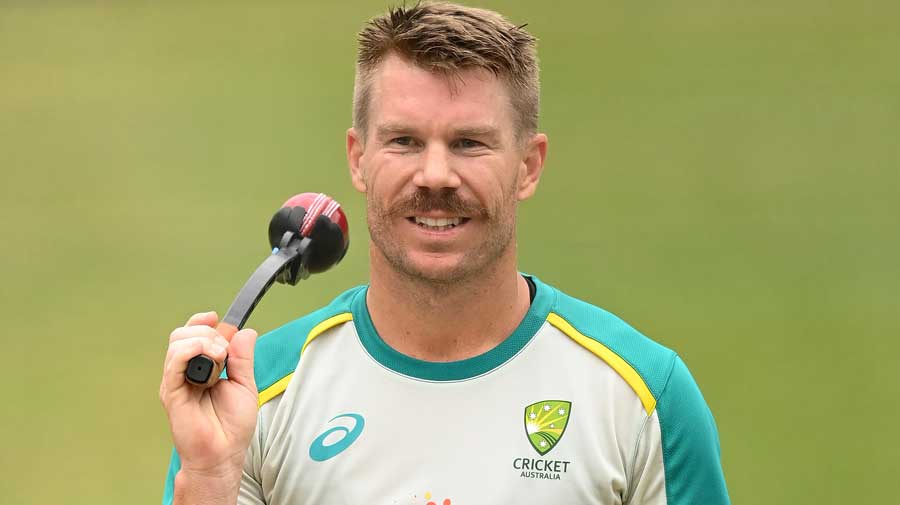 ---
|
Calcutta
|
Published 03.01.21, 12:56 AM
---
Being one to "live by the sword and die by the sword", David Warner would be doing everything he can to be back on the park and revive Australia's fortunes in the penultimate Test beginning on January 7 in Sydney.
"Am I going to be 100 per cent (fit)? Highly doubtful. But I'll be doing everything to get back in the park and play," he said on Saturday at a virtual conference facilitated by Sony Pictures Sports Network.
India's disciplined bowling attack has troubled the Australian batsman for the better part of the series, never mind the loss in Adelaide.
Warner's inclusion would therefore bolster Australia's shaky batting, and the aggressive opener urged his teammates to be a little more brave against the Bumrahs and Ashwins.
"Lengths are key to Australian wickets and they (Indian bowlers) have been hitting some nice lengths as I heard from some of the guys. Drive on the up, and drop and run and apply that pressure, some of that was missing," the left-handed batsman said.
"You can't allow great bowling attacks to dictate you. You have got to play outside the square and be a little bit brave. I would rather go out there swinging than sitting back at the crease.
"You need to apply pressure but on the flip side, you need to respect if they are bowling well.
"Still, you have to play a shot somewhere even if bowlers are doing a great job. I live by the sword and die by the sword when I am out with the bat," Warner emphasised.
The pre-meditated attacks, thus, would continue regardless of the conditions, Warner indicated, while also elaborating on the aspect of intent. "My 84 Test matches have always been about pre-meditated attacks and it doesn't change for me, but it's about how the team looks at it.
"When I talk about intent, I mean putting pressure back on the bowlers not just by swinging the bat.
"You also need to show intent in loud calling, shoulders are back and you are in the bowler's face, which is one way to unsettle the line and length. And I'm speaking from experience," he said.
Test for Natarajan 
Warner was effusive in his praise for left-arm quick T. Natarajan, who stands a decent chance of making the India XI for the coming Test, but has doubts over how successful his Sunrisers Hyderabad teammate would be in the longest format.
"I'm not too sure. I know he has line and lengths to do well, but obviously, how well he'll do in back-to-back overs in a Test is something I'm not 100 per cent sure," Warner said.