Fans may warm up to the excitement of watching an India-Australia contest later in the year with the Cricket Australia (CA) announcing its home summer schedule on Thursday, but one wonders if the Indian team management will be entirely happy with it as no warm-up matches have been marked in the lead-up to the Test series.
Though the world is still grappling with the Covid-19 crisis, the Australian board has laid out its resumption plans with the engagements against India in all three formats being the highlight of it, not just in terms of the high quality cricket it promises, but also because of its financial importance.
Australia will begin with a tour by Zimbabwe for a three-match ODI series from August 9. India will tour the country for a three-game T20I series, beginning October 11.
The T20 World Cup, which is to be hosted by Australia, is scheduled to be held from October 18-November 15, though there are chances that it may get postponed. The CA release doesn't say anything about the mega-event.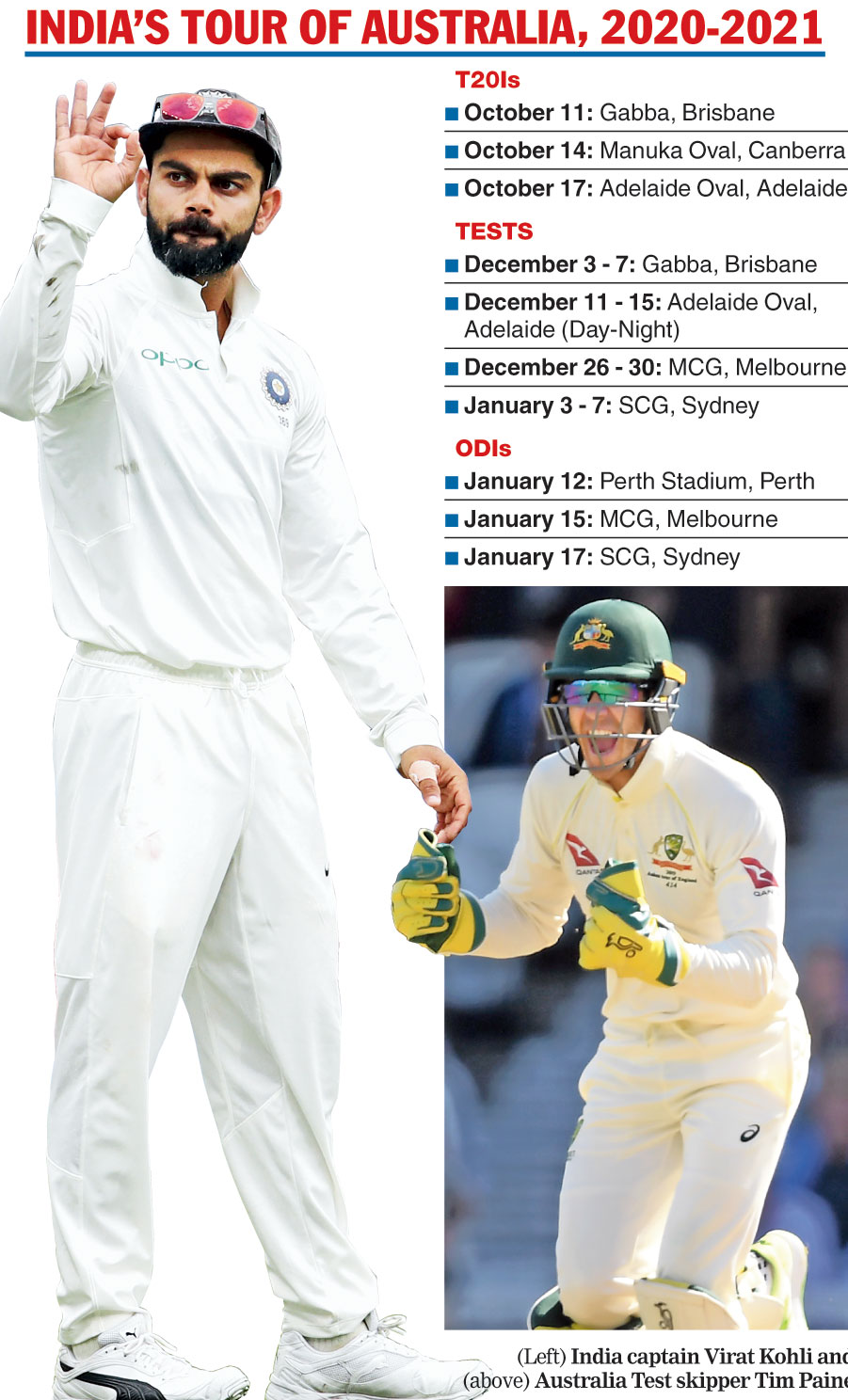 The Telegraph
Virat Kohli's men will return for a four-Test series, beginning on December 3 in Brisbane. India are scheduled to play a Day-Night Test from December 11 to 15 in Adelaide. The third and fourth Tests will be held in Melbourne (December 26-30) and Sydney (January 3 to 7).
The three-match ODI series is scheduled to begin on January 12 in Perth.
There is no mention of any warm-up match before Australia's only Test series of the summer, but without one, one assumes, it would be difficult for Kohli's men to tackle the challenges of Test cricket Down Under. The pink-ball Test makes matters even more complicated.
Last year, when Kohli was asked during a media conference if he would be ready to play a Day-Night Test in Australia, the India captain had said: "Whenever it is held, there should be a practice game before it."
The Indian team had refused to play a Day-Night Test in Adelaide during the 2017-18 tour simply because it was slotted without keeping a tour match so that the team could get acclimatised.
"It can't be that sudden," Kohli had said.
So will Kohli and head coach Ravi Shastri be okay with the schedule announced by CA this time?