Injured tigress reaches goal
Of the 5 medals that Indian women have won at the World Championships, 3 have come from the Phogat sisters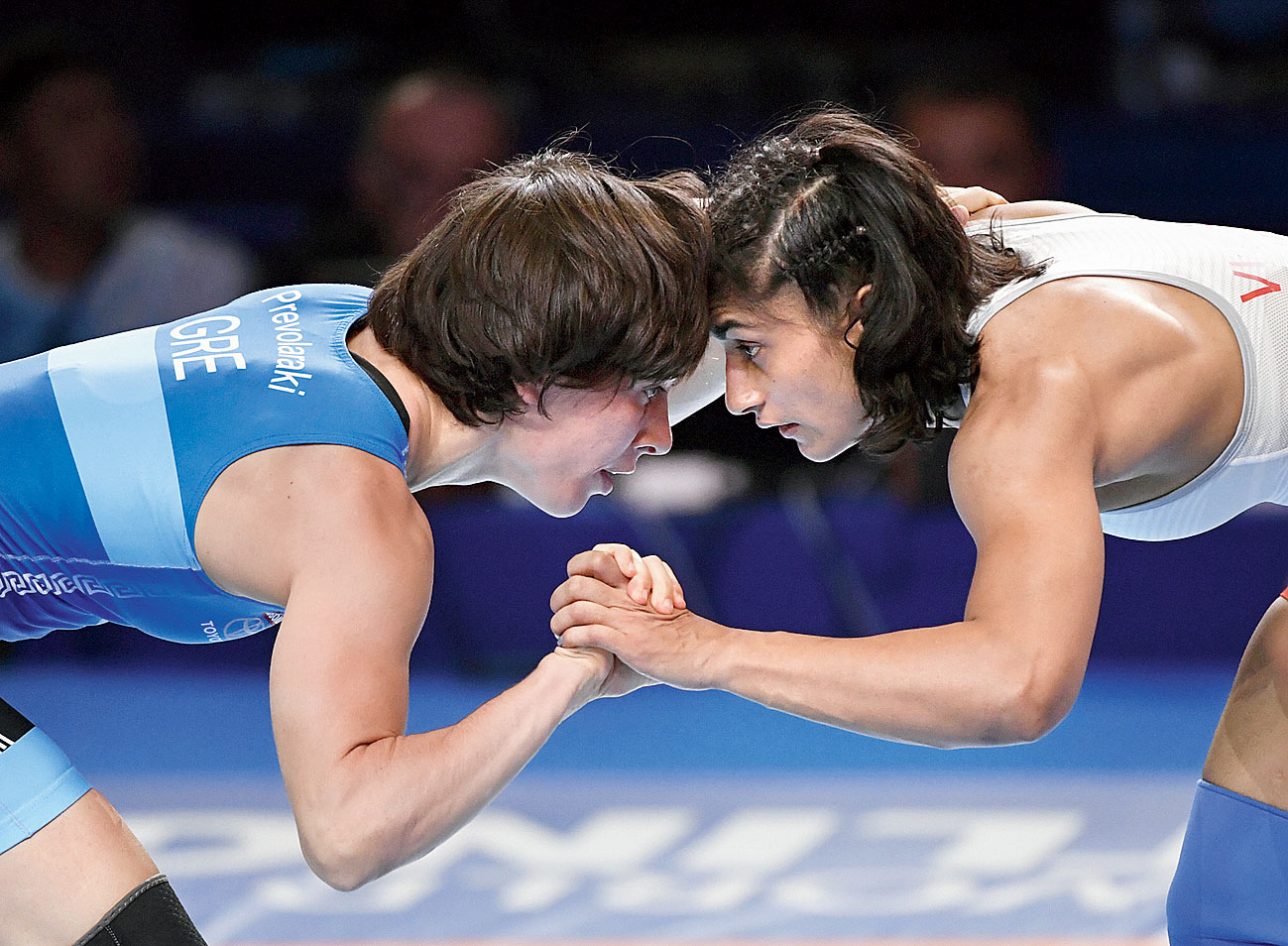 Vinesh (right) and Maria Prevolaraki during the bronze-medal match on Wednesday.
(PTI)
---
Calcutta
|
Published 19.09.19, 08:33 PM
|
---
One of the most disturbing images of Rio 2016 was the sight of Vinesh Phogat writhing in pain on the mat, with her coach, medical staff and opponent forming a circle around her, trying to figure out how bad the injury was.
With her badly twisted right knee heavily strapped up, Vinesh was stretchered out of the arena, but through that pain she had promised a comeback.
Cut to 2019, the World Championship at Nur-Sultan, Kazakhstan. Vinesh earned the right to again fight for Olympics glory, booking a berth for Tokyo 2020, on Wednesday. The bronze medal was the icing on the cake.
Of the five medals that Indian women have won at the wrestling World Championships, three have come from the Phogat sisters.
Vinesh, who, along with her sister Priyanka, was brought up by her uncle Mahavir after her father died, grew up with cousins Geeta and Babita who have been trailblazing wrestlers in their own right. The family boasts of six wrestlers, all trained by Mahavir — Geeta, Babita, Priyanka, Ritu, Vinesh and Sangita.
Aamir Khan's 2016 film Dangal is loosely based on the Phogat family.
On Thursday, a very proud Babita told The Telegraph: "I feel very proud. Vinesh is the first Indian woman to qualify for the Olympics from a World Championship. Out of the five World Championship medals won by Indian women, three are in our home," she said.
While Vinesh won the bantamweight bronze on Wednesday, Babita and Geeta won bronze medals in 2012, in the bantamweight and lightweight category, respectively.
"What is good for Vinesh is that she has qualified early and has a lot of time to prepare. I believe she can win a gold in Tokyo," Babita said.
Asked how Vinesh recovered from her knee injury in Rio, she said: "Chot toh khiladi ka gehna hota hai (injuries are a player's ornaments). An injury hurts, but it also makes you feel stronger mentally. She had a dream in Rio, which she could not realise. But that made her stronger, more determined."
Vinesh went on to win gold medals at the 2018 Asian Games and Commonwealth Games. "She got better, won international medals and is now focused on Tokyo. When a tigress is injured, she becomes more dangerous. She becomes more powerful. The same happens with a player. Vinesh too wanted to do better. She has forced herself to improve. She wants to prove to the world that she can do it."
"We sisters always train together, even when we are in camp. It doesn't matter who is younger or older. One who has the urge to win will always do better," Babita added.
Will she be giving Vinesh any tips for her Olympics preparations? "Well, Vinesh teaches us and we teach her. She will definitely train specially for the Olympics. She will want to give her best and rectify her weaknesses. We constantly want to improve. It is a continuous process."
Babita's father Mahavir also believes that the Rio injury has egged on Vinesh: "After she recuperated from her injury, she worked very, very hard. The injury made her stronger. Gold medals in the Asian and Commonwealth Games were the result of her determination to improve."
Asked if he believed that Vinesh will be able to reach the Tokyo podium, Mahavir said: "Not only me, but whole of India wants her to win a medal in the Olympics. In Rio, it was difficult for me as a father and a coach. But you know every Indian suffered. She was playing so well and then that unfortunate injury happened."
His word of advice: "Work harder. That is what I told her when I spoke to her for a few minutes yesterday."