LIONEL MESSI — BARCELONA TO PARIS SAINT-GERMAIN (FREE TRANSFER)
Dream Scenario: Messi provides the golden touch that PSG's quest for the holy grail of the UEFA Champions League has been missing thus far. Alongside Neymar and Kylian Mbappé, the Argentine forms the most lethal trident in modern football history, as the French giants sweep all before them in domestic and continental competitions. Nouveau riche PSG finally enter the ranks of footballing aristocracy.
Realistic Expectations: The world's greatest player makes PSG more clinical in front of goal and more dynamic in midfield. PSG easily take back the league title from Lille and repeat their semi-final run from last season in the UCL.
Disaster Alert: Messi's lack of defensive contributions make PSG too top-heavy and manager Mauricio Pochettino is unable to get the best out of MNM. PSG miss out on the French championship for the second year running and UCL hopes go up in the Parisian smoke.
CRISTIANO RONALDO — JUVENTUS TO MANCHESTER UNITED (15 MILLION EUROS) Dream Scenario: The Portuguese legend becomes United's goal-scoring focal point and comes up trumps in key games. With the help of Ronaldo's goals, United win their first Premiership since 2012-13 and reclaim the UCL in a fairy tale comeback season.
Realistic Expectations: Ronaldo helps put away the mid-table Premier League sides that United have often struggled against under Ole Gunnar Solskjaer, as the Red Devils push Manchester City and Chelsea close for the title. In Europe, CR7 takes his team deeper than they have been in close to a decade.
Disaster Alert: Ronaldo's biggest contribution is selling a record number of United jerseys plastered with his name. His low work rate and lacklustre pressing haunt United in the big games and Solskjaer and Co miss out on being top two in England besides making a premature exit from the UCL.
ROMELU LUKAKU — INTER MILAN TO CHELSEA (115 MILLION EUROS)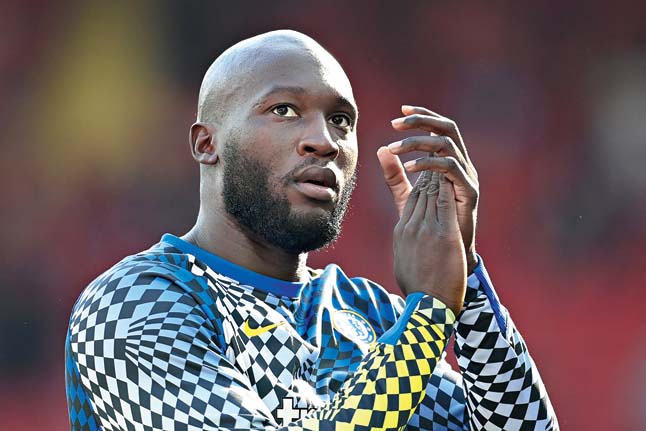 Dream Scenario: Lukaku solves Chelsea's striker woes and lifts the curse that has weighed upon recent Blues wearing the vaunted number 9. The Belgian's agility and link up play sees him emerge as the most decisive player in England as Chelsea make a fist of defending the Champions League apart from becoming English champions for the first time in half a decade.
Realistic Expectations: Lukaku plays a more sophisticated version of the role mastered by Didier Drogba at Chelsea, leading the line with strength and a streak of flamboyance. He scores more than 25 goals in all competitions, propelling Chelsea to another consistent season under the always reliable Thomas Tuchel.
Disaster Alert: The ghosts of Lukaku's first spell in London return to haunt him as the star striker loses his bearings and fails to dovetail with Chelsea's decorated midfield. The goals dry up, frustration mounts, and the curse of the number 9 remains omnipotent.
SERGIO RAMOS — REAL MADRID TO PARIS SAINT-GERMAIN (FREE TRANSFER) Dream Scenario: Ramos shores up the PSG backline with his impeccable positioning, experience, and leadership. Having cruised to the league title, Ramos channels his UCL beast to take PSG all the way, perhaps even scoring in another final with a bullet header.
Realistic Expectations: The most-capped player for the Spanish national team makes PSG impregnable in France and almost watertight in Europe, but it is not enough to make up for an erratic midfield and a forward line that is ill-equipped to track back.
Disaster Alert: Injuries plague Ramos's season as he slips into a bit-part player for PSG. Pochettino does not trust him against pacy attackers in the UCL and Ramos can only cheer from the sidelines as PSG flatter to deceive. And, of course, Ramos gets sent off at least thrice during the campaign!
ANTOINE GRIEZMANN — BARCELONA TO ATLETICO MADRID (LOAN) Dream Scenario: Griezmann rediscovers his mojo under Diego Simeone and repairs his frosty relationship with Luis Suárez as Atletico triumph for the second successive term in La Liga. Bogged down by the presence of Messi at Barcelona, Griezmann is champion of his destiny once more and thrives in a roving role for Atletico en route to becoming the best player in the Spanish top division. Additionally, Atletico reach their first UCL final since 2016.
Realistic Expectations: The Frenchman gets on with Suárez and the pair guide Atletico to a top two finish in Spain and at least the last eight of the UCL. Griezmann scores and sets up a bag of goals.
Disaster Alert: With his confidence dented, Griezmann repeats his miserable relationship with Suárez from their time in Catalonia and cannot find the back of the net on a regular basis. João Félix outshines Griezmann and the former wonder boy of Madrid is demoted to an afterthought.
JACK GREALISH — ASTON VILLA TO MANCHESTER CITY (117 MILLION EUROS) Dream Scenario: The rightful heir to David Beckham, Grealish adds grace and style to Man City's already stocked midfield, curls home half a dozen jaw-dropping strikes, and plays a pivotal part as Guardiola manages to win a Champions League outside Barcelona at last.
Realistic Expectations: Grealish helps to unlock several defenses that sit deep against the Citizens, shows the composure expected of a Guardiola midfielder in crunch ties, but is unable to make the difference as City falter in Europe once more.
Disaster Alert: The feather touch that distinguished Grealish at Aston Villa eludes him at the Etihad, the fans begin to turn on him for bringing more style than substance, and City's number 10 gets labelled as the flop of the year.
EDUARDO CAMAVINGA — TO REAL MADRID (40 MILLION EUROS) Dream Scenario: The 18-year-old midfield dynamite galvanises an ageing Madrid midfield and seals a starting spot for Carlo Ancelotti's men with the same drive and purpose that fellow teenager Pedri did for Barcelona last season. Camavinga nurtures his finishing skills to finish with goal numbers that are in double figures, helping to soothe some of the Mbappé pain.
Realistic Expectations: Camavinga makes at least 30 appearances, starts and substitutions put together, and keeps Ancelotti and the Madrid hierarchy interested in him for the future. Filling in for one of Real's several midfield veterans, he shows glimpses of potential greatness.
Disaster Alert: The pressure of being Madrid's solitary signing for the window rattles Camavinga and following a series of ineffectual displays, he is sent out on loan to a mid-table side in Spain.
MEMPHIS DEPAY — LYON TO BARCELONA (FREE TRANSFER) Dream Scenario: Barcelona bounce back in sterling fashion with Depay as their new messiah. The Dutch winger combines with Ansu Fati to devastating effect and Ronald Koeman endorses his compatriot for the Ballon d'Or. The Catalan club are surprise La Liga champions and even conjure a commendable run in the UCL.
Realistic Expectations: Depay finishes as Barca's top scorer but cannot quite take them to the summit of La Liga. His efforts and effervescence bring him admiration from the Camp Nou and he stays on for more rewarding campaigns ahead.
Disaster Alert: The problems with fitness and positioning that scarred his time at Man United affect Depay yet again. In spite of Koeman's full backing, Depay endures an indifferent season and is among the first names rumoured to leave Barcelona at the end of the year.
GIANLUIGI DONNARUMMA — AC MILAN TO PARIS SAINT-GERMAIN (FREE TRANSFER) Dream Scenario: Donnarumma unseats Keylor Navas as PSG's go-to man between the sticks and showcases the same imperturbability that he did while steering Italy towards the Euro 2020 trophy. His commanding presence and rock-solid glove work take PSG to the promiseland of a league, cup and UCL treble.
Realistic Expectations: Donnarumma rotates regularly alongside Navas and makes a string of match-saving stops, especially in Europe. His performances make him one of PSG's most important players, even though the club fall short in their titanic aspirations.
Disaster Alert: Some uncharacteristic howlers keep Donnarumma out in the cold as Navas stays PSG's numero uno in goal. A disgruntled Donnarumma contemplates a January move back to Italy.
JADON SANCHO — BORUSSIA DORTMUND TO MANCHESTER UNITED (85 MILLION EUROS) Dream Scenario: The electricity of Sancho provides the perfect catalyst for United to dominate English football. In tandem with Marcus Rashford, Bruno Fernandes, Mason Greenwood, and Ronaldo, Sancho forms a four-man attacking line that not only leads United to their 21st English title but also guarantees the most impressive European run in a very long time.
Realistic Expectations: Sancho consolidates a place in the starting line-up and offers a number of wow moments on the way to an impressive campaign that sees him notch up more than 25 goal contributions.
Disaster Alert: Attitudinal issues and persistent knocks derail Sancho, who loses his starting berth at Old Trafford and has to be content with cameo appearances that do not go too far in justifying his hefty price tag.
SO CLOSE YET SO FAR
The most anticipated moves from this summer that were set to happen until they unravelled....
NOT QUITE THE REAL DEAL
For the last three years, Real Madrid have had a singular obsession in the transfer market — get Kylian Mbappé. Despite lamenting Madrid's financial woes publicly, Real president Florentino Pérez has been pulling strings in private, even going as far as using his separate construction business to "tap" Qatari emirs into forcing PSG's hand to negotiate. Tipped by many to be a future Ballon d'Or, Mbappé has dreamt of wearing the hallowed white shirt in the Spanish capital since his childhood, a dream that PSG poured cold water over last month. Madrid, who have been supposedly accumulating an "Mbappé fund" ever since the pandemic set in, made two bids for their man in August, with the second one reported to touch 200 million euros. But PSG refused to budge, seemingly content to see Mbappé run out his contract and head out (to Madrid in all likelihood) for free next summer.
NO "LEVYRAGE" FOR KANE
Tottenham Hotspur's chairman Daniel Levy has not built his reputation as football's toughest negotiator for nothing. When big names have left Spurs under Levy's watch, be it Gareth Bale, Luka Modric, or Christian Eriksen, they have always been on Levy's terms. Club idol and forward Harry Kane tried to change that this summer. He failed. From giving interviews that made clear his desire to sign for a club like Manchester City to failing to turn up for Spurs' training on time after Euro 2020, Kane acted like a desperate man. Kane's rashness, ill-advised on behalf of his agent father and agent brother, allowed Levy, who had tied Kane down to a long-term contract in 2018, to wield all the leverage. In the end, Kane reiterated his allegiance for Spurs on Twitter, before putting his Man City mission on ice. Levy, meanwhile, had won again.
A BRIDGE TOO FAR
There is no doubt that Norwegian sensation Erling Haaland will be leaving Borussia Dortmund soon. Haaland's much touted exit could have been this summer if the stars, or rather the numbers, had aligned for his superagent Mino Raiola and Chelsea. The European champions were in need of a striker after a disappointing debut season from Timo Werner last term, and Thomas Tuchel would only have been too happy to have the ruthlessly efficient Haaland at Stamford Bridge. Having already set the Bundesliga alight, Haaland's pace and power would have been a nightmare for most Premier League defenders. With a perfect match on the cards, talks were set in motion, but eventually broke down when Raiola demanded too much for his client, and of course, for himself. Chelsea, one of the shrewdest purchasers around, pulled out in time to obtain the services of Romelu Lukaku instead, while the black and yellow army at Dortmund got one more year of guaranteed goals to feast their eyes on.