Pariah to champion: Strange story of Djokovic's 2022
Djokovic, Serbia's most famous citizen, captured $2.2 million prize on Sunday with a 7-5, 6-3 win over Casper Ruud of Norway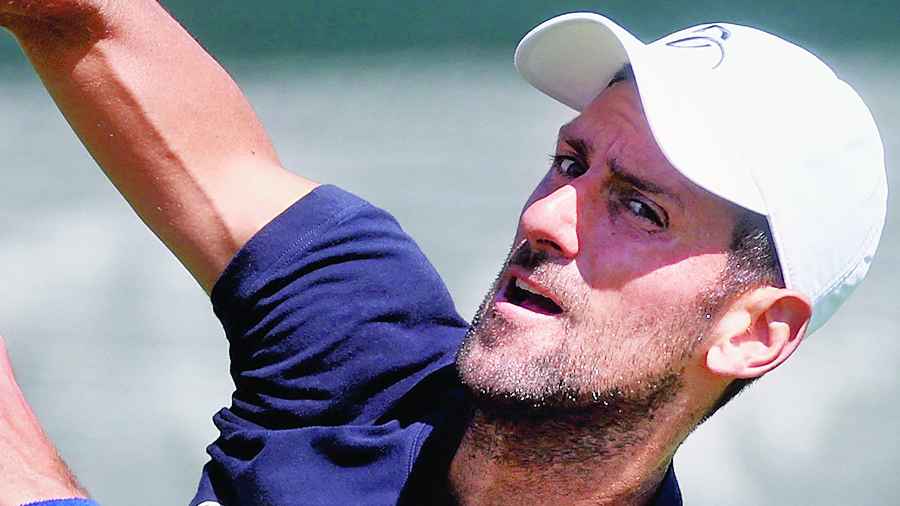 Novak Djokovic.
File photo
---
Turin
|
Published 22.11.22, 05:04 AM
|
---
The 2022 men's tennis season finally ended on Sunday night with Novak Djokovic, the 21-time grand slam singles champion, seemingly on top once more. This being tennis though, the story is not that simple. It rarely is, especially when Djokovic is involved. Actually, it's pretty complicated.
Carlos Alcaraz, the 19-year-old Spanish phenom, got a massive trophy in Turin on Thursday, his reward for finishing the season as the world's top-ranked player.
Because he is injured, however, he did not play in this season-ending tournament, the ATP Finals.
Djokovic, Serbia's most famous citizen, captured the $2.2 million prize on Sunday with a 7-5, 6-3 win over Casper Ruud of Norway, plus a $2.5 million bonus for going undefeated this week. He got a massive trophy, too, and staked a rightful claim to being the best male player in the world, even though he's ranked eighth.
Like Alcaraz, in 2022 he won only one grand slam tournament. Rafael Nadal, the men's career leader with 22 Grand Slam singles titles, won two, so maybe he is the hero of the year, despite losing four of his last five matches.
Still with us? Djokovic missed two of the four grand slam tournaments and huge chunks of the season because he refused to get vaccinated against Covid-19. The major he won, Wimbledon, earned him zero rankings points after the tennis powers in Britain decided to bar players from Russia and Belarus.
That move violated Wimbledon's nondiscrimination agreement with the men's and women's pro tours. So, in retaliation, the tours attempted to turn the sport's most prestigious championship into an exhibition by withholding their rankings points.
Djokovic capped it all off with a textbook win Sunday evening. He was far from 100 percent physically and spent extra time on his bench during the changeovers, guzzling a brown energy drink and mopping his face with towels.
An ace down the middle of the court sealed the match.
Djokovic — hoisting and embracing his children, who have been with him all week — was on top of tennis once more. "In my mind, I always see myself as the best player in the world," he said.
He was this week, but this is tennis.
In fairness to the sport, it's been a weird year. Coronavirus outbreaks. Changing vaccination requirements. Russia's invasion of Ukraine. Ill-timed injures at the top of the sport.
While 2022 may have been especially messy, tennis is the rare sport that seems to encourage the mess. Stefanos Tsitsipas of Greece won the most matches among the top players, but just one significant tournament.
Prefer a more subjective measure? Nick Kyrgios, the temperamental and combative Australian, a master showman and "tennis genius" according to Djokovic's coach, is the reigning crowd favorite, especially with the younger generation.
"It's like you have this book and everybody is writing different chapters," said Andrea Gaudenzi, the chairman of the ATP and a former player. "And you can only find those chapters in different bookstores, and you've got to figure out the story."
The danger for professional tennis as the world has known it for a half-century is that within confusion there is an opportunity for disruption. Saudi Arabia, which made a mess of men's golf this year, buying players away from the PGA Tour to create LIV Golf, has begun to dip its toe into tennis.
Several top young players — including Daniil Medvedev and Andrey Rublev of Russia, Alexander Zverev of Germany, Kyrgios and Dominic Thiem of Austria — will play in an exhibition in Saudi Arabia in December, likely earning hefty fees just to show up.
But what exactly was the story of 2022?
Taylor Fritz, the top American male player, who won his first Masters 1000 title in March and lost to Djokovic in two tie-breaker sets in an ATP semi-final on Thursday, called 2022 a "crazy year" that boiled down to this: When Djokovic was allowed to play, he was the best player.
"There's no doubt about that," Fritz said Saturday as he absorbed being so close to knocking off Djokovic though not in the most crucial moments.
But Djokovic was out for long stretches, and other than the injury-prone Nadal early in the year, no one else seized the mantle.
It started in Australia in January, when Djokovic was detained and then deported from the country because of his vaccination status. The men's season went sideways from there, as its dominant player became a part-time participant.
Djokovic said this week that he had learned a lot about himself and the world this year. "I'm always thankful to go through experiences, no matter what the experiences are," he said.
At the end of a long, strange year, he has plenty of reasons to feel that way.
New York Times News Service