Djokovic tops Tsitsipas in 5 at French Open for 19th major
It was again an electric atmosphere: Novak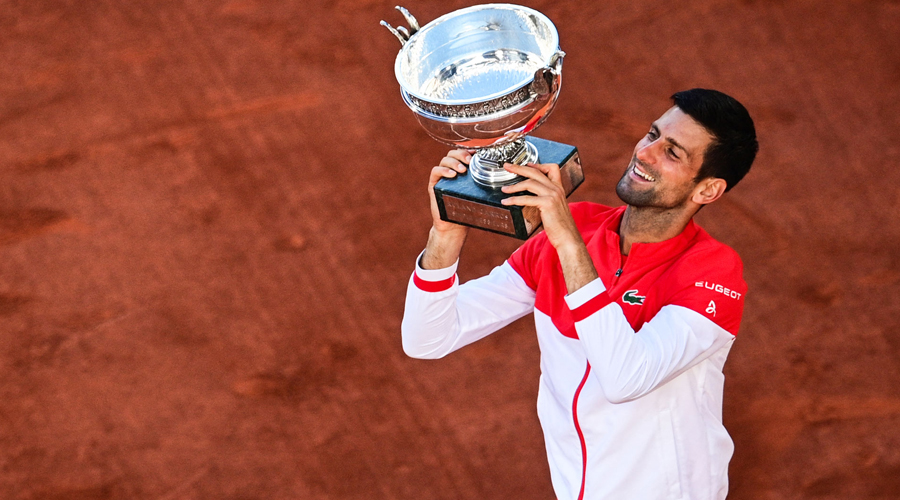 ---
Paris
|
Published 14.06.21, 01:30 AM
|
---
Novak Djokovic had to dig deep, but at the end the world No.1 proved his mettle, defeating Stefanos Tsitsipas of Greece to win the French Open on Sunday. Coming back from two sets down, Djokovic recorded his second stunning triumph in less than 48 hours.
The five-set victory — 6-7 (8-6), 2-6, 6-3, 6-2, 6-4 — lasted more four hours and 11 minutes, exactly the same duration of his epic semi-final against Rafael Nadal on Friday.
It was the second grand slam triumph of the year for Djokovic, who won the Australian Open in February, and the 19th of his career, just one behind Nadal and Roger Federer, who are tied for the career lead among men with 20.
An unforgettable journey #RolandGarros | @DjokerNole pic.twitter.com/EHhcmo4eb2

— Roland-Garros (@rolandgarros) June 13, 2021
Tsitsipas, 22, is one of the rising stars of pro tennis. He was playing in his first grand slam final and was not expected to upset a player like Djokovic, but he came close. But every player worth his salt on the tour knows how difficult it is to win against Djokovic if they allow the match to go beyond the third set. The longer the better for the world No.1 who seems to be able to bring out a secret energy reserve and pedal on.

The match followed the four-set duel that Djokovic played against Nadal two days earlier which Djokovic immediately called one of the greatest of his career. This one was likely a close second, requiring Djokovic to recover from a violent tumble on the clay in the first set.
The title was Djokovic's second at the French Open. He is now the only male player of the modern era to have won every Grand Slam tournament twice.And yet Sunday's final was anything but a coronation, even if at first it looked like it would be. Djokovic compared beating Nadal at Roland Garros to climbing Mount Everest. Two days later, it turned out he had to scale K2.
On the changeover during the second set, Djokovic smothered his face with his towel, exhibiting a kind of hopelessness and despondence he rarely does. A game later, Tsitsipas had a two-set lead and the match was his to lose.
A dream realized again

Congrats, @DjokerNole!#RolandGarros pic.twitter.com/ICrDEo1CBS

— Roland-Garros (@rolandgarros) June 13, 2021
There is this thing that Djokovic seems to do in the biggest moments of nearly every big match. He makes a conscious decision that the time to win has arrived. His first step to the ball gets a few milliseconds faster. His groans as he makes contact get a few decibels louder.
If he needs a little more patience to wait for the right moment to attack he has that, too. His changes of direction become even more crisp. Using his freakish flexibility, he unleashes his forehand like a slingshot.
In the third set, Djokovic started jumping on Tsitsipas's serve for the first time in nearly an hour, pushing him back into the court and moving him from side to side. His shots started landing in spots that left Tsitsipas totally out of position once he caught up to them.Losing the third, Tsitsipas called for a trainer. But by then, Djokovic had taken charge.
With a match and a championship within reach, there may be no player who closes as clinically as Djokovic. Tsitsipas would make one last stand, saving match point with a backhand winner to the corner.
But on the final point, Djokovic worked his way to the net and put away the tournament with an overhead to an open court. It took him a bit to summon the energy to raise his hands in celebration.
"It was again an electric atmosphere. Nine hours of tennis in less than 48 hours," Djokovic said on court.