Dhoni sparks off young talent row
Any slip in the choice of words can be more dangerous than misreading the most treacherous of googlies, as the CSK skipper is finding out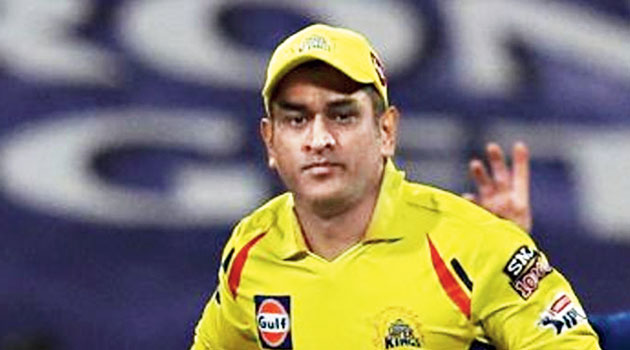 ---
|
Calcutta
|
Published 21.10.20, 02:22 AM
---
As in politics so in cricket, leaders are always answerable. And it is all about the choice of words. Any slip can be more dangerous than misreading the most treacherous of googlies.
Mahendra Singh Dhoni has landed himself on a similar tricky pitch with his post-match comment on youngsters in the Chennai Super Kings squad after the seven-wicket thrashing at the hands of Rajasthan Royals on Monday.
Analysing the defeat and the poor season, Dhoni said: "This season, we were not really there. And, also, there were a few chances to the youngsters and maybe we didn't see the kind of spark that they could have given us to say, okay, push (out) the experienced guy and maybe make some space for them (youngsters)."
Dhoni, one of the greatest captains that cricket — certainly Indian cricket — has witnessed, has triggered a controversy with that comment.
There are two basic problems with what Dhoni has said. One, the Super Kings squad this year is short on young talent. And two, have enough chances been given to the youngsters for them to be judged thus?
Super Kings have a total of four under-25 players, of whom three are Indians. England's Sam Curran, 21, is the lone overseas player in that group and he has been doing decently well. But what about the Indians? Batsman Ruturaj Gaikwad has got two games so far, wicketkeeper-batsman Narayan Jagadeeshan has played one while left-arm spinner R. Sai Kishore is yet to get a single game.
Ruturaj, 22, didn't fire in the two games he played, aggregating only 5. But he is a serious talent, his credentials say so. He was the second-highest scorer in the 2019-20 Syed Mushtaq Ali Trophy T20 meet with 419 runs at a strike rate of 146.50. His overall T20 average is 31.40 and it is even better in List A cricket, where he averages 49.00.
Kedar Jadhav, 34, has played eight matches in IPL 2020 for Super Kings, making 62 runs. If one may say so, it doesn't seem even Jadhav had any "spark" in his batting. So why didn't Ruturaj get a few more chances?
Jagadeeshan made a 28-ball 33 in the only match he played and was promptly dropped thereafter. The 23-year-old, who is known to score heavily in the Tamil Nadu Premier League, must be wondering what his fault was.
Sai Kishore, 23, finished as the top wicket-taker in last season's Syed Mushtaq Ali meet with 20 scalps at an impressive economy rate of 4.63. With the likes of Piyush Chawla, Karn Sharma and even Ravindra Jadeja hardly scoring with the ball this season, it's bewildering why Sai Kishore did not get even a single game.
Dhoni, perhaps, should have been more innovative with his team selection. The Super Kings are loaded with aged players, but there is nothing wrong in that if they are performing. If not, the youngsters should have got a longer rope.
Former India opener Krishnamachari Srikkanth has criticised Dhoni for his comments on youngsters lacking spark. Speaking to Star Sports Tamil, Srikkanth said: "I won't accept what Dhoni is saying. This talk of process, process... I won't agree with that. You're talking about process, but the process of selection itself is wrong."
He further added: "You're saying youngsters don't have spark, does Kedar Jadhav have spark? Did Piyush Chawla show spark? Come on, this is all ridiculous, I will not accept his answers today. By going on and on about the process, CSK's tournament is going to end."
Only Royal Challengers Bangalore have fewer young players than Super Kings. They have just two Indian players who are under the age of 25. But they have shown faith in both of them — Devdutt Padikkal and Washington Sundar — and both have done exceedingly well so far.
The other teams are packed with youngsters, with the top two, Delhi Capitals and Mumbai Indians, having eight (five Indians) and seven (all Indians) under-25 players, respectively.
Dhoni has indicated that some of the younger players in Super Kings will now get chances. But with the team's chances of making it to the play-offs being wafer-thin, one doubts if the master tactician has got his timing right this time.
If Dhoni rewinds on his career, he would find that he lacked the so-called "spark" in his first four ODI innings with scores of 0,12, 7 not out and 3, before he slammed a 148 versus Pakistan in Visakhapatnam in 2005. Someone showed faith in him and that his how the legend of Dhoni was scripted.
John Arlott, the legendary journalist and commentator, once called cricket a "precarious profession". As Dhoni faces the heat in the twilight of his career, he would perhaps acknowledge that.