In defeat, Nagal wins the moment
The 22-year-old qualifier from Jhajjar in Haryana gave world No. 3 Roger Federer a fright by taking the first set at the US Open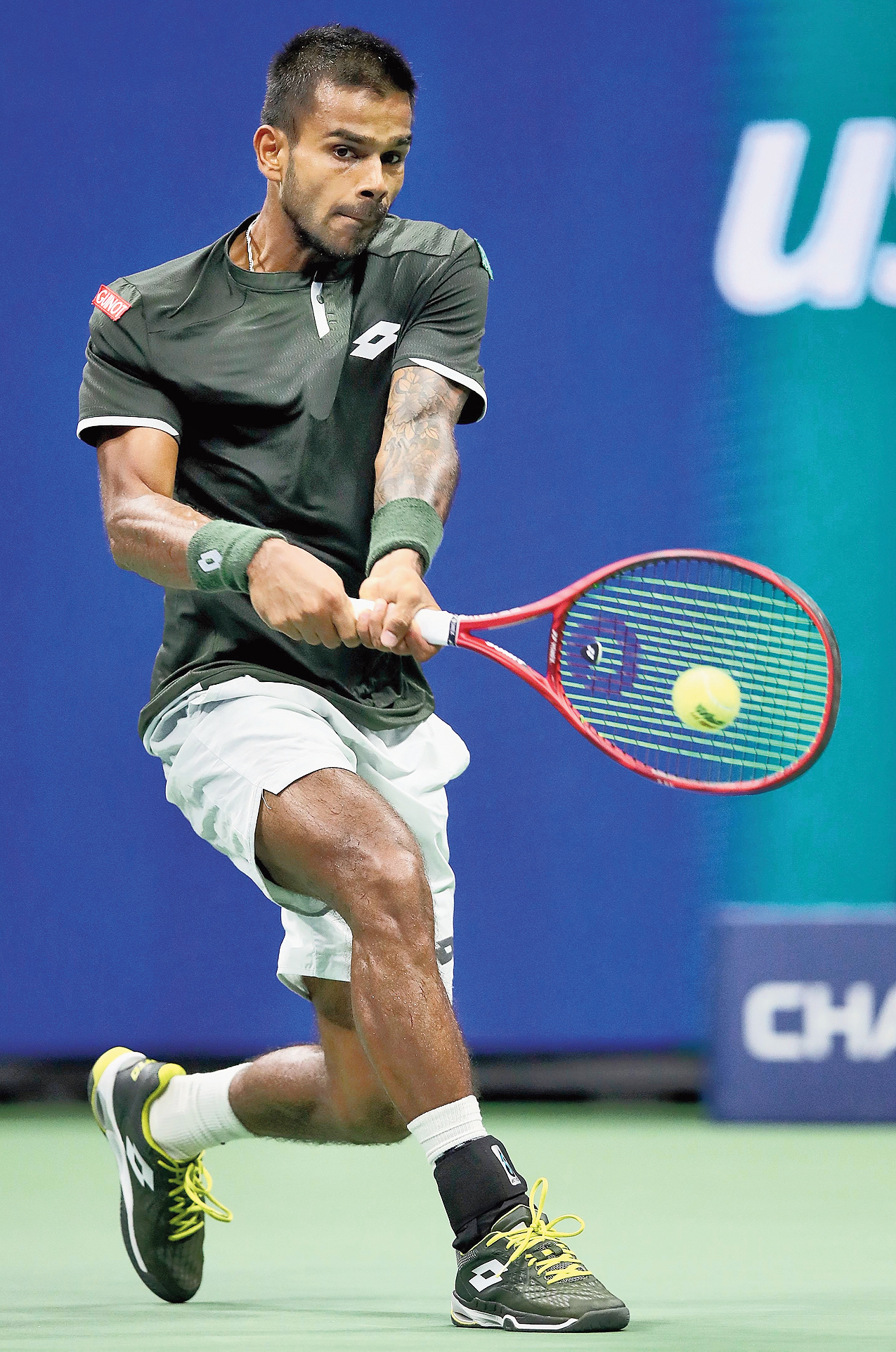 ---
|
New York
|
Published 27.08.19, 09:59 PM
---
Sumit Nagal was on one of the grandest tennis stages of all, and for most of an hour on Monday evening, he was equal to one of the greatest players of all time.
The 22-year-old qualifier from Jhajjar in Haryana gave world No. 3 Roger Federer a fright by taking the first set at the US Open — something no Indian has been able to do in a Grand Slam event against the Swiss legend.
It took Federer 2 hours and 30 minutes to defeat Nagal 4-6, 6-1, 6-2, 6-4 at the Arthur Ashe Stadium in New York. "I thought I played like my beard today," Federer said in an on-court interview. "I was rusty."
And later, he had encouraging words to say about the young man he had beaten, but not vanquished. "I think Nagal knows what he can bring. That's why I think he's going to have a very solid career. I think he did very well tonight," Federer said.
Asked what he thought was the standout feature of Nagal's game, Federer replied: "I guess maybe how he handled the moment."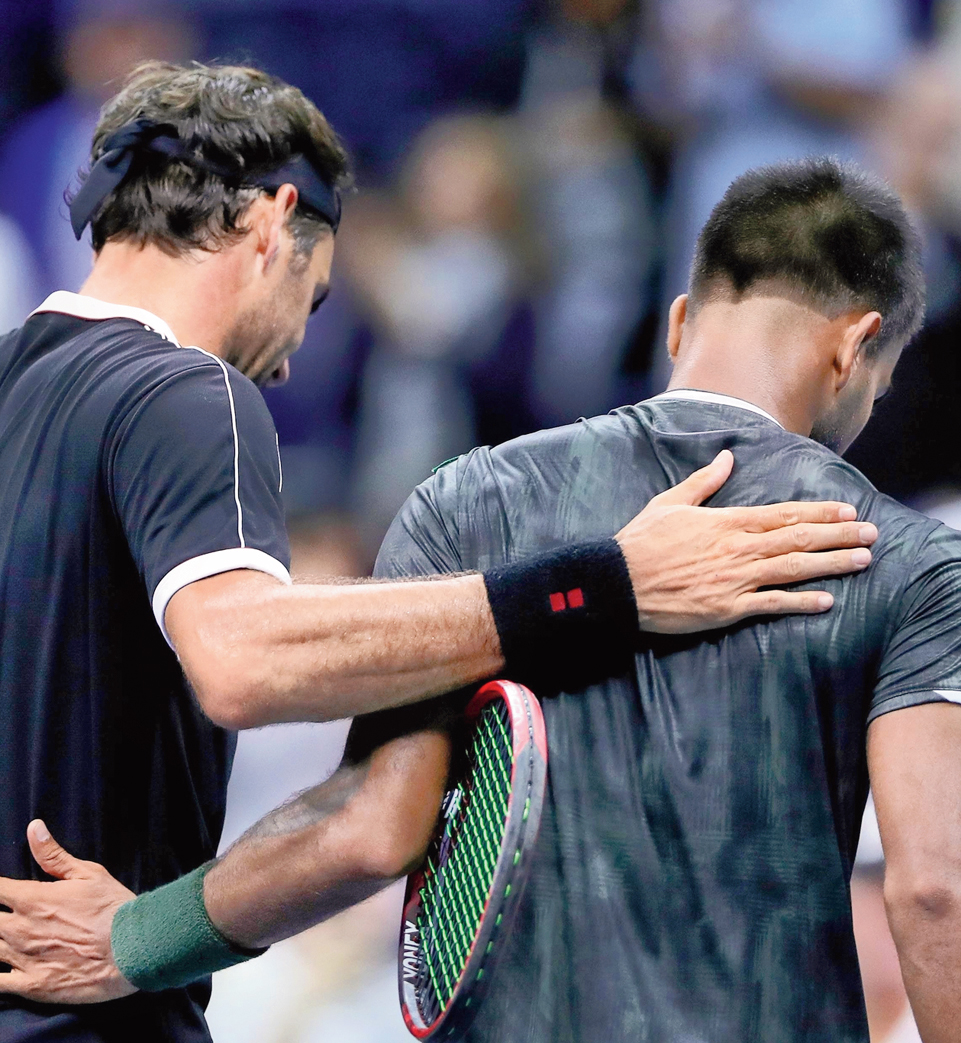 Federer, who won his five US Open titles from 2004 to '08, looked to be in considerable danger after Nagal, ranked No. 190 in the world, grabbed the first set amid 19 unforced errors by the third seed.
Nagal hit strong, confident ground strokes, pushing the Swiss back on his heels. But in the second set, Federer regained his normally exquisite form and quickly squashed the challenger's hopes.
Nagal did break Federer's serve in the fourth game of the fourth set to revive his dimming prospect of an upset. But Federer broke right back, and finished the match.
Nagal had lost in the first round of qualifying at his previous three Grand Slam events, but won three matches in New York last week to reach a main draw for the first time.
Speaking from New York, Nagal said he has learnt to control his "inner demons" and is ready to cause "more damage" on the ATP circuit.
The 22-year-old had been outside the 350-rank bracket at the beginning of the season but has taken long strides since joining Sasha Nensel and Milos Galecic in Paine, Germany. "Staying disciplined and listening to people is the change. I have a big problem that I don't listen sometimes. This is where Milos comes in. He has his own principles, who is hard to work with but he is great to work with," Nagal told PTI.
Nagal first drew notice when he was 10 — only two years after he first started playing — at a tryout at the New Delhi academy of former India star Mahesh Bhupathi. Nagal approached Bhupathi at one point, grabbed his hand and asked Bhupathi to come watch him play.
"He was not in the group chosen, as there were hundreds of kids there," Bhupathi said, "but he tugged on and asked me to look at him again and we watched him one on one. At 10 he had that racket head speed on his forehand which I had never seen with an Indian tennis player before, so he got picked. Comes from a very, very humble background, and has the mind-set, will do what it takes."
Nagal moved to Canada to train when he was 12, and in the past few years he has been playing on the Challenger tour across the world.
Nagal said he has learnt a lot by watching Federer from close. "I learnt a lot from him last night (Monday), how to carry yourself, how (when) to show emotions, mixing it up," he said.
Roger vs Indians

Sumit Nagal became the first Indian to take a set off Roger Federer in an ATP tournament. The following is a list of Federer's matches against Indians:
Bt Rohan Bopanna 7-6, 6-2 (Halle Open) 2006, first round
Bt Somdev Dev Varman 6-3, 6-3 (Dubai Tennis Championships) 2011, first round
Bt Somdev Dev Varman 6-2, 6-1, 6-1 (French Open) 2013, second round
Bt Sumit Nagal 4-6, 6-1, 6-2, 6-4 (US Open) 2019, first round
Note: In the qualifying rounds of the ATP Indian Wells Masters in March 2000, Leander Paes (then aged 26) beat an 18-year-old Federer 5-7, 6-1, 6-4. This being a qualifying round, it does not count in the ATP records.
Mohandas Menon