Ukraine crisis: Chelsea fear financial ruin and exodus
'If we aren't allowed to continue operating normally we will very quickly run into the red'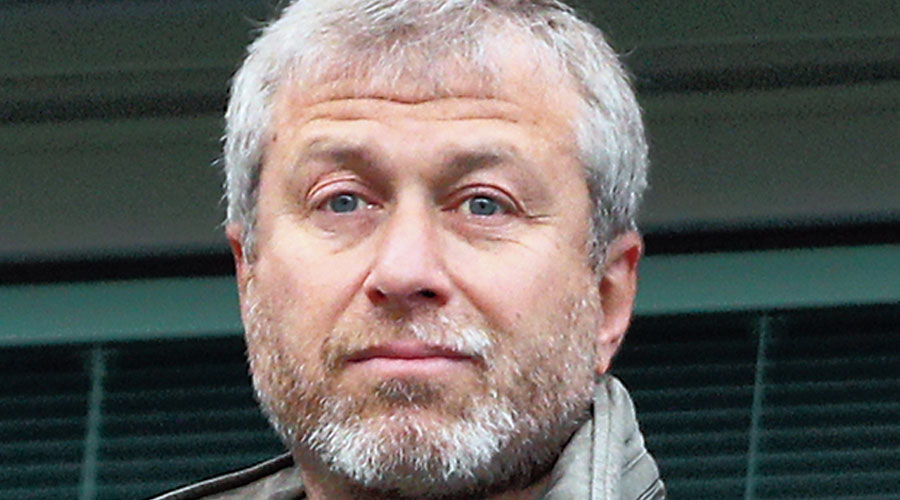 Roman Abramovich
File Photo
---
Published 11.03.22, 11:55 PM
|
---
Chelsea have warned that they face financial ruin if there is not an easing of the sanctions imposed on their owner Roman Abramovich even as a UK minister said the government would "facilitate" the club's sale and survival.
The US bank leading the search for a new owner at Stamford Bridge has informed potential buyers that the process has been paused after the Russian oligarch's assets were frozen in response to the invasion of Ukraine.
The club has been granted a licence by the government to continue all "football-related activities" but restrictions within that licence, including a freeze on ticket sales, have been described as crippling when there is also a block on the sale of the club itself.
"If we aren't allowed to continue operating normally we will very quickly run into the red," a senior Stamford Bridge source said.
On Thursday, one of the most dramatic days in the history of English football, there were a series of stunning developments:
• At 9am (2.30pm IST), the government imposed sanctions on Abramovich over his links to Vladimir Putin, the Russian President.
• The sanctions prevent Chelsea from selling any more tickets to matches this season, buying or selling players and negotiating contracts — leaving the futures of certain players in doubt.
• The club superstore has been shut
• Chelsea are not allowed to exceed £20,000 on travel to away matches, and must only pay "reasonable costs" towards home fixtures, "not exceeding £500,000 per fixture, per team".
• Telecommunications company Three suspended its £40 million-a-year sponsorship deal with the club.
• Another major sponsor, Hyundai, said it was "assessing" the situation. Kit manufacturers Nike declined to comment.
Chelsea remain hopeful they will be issued with a second licence that enables Abramovich to sell the club as long as he does not receive a single penny in proceeds.
Chris Philp, a minister in the department for culture, media and sport, said on Friday that the government would consider making changes to these rules, subject to a "red line" that Abramovich must not benefit.
"The government is willing to listen to any proposals that will make sure Chelsea can continue to function in a way that Abramovich doesn't get his hands on any of the money," he told BBC Radio 4's Today, adding that ministers were open to changing licence conditions "to make sure the club survives or indeed to facilitate a sale".
In the same breath, Philp criticised those Chelsea fans who chanted Abramovich's name during the club's 3-1 win against Norwich on Thursday night.
"I would just ask them to think very carefully before doing that again because of the atrocities and the barbaric acts by the Putin regime, which Abramovich has supported and enabled," Philp said.
The sanctions have triggered fears in the dressing room, manager Thomas Tuchel has admitted.
"Some players will feel uncertainties, some will maybe be a bit frightened, some will be concerned, it's normal, and it's also not only about the players," he said.
Chelsea will face Newcastle on Sunday afternoon with a licence granted for the club to continue with "football-related activities", but little else, including whether sponsors' logos would be on the jerseys, is certain for Tuchel.
From a footballing perspective, one of his main issues is the inability to buy or sell players, with Antonio Rüdiger, Andreas Christensen and César Azpilicueta out of contract in the summer, and under the present sanctions would leave the club for free.
"I don't know, exactly, the rules about the current situation and the licence," Tuchel said. "A statement from the club also says that negotiations and talks are ongoing about the licence so let's see what's coming."
(Written with inputs from Reuters)