Spain to Russia, football's itinerant follower
Pannalal, who was present at 10 consecutive World Cup football tournaments as a spectator, passed away at 86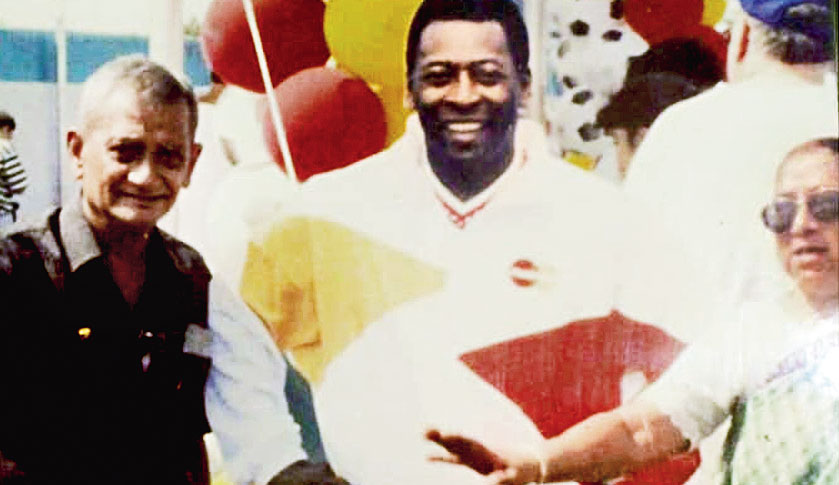 ---
Calcutta
|
Published 17.12.19, 08:19 PM
|
---
Pele told him during the 1994 World Cup, "Oh, you have come again"; Diego Maradona happily posed for a photo with him more than once; during the U-17 World Cup in India in 2017, Fifa extended grand facilities to him and his wife — Pannalal Chatterjee was no ordinary football fan.
Pannalal, who was present at 10 consecutive World Cup football tournaments as a spectator, passed away at the age of 86 at a city hospital on Tuesday.
His journey started from the 1982 Spain World Cup and continued till the 2018 edition in Russia. "In June 1982, we had gone to Sussex to meet Pannalal's friend Muzaffar Ali. He told us to go to Spain and witness the World Cup live. As you all know, Pannalal was a big fan of football, so he didn't take even a second to say a 'yes'… That is how our World Cup journey began," Pannalal's wife Chaitali told The Telegraph on Tuesday evening.
Chaitali has been Pannalal's constant companion not only in life, but also in the stands while watching football matches.
As soon as the news spread that Pannalal is no more, football loving people gathered near his flat at Ramkamal Street, in Kidderpore.
"A few days ago, he had suffered a fall in the washroom. Last week, he was down with fever and was unable to move. On Thursday, he was admitted to hospital. Clearly, age had caught up with him. The doctors tried their best but it all ended at 7.30 in the morning today," Sanjib Mukherjee, nephew of Pannalal, said.
Chaitali recalled with fondness the many events and incidents from their World Cup trysts.
"We were enchanted during the Spain World Cup and decided to go to Mexico to watch the next World Cup. We were fortunate that we could watch Maradona at his best during the 1986 World Cup. On TV, you can only watch the player who is with the ball. But at the ground, it was a different atmosphere altogether.
"Maradona's 'Hand of God' occurred in front of our eyes. I believe that is the best memory we have," she said.
Asked about their experiences with Pele, Chaitali said: "In New York, we used to stay just beside his hotel. He had been writing columns for more than 30 newspapers during the 1994 World Cup. Among them was Anandabazar Patrika… When he came to know that we are from India and, more importantly, from Calcutta, he allowed us to take a picture with him. "
Pannalal was a retired central government employee and his daily savings bought him his World Cup dreams.
"During the knock-out round matches of a World Cup, we used to plan for the next one. There were reasons too — people from various parts of the world come and watch the World Cup and a Russian can tell you the cheapest place to stay in Moscow. Similarly, a Brazilian can give you the best information about the cheapest eateries in Rio de Janeiro.
In Russia, we stayed at the Iskcon guesthouses," Chaitali said.
The I-League and the IFA took to social media to pay their tribute to the football fan. He was no ordinary fan after all.