City's Erling Haaland hope: Break Europe jinx
Real Madrid, FC Barcelona and Manchester United were also wooing him to sign on the dotted line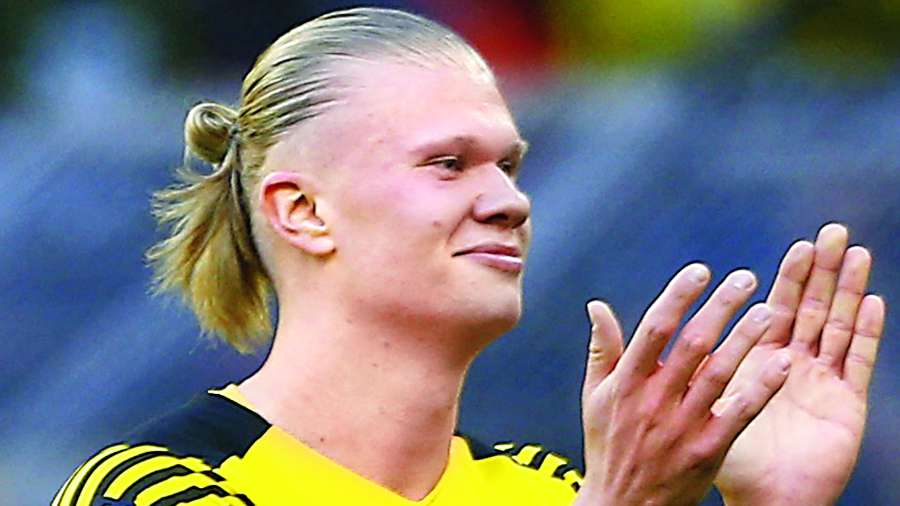 Erling Haaland
Sourced by The Telegraph
---
Published 12.05.22, 01:47 AM
|
---
After two years of relentless courting, Manchester City have finally got their man and No.9, Erling Haaland. The 21-year-old Norwegian has been the most sought-after young striker, along with Kylian Mbappe, ever since he switched over to Borussia Dortmund from Salzburg in December 2019.
Real Madrid, FC Barcelona and Manchester United were all wooing him to sign on the dotted line. In the end, Man City was his preferred choice and he comes for just £51 million ($63 million).
Despite all their spending, City and Pep Guardiola haven't been able to decipher the Champions League code. And Haaland's arrival at the tip of the City attack may end City's jinx in Europe.
Haaland has been a super sniper for Dortmund, netting 85 goals in 88 games with 19 assists. This is what the Spaniard was looking for post the Sergio Aguero era. And coincidentally he comes on board when City are celebrating 10 years of the Argentine striker's memorable injury-time strike against QPR on the last day of 2011-12 English Premier League.
A striker par excellence, Haaland will definitely send chills down the spines of the rival teams in the Premier League. The superior service he is expected to get from the likes Kevin De Bruyne, Riyad Mahrez, Phil Foden, Bernardo Silva, Jack Grealish and Raheem Sterling will make the 6 ft 3 frontliner all the more intimidating.
After Aguero left last summer, City, despite all their intricate passing and eye-catching football, look very fragile upfront. Yes Gabriel Jesus did shine as the ongoing season went into the business end but probably it was not enough. Hence, Haaland comes to give the attack more potency. He has immense power on his left foot, has finesse and skill and also can hold off rival defenders with his strength.
 "Happy not be running after this guy for the next couple of years. Welcome Erling," tweeted City defender Aymeric Laporte.
Imagine Haaland being in the City XI when they hosted Real Madrid in the first leg of the Champions League semi-final last month. Pep's menwere ridiculously profligate and had to be content with a 4-3 win at the Etihad. Without taking away even an iota of credit from Madrid's miraculous comeback at the Bernabeu, those missed chances of the first leg also played a huge role in Man City's nightmarish capitulation.
As always there are the doubting Thomases. They have already started murmuring about his playing style and propensity to pick up muscle injuries.
There are concerns that his style is not suited for the Premier League where strikers hardly get space to attack. His injuries have also forced him to miss 17 club games this season. But these are issues not to be worried about. Man City know they have got a real deal in this highly-talented striker. Norway's failure to qualify for Qatar World Cup is also a blessing in disguise
Haaland is not new to the Man City culture. After all, this is the club his father Alfie Haaland had played for between 2000 and 2003. He was born in Manchester and watched the team play from the stands just a few years back. As things stand now, it's a win-win situation for both Man City and Haaland.