Delhi miss out on bonus point
Punjab currently sit at the top of the Elite table with 17 points from two wins with bonus points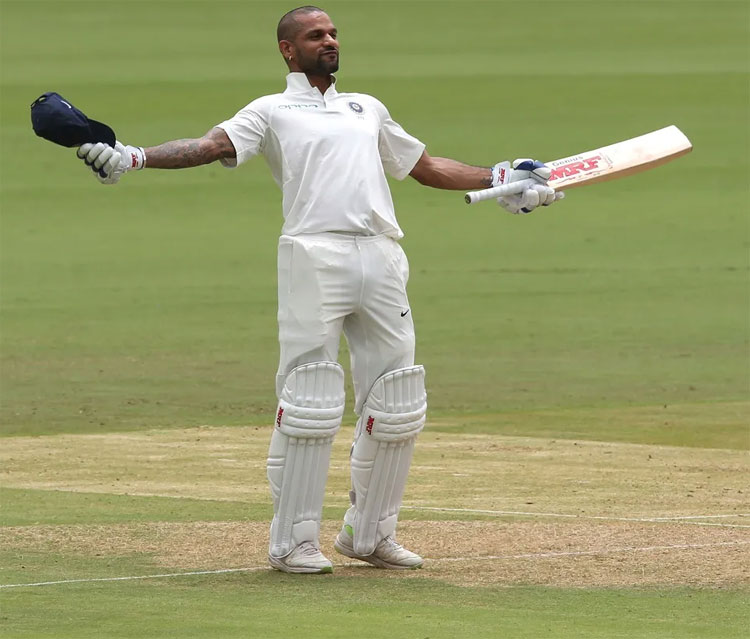 Delhi will miss the services of Shikhar Dhawan in the next match against Punjab
(Picture: Sportzwiki)
---
New Delhi
|
Published 28.12.19, 11:30 PM
|
---
Delhi predictably got six points but lost three wickets in their pursuit of a meagre 84-run target, failing to log home a bonus point in their third group A Ranji Trophy league encounter against Hyderabad here on Saturday.
Delhi now have seven points from three games and are currently placed 12th in the combined points list of the 18 teams in group A and B.
Hyderabad are second last with three defeats in as many games.
However, Delhi's problems will compound after Saturday's match as they will miss the services of Shikhar Dhawan, Navdeep Saini and Ishant Sharma when they next face Punjab in an away game.
Punjab are currently on top of the Elite table with 17 points from two wins with bonus points.
While Dhawan and Saini will not be playing the next game due to international commitments, Ishant will be available in the third game as a part of workload management programme.
SUMMARISED SCORES
In Delhi: Delhi 289 and 84/3. Hyderabad 69 and 298. Delhi won by 7 wkts.
In Nagpur: Vidarbha 338. Punjab 408/5 (Shubman Gill 100, Gurkeerat Singh 149, Sanvir Singh 82, Mandeep Singh 59). Match drawn.
In Rajkot: Saurashtra 331 and 120 (Harvik Desai 50; Saurabh Kumar 6/55, Zeeshan Ansari 3/42). Uttar Pradesh 523. UP won by an innings and 72 runs.
In Indore: Tamil Nadu 149 and 377/7 (Kaushik 154, N Jagdeesan 54). Madhya Pradesh 333 (Venkatesh Iyer 88, Rameez Khan 87, Mihir Hirwani 71; T Natarajan 5/106). Match drawn.
In Mysore: Karnataka 166 and 296 (Devdutt Padikkal 99, Karun Nair 64; Rishi Dhawan 5/83). Himachal Pradesh 280 and 34/2. Match drawn.
In Cuttack: Uttarakhand 117 and 195 (Dhanraj Sharma 50; Suryakant Pradhan 5/63, Basant Mohanty 3/76). Odisha 253 and 63/0. Odisha won by 10 wkts.
In Jamshedpur: Haryana 371. Jharkhand 408/5 (Kumar Deobrat 161, Saurabh Tiwary 152 not out, Utkarsh Singh 48). Match drawn.
In Jammu: Jammu & Kashmir 460/5 decl. Assam 82/2. Match drawn.
In Pune: Maharashtra 289 and 149/3 decl. (Ruturaj Gaikwad 76, Satyajeet Bachhav 52 not out). Chhattisgarh 286. Match drawn.
In Patna: Bihar 326, 162/1. Goa 470. Match drawn.
In Calcutta: Mizoram 73 & 113. Pondicherry 458/5 decl.Pondicherry won by an innings and 272 runs.
In Mangaldoi: Chandigarh 455/9 decl. Meghalaya 148, 118. Chandigarh won by an innings and 189 runs.
In Dibrugarh: Manipur 196 & 215. Arunachal Pradesh 143 & 184. Manipur won by 84 runs.
In Bhubaneswar: Sikkim 274 & 133. Nagaland 196 & 113/1.Nagaland won by 9 wkts.