We back Sourav, changes will happen with time: Azharuddin
He is expected to be present at Eden Gardens on Friday when the CAB felicitates Sourav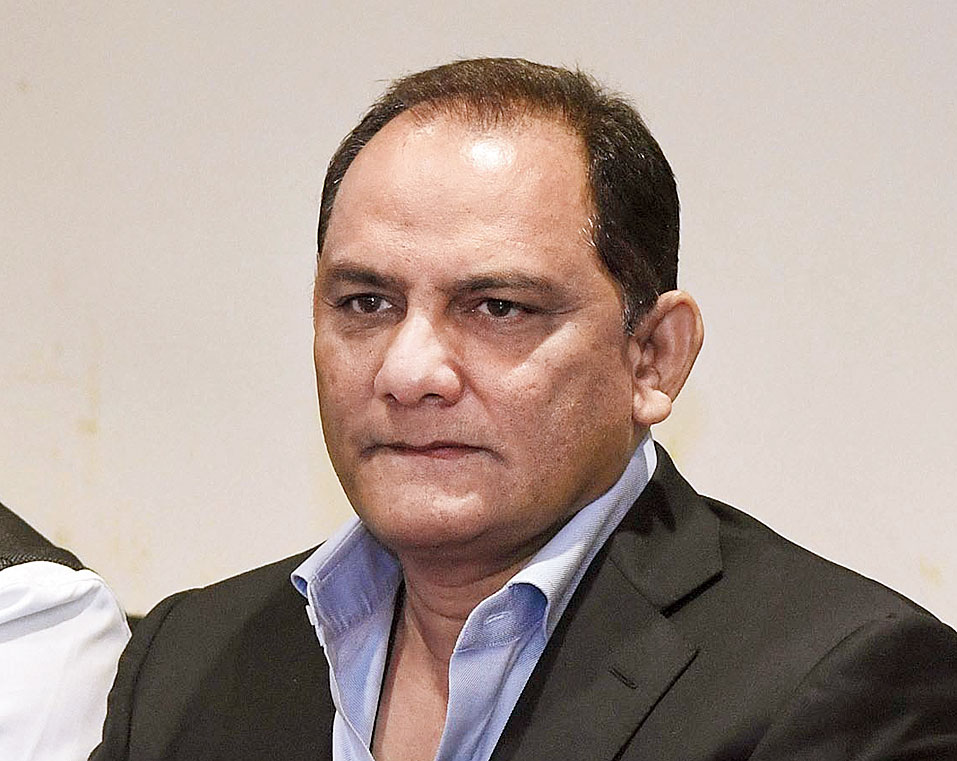 Mohammad Azharuddin in Mumbai on Wednesday.
(PTI)
---
Calcutta
|
Published 24.10.19, 08:17 PM
|
---
Wednesday will remain special for Mohammad Azharuddin. As the Board of Control for Cricket in India (BCCI) came into its own after almost three years, the former India captain made his debut at its general body meeting.
Azhar is the president of the Hyderabad Cricket Association. The focus on Wednesday, however, remained firmly on Sourav Ganguly who took over as BCCI president.
Azhar had been Sourav's first Test captain on his debut at Lord's in the summer of 1996. "I feel really happy for Sourav. He fully deserves the president's role. I've always respected him and want to help him in his endeavour. He has his ideas and we should work together with him," Azhar told The Telegraph on Thursday.
"He has the experience and time and again has shown that he's a good leader. He can think differently and has a vision. He needs the right support and we will see a lot of positives coming out of his tenure."
So engrossed was Azhar on Wednesday with Sourav taking over as BCCI president that he didn't wish to take the limelight away from him. "Today is Sourav's day. I will speak only tomorrow. Today Sourav is the groom and he deserves all the attention," Azhar had said at the Cricket Centre on Wednesday.
He kept his word.
"I'm happy to be part of the BCCI. The most important thing is to contribute your ideas and make it a better place. I never realised I would reach such a position. Your never really know what destiny has in store," said Azhar.
He is expected to be present at Eden Gardens on Friday when the Cricket Association of Bengal felicitates Sourav. Azhar has five Test centuries at the Eden (a record he shares with fellow Hyderabadi VVS Laxman), including a hundred on debut (110 versus England in 1984-85).
How does Azhar see this recent trend of former cricketers coming into administration?
"This is always a good move. But how far it will pay off depends on the individual. I would consider it good since the players will be on a different level. They have played the game and will have different thoughts and ideas. They understand the players' mindset, their needs and what their psyche is.
"They know the nuances of the sport. I am trying my best to improve Hyderabad cricket, which has seen a downslide, after taking over as the association's president.
"But people should remember that I don't have a magic wand. Things will happen slowly. There are lot of things to work on and it will not happen over the next 15 days. It will be a continuing process," Azhar explained.
The 56-year-old former India captain isn't sure though how Virat Kohli's idea of having five permanent Test centres will work out.
"There are so many centres in India. I don't know how far that is feasible as it is very hard to slot only T20Is and ODIs in the smaller centres. That is why I always felt the rotation policy was good.
"There are so many well-maintained and professionally run centres in India. It's sad that Test cricket isn't attracting crowds.
"If Sourav has ideas he will implement and we are behind him. We want to bring the crowds back to Test cricket. But things can't happen overnight. The BCCI is in place after almost three years. We have to learn from the past and move ahead," Azhar remarked.
Day-Night Tests to attract crowds doesn't appeal to Azhar. "I'm not sure about Day-Night Tests. It's always good to experiment. But all people involved in the process should agree. Drastic changes may not always click," he said.
He, however, agreed with Sourav that the National Cricket Academy (NCA) should be made into a state-of-the-art facility.
"I agree that a lot of improvement is needed at NCA. This is where the players should hone their skills and the best facilities must be provided. The players should get the much-needed guidance here. It shouldn't be reduced to a rehab centre.
"As for first-class cricket, I want Duleep Trophy back in its zonal format. My personal view is that will be better for Indian cricket."