Mukesh Kumar misses dad on D-day
It was my father's dream to see me playing in the IPL, says the Bengal quick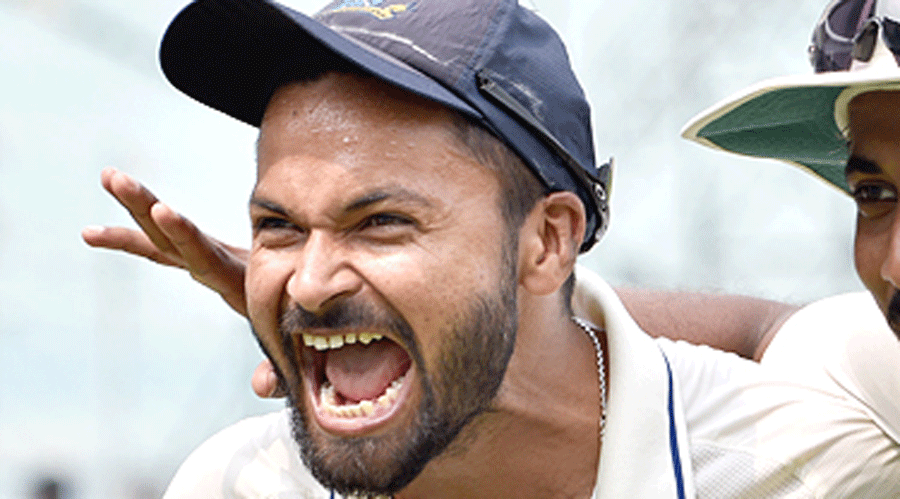 Bengal cricketer Mukesh Kumar, who was picked up by Delhi Capitals for Rs 5.5 crore on Friday.
The Telegraph
---
Calcutta
|
Published 24.12.22, 03:59 AM
|
---
Mukesh Kumar's father, Late Kashinath Singh, wasn't too convinced when his son wanted to make a career out of cricket. But after having established himself in the Bengal team as a pacer, his father started growing in optimism. 
"It was my father's dream to see me playing in the IPL. Unfortunately, he couldn't witness it as he passed away three years ago. But I'm sure he'll be watching me from somewhere.
"I'm happier for him," Mukesh, the only Bengal cricketer to get an IPL deal (of Rs. 5.5 crore from Delhi Capitals) at Friday's auction in Kochi, told The Telegraph.
The Bengal quick was "bombarded with calls" soon after the Delhi franchise sealed the deal, thwarting bids from Chennai Super Kings and Punjab Kings. "These things are expected, but what's even more pleasing is I have achieved something that I had promised to my father.
"He wasn't dead against me pursuing cricket, but he just had a few doubts about how higher I would be able to reach coming from a middle-class family. Nonetheless, if he was there today, I'm sure he would have been the happiest person," Mukesh said. 
The Capitals aren't at all a new place for Mukesh as he had been there for trials last year and was also a net bowler for the franchise in this year's IPL. "Spending time there has certainly benefited me," he acknowledged.
"Pravin Amre (assistant coach), Ricky Ponting (head coach) and Ajit Agarkar (also an assistant coach) would watch carefully when I used to bowl. In fact, Agarkar was always there when I would bowl at nets. I did get some tips on the use of the seam."
Mukesh believes he has been able to impress the Capitals coaching staff with his bowling. "Well, honestly, I did get almost all their batters out during training sessions. That includes Rishabh Pant as well.
"I didn't get a chance to bowl to David Warner, but I do remember that I had got all the other batters out. So I'm quite confident I'll be able to impress further on getting a chance in the coming IPL," Mukesh, currently working on getting match-fit at the NCA in Bangalore, emphasised. 
Confidence will surely take Mukesh far, but how far only time will tell.