David Miller's aim is IPL form
'Been quite busy with a lot of games, but I feel I've been working really hard over the last couple of years on the physical side of things'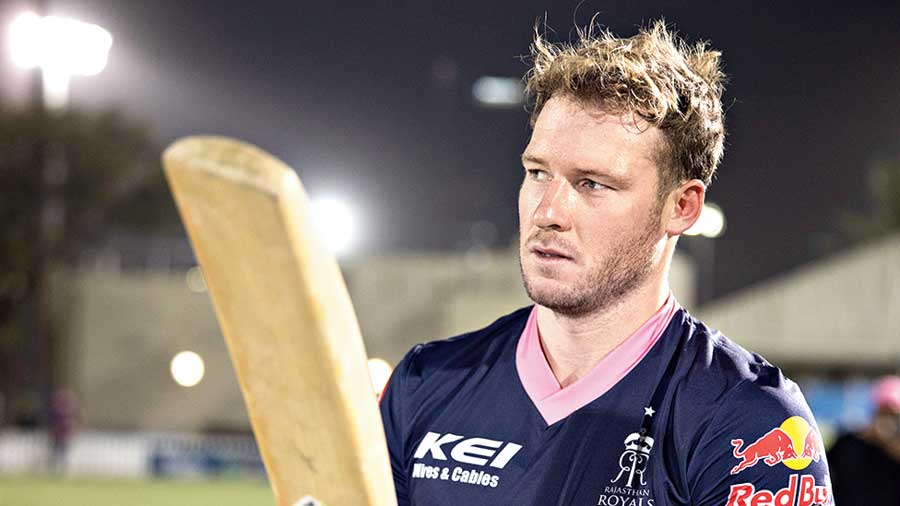 ---
Published 08.06.22, 02:51 AM
|
---
A "fresh" David Miller is confident of carrying his good form in IPL 2022 into South Africa's five-match T20I series versus India beginning at the Kotla in New Delhi on Thursday.
Playing a pivotal role with the bat, especially during run chases, in Gujarat Titans' triumph in their debut IPL this year, Miller finished as the third highest run-getter (481) of the side. Now the 32-year-old is focused on delivering for the Proteas with an eye on the T20 World Cup, starting this October in Australia.
"It's been quite challenging with two months of the IPL... Been quite busy with a lot of games, but I feel I've been working really hard over the last couple of years on the physical side of things.
"I feel fresh and ready to go after a two-day break in the Maldives. It was pretty good for the mind, but I'm back into the swing of things here and really feeling good," the left-hander said in an audio shared by Cricket South Africa.
"Batting in the middle order, you always do want to finish off games. I pride myself on that and it was nice to tick that box (in the IPL).
"I'm looking forward to this series now and want to do much the same that has been my objective and goal now for many years, which is to try and win games for my country. I really enjoy the space I'm in along with the experience of the guys we have now. We're building up a really nice, strong team," Miller emphasised.
Miller, who celebrates his birthday this Friday, iterated that he understands his game "a lot better" now, particularly in terms of what he needs to do during pressure situations. And by no means is his performance in this year's IPL putting extra weight on his shoulders.
"Every international game I have played regardless of the responsibility as a senior or junior, there has always been a sense of pressure. So I don't think that changes. Just that with the kind of experience I have presently, I deal with it a lot of better," he stated.
"It's quite a nice feeling to know that I have been in the IPL for many years, which can help me impart knowledge to Temba (Bavuma) and the rest."