Barcelona is still 'the best place' for Messi: Diego Forlan
With the La Liga season coming to an end, questions may again arise over the footballer's future with the club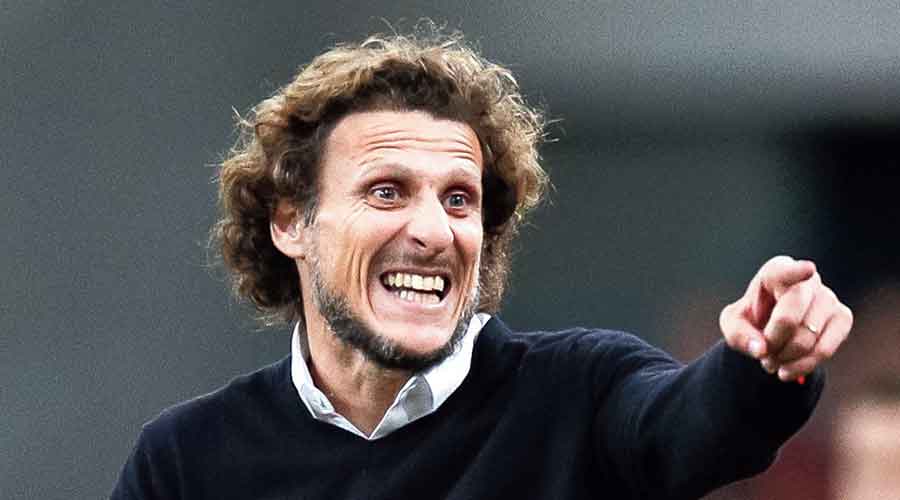 Diego Forlan
Telegraph picture
---
Calcutta
|
Published 18.03.21, 02:48 AM
|
---
With the La Liga season coming to an end, questions may again arise over Lionel Messi's future with Barcelona.
Diego Forlan believes Barcelona is still "the best place" for Messi. "Barcelona have a new president (Joan Laporta) now and if they build a strong team for next season, that should be good for Messi and I think he'll stay back then.
"I think Barcelona is the best place for him. His family is also there and everyone has adapted. And as I said, if they get in a few more quality players, I think he'll stay," Forlan, the Golden Ball winner of the 2010 Fifa World Cup, who's currently a La Liga ambassador, said in response to a query from The Telegraph during a virtual interaction on Wednesday.
It's after a long time that neither Messi nor Cristiano Ronaldo would be seen in the last-eight stage of the Uefa Champions League as both Barcelona and Juventus have lost in the Round of 16. So is that an indication that both of them have passed their prime?
Forlan replied: "Both are great players and always working hard to score, but I don't know how long they will keep doing it.
"Cristiano is going to be 36 years old, but he is still in good shape. Obviously, they aren't going to play forever and will be finishing their careers in a few years from now. That said, they're still making some difference."
Among the young crop of footballers, Forlan finds Borussia Dortmund's Erling Haaland as one of the stars in the making. "Haaland is definitely one of them."
Talking about his former club Atletico Madrid, who lead the La Liga standings at present, Forlan feels Luis Suarez has played a massive role in the team's progress. "Though Suarez is getting older, he remains fit, and when you're fit and physically strong like he is, your quality doesn't get affected," Forlan said about his former Uruguay teammate.
"He has more goals as of now than the number of goals scored by Diego Costa and Alvaro Morata combined last season. So imagine only one player scoring so many goals and making such a big difference! You can see the result."
The VAR (Video Assistant Referee) has been a subject of debate ever since it was introduced. Forlan, though, doesn't seem to be too pleased with it.
"Yes, less mistakes than before, but they need to be much better. Not to say it has to be 100 per cent right, but it should be closer to 99 per cent.
"There are rather some big mistakes with VAR that you don't understand why they are still making it," he remarked.