Spotify eyes the audiobooks market, making it the third pillar of its business
Daniel Ek, co-founder and CEO of Spotify, speaking at a recent investor day event in New York, made his ambitions clear — to make the platform a one-stop shop for anything to do with audio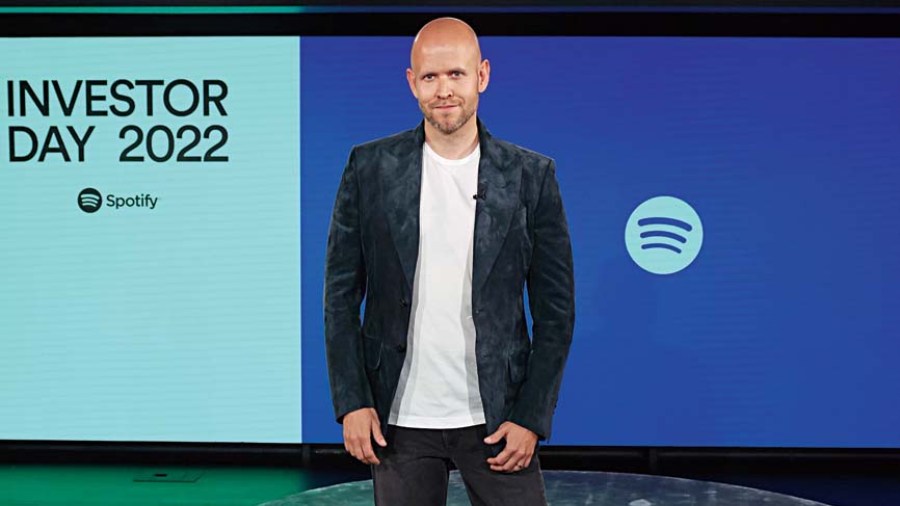 Daniel Ek, co-founder and CEO of Spotify, at a recent investor day event in New York.
Picture: Spotify
---
Published 13.06.22, 02:17 AM
|
---
Spotify is trying to embrace anything and everything that has audio at its heart. The global streaming service seems to be taking audiobooks very seriously and why not — the medium has immense potential.
Daniel Ek, co-founder and CEO of Spotify, speaking at a recent investor day event in New York, made his ambitions clear — to make the platform a one-stop shop for anything to do with audio. "We believe that audiobooks, in their many different forms, will be a massive opportunity. Today, the global size of the book market is estimated to be around $140 billion dollars. That's inclusive of printed books, e-books and audiobooks, with audiobooks having only about a six-seven per cent market share," he said.
He went on to say that the most penetrated audiobooks markets, the figure is close to 50 per cent of the market and he considers audiobooks to be an "annual opportunity of $70 billion for us to expand and eventually compete for". It seems like Amazon-owned Audible will have a lot of competition at hand.
A few days ago, Audio Publishers Association made public its 2021 statistics on the size of the market. The Sales Survey conducted by InterQ shows audiobook revenue in 2021 was $1.6 billion, marking a 25 per cent increase and the tenth straight year of double digit growth. There were around 74,000 audiobooks sold in 2021, which is six per cent more than in 2020. If genres are looked into in way of sales, science fiction and fantasy were closely followed by mystery/thrillers/suspense, romance and fiction. Another APA survey called the 2022 Consumer Survey was conducted by Edison Research and the findings are equally interesting — 41 per cent of listeners subscribe to at least one audiobook subscription service and 61 per cent of parents say their children listen to audiobooks, which is up from 35 per cent in 2020.
"Just as we've done in podcasting, expect us to play to win. And, with one major player dominating the space, we believe we will expand the market, and create value for users and creators alike. And this third vertical of audiobooks further builds on our ambitions to be the destination for creators. While it's still early, we expect audiobooks to also have healthy margins, above 40 per cent and be highly accretive to the business. And here again, we will apply the same differentiating foundations of ubiquity, personalisation, and freemium to attract both creators and users, and drive engagement," said Daniel.
A move in the audiobook direction has already taken place with Spotify's acquisition of Findaway, which was announced last year. Consider Findaway to be sort of an Anchor because it allows authors to create, distribute and monetise their work. The executive overseeing audiobooks at Spotify is Nir Zicherman, co-founder of Anchor. (The Findaway deal has not actually closed yet.)
Daniel is aiming for an annual revenue of $100 billion (as a company) in a decade. "And we are accelerating our move from a one-size-fits all, to a much more dynamic and open platform. A platform that will entertain, and inspire and educate more than one billion users around the world," he said.