Nokia 5.4 strikes a right spec-sheet balance
Powered by the Snapdragon 662 chipset, there isn't any visible lag while switching between applications or playing games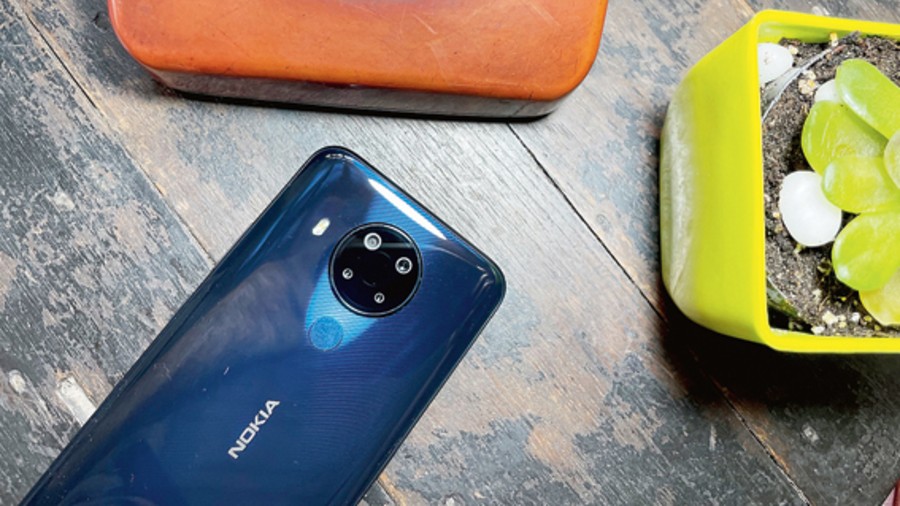 Nokia 5.4 offers top specs at a reasonable price.
Pictures: The Telegraph
---
Published 10.02.21, 10:25 PM
|
---
It's about priorities. Is high display refresh rate more important than operating system support for a couple of years? Is a shiny plastic back more important than a sturdy well-designed panel? HMD has asked itself these questions while planning its new phone, the Nokia 5.4.
The device comes at a time when POCO M3 is showing some good vibes. Our first impression of the Nokia 5.4, which we have received for review, suggests quite a few winning features.
HMD, the company that makes phones sold under the Nokia brand name, has made a conscious decision to offer things that will hold the user in good stead for a few years. First, the phone comes with Android support for two years, which means you won't miss out on any big Android feature, something that's not promised by many brands. Plus, there will be security updates and patches for three years.
In terms of design, what we now have is a sturdy plastic back with a striking finish — nothing glossy, so there will be fewer fingerprints. The bezels have narrowed down but the Nokia logo remains on the chin. So far we haven't had any problem watching films on the 6.39-inch HD+ screen, accompanied by OZO spatial audio. Coming to the cameras, there is a 5MP ultra-wide mode, which is missing on the POCO M3. Other than that, the main shooter is 48MP while the usual 2MP depth and macro options are also there. Initial photos show good depth, no colour saturation and a high dynamic range. Also impressive is the shutter speed, which is slower on the POCO M3. More about this in our full review.
Check out the cinema mode, which captures at 24fps while the content is in 21:9 cinematic format. For smoother motion shots, dial it up to 60fps video recording.
Powered by the Snapdragon 662 chipset, there hasn't been any visible lag while switching between applications or playing games. The chipset and HD+ display also ensure less power draining, which keeps the 4,000mAh battery ticking over and is enough to give you almost two days of usage.
It's good to see that Nokia has retained a microSD slot to support up to 512GB and the same goes for the headphone jack. Also present, fast-charging.
Striking a right spec-sheet balance is important, which seems to be on point from our initial testing of the Nokia 5.4 (4GB/64GB for Rs 13,999 and 6GB/64GB for Rs 15,499).