Dinesh Paliwal, the man behind audio giant Harman
The president and CEO of Harman is the go-to man if any big car company has questions about car audio systems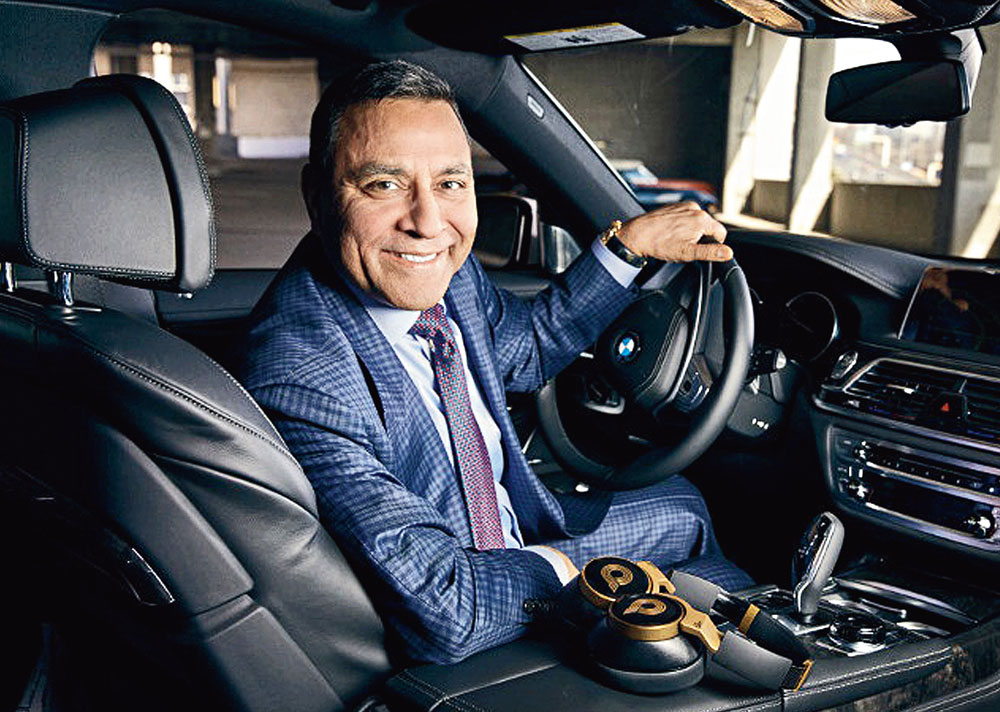 ---
---
After Satya Nadella took over as CEO of Microsoft, the fortune of the Bill Gates-founded company changed. Sundar Pichai, the CEO of Google, is efficiently steering the company through a turbulent period in its history. And then there is Dinesh Paliwal, one of the most powerful names in the tech industry, leading Stamford-based HARMAN, a name audiophiles all over the world recognise. The president and CEO of Harman International Industries is, in fact, the go-to man if any big car company has questions about car audio systems.
Acquired by Samsung for about $8 billion in November 2016 (transaction was completed the following year), HARMAN has brands like JBL, harman/kardon, Infinity, AKG, AMX, dbx, Lexicon and several others.
After chasing the 61-year-old honcho who lives in Connecticut, Greater New York City Area, for months, The Telegraph managed to connect with Paliwal. Excerpts.
How much has life changed since HARMAN became a Samsung company?
Samsung is an incredible company that has always been at the forefront of innovation in consumer technology. When they acquired HARMAN, considering the value that HARMAN brands and its products added to its portfolio, a decision was taken to keep HARMAN independent — wholly-owned, but independent. Our strategy is to leverage the synergies between the two companies and take advantage of the scale of Samsung's R&D, capital deployment and sourcing across consumer electronics, semiconductors, smart displays and 5G connectivity in home and automotive.
We have built a strong culture at HARMAN, the highest level of work ethics. A clean, transparent and extremely customer-focused environment continues to be the foundation of the HARMAN culture. As the integration continues, we are more innovative than ever before and learn from each other every day.
Samsung is a large company that invests heavily in R&D and it has a vast experience in audio and video. At the same time, HARMAN is one of the best when it comes to sound. How do you bundle it? What are some of the products we are already seeing where the two have worked together?
There is no fundamental difference in the way we approach and offer technology. If you think from a user's perspective, our experiences are completely digitalised. We have virtual assistants aiding our lifestyle and life's actions at home and on the go. Our focus is now to bring that type of elevated and connected experience inside the car in a safe and secure way.
One such joint effort by the teams at HARMAN and Samsung is the Digital Cockpit Platform, which we first showcased at CES 2018 and recently expanded for demonstration at CES 2019. It's predominately HARMAN's connected-car platform, intelligently integrating the car's information and services with Samsung OLED and QLED digital displays, Bixby voice agent, and Samsung Smart Things home automation integration.
We've done great work in combining the best in class professional audio and visual technologies, in launching the Samsung Onyx cinema LED screen. Onyx LED technology amplifies the cinema content with visually-advanced images and JBL's highly immersive surround sound completes the package.
HARMAN helped Samsung further solidify its leadership in audio by collaborating with Samsung's mobile division to add the power of AKG headphones with their smartphones and embedded audio in their new line of tablets and soundbars. We have also begun more collaborative distribution and selling models in growth markets.
Most of us spend more than 20 hours a week travelling in a car, during which we are on social networks and scrolling through videos. It's a tough situation. People cannot be deprived of gadgets, but, at the same, it's dangerous. What is a company like HARMAN doing to make those 20-odd hours of the week safe as well as entertaining?
Not too long ago, no one could have imagined a phone could replace a digital camera, and now our phones are more powerful than computers a few years back. The delivery of music to your ears has changed in so many ways. We understand the customer, and we recognise that the customer's experience is at the centre of all innovation.
There is a convergence of the two different industries that has been taking place as people refuse to be unconnected for even a short period of time. They demand a seamless blend of their digital life outside the car and, to bring that experience — in a safe and secure way — into the car. That has forced the industry to think of 'how do I connect my automotive world to the non-automotive world and keep my customer safe in both worlds, thwarting off both cyber criminals and accidents'.
HARMAN has a complete cloud-based ecosystem to support automotive services that we call Ignite, and we see this offering as a cornerstone to the future of automotive. Ignite offers a variety of enhanced services that allow automakers, dealers and suppliers to meet the rapidly evolving safety, convenience and infotainment demands of customers. It combines connectivity, analytics, device management and application management capabilities to bring valued-added services into the car without compromising safety and security.
The life of a mobile phone is roughly two years while that of a car is eight-nine years. What do you look for while developing any technology that will suit both? Also, how do you keep the system on a car relevant even when technology keeps evolving rapidly?
The automotive ecosystem is evolving fast. To keep up with this pace of advancement, OEMs will need to have large-scale and truly seamless integration, which will include the system hardware, memory and other applications such as artificial intelligence, 5G, telematics, Digital Cockpit and autonomous platform. Samsung is known for deploying several modules under Internet of Things (IoT), artificial intelligence (AI), and mixed reality on a range of consumer electronics products including home appliances, mobile phones and games.
In-car platforms like mobile phones will be expected to download software updates, to ensure optimal performance, features and security.
HARMAN's Remote Vehicle Updating Over-the-Air (OTA) solution enables full-vehicle software management, essentially making cars future-proof while also addressing critical system malfunctions and security threats, and eliminating potential risks from cyber security attacks. It is the only commercially deployed automotive OTA option in the market and is currently deployed by 21 global car manufacturers, reaching more than 35 million vehicles on the road.
As the world moves towards autonomous driving, there is immense opportunity as far as the car's cockpit goes. More electronics, more software. What's your vision of the car in the coming few years?
There's been a shift in the automotive atmosphere from, say MPG or RPM to what we call "EPM" — Experiences per Mile. At HARMAN, we're focused on designing more connected experiences to help make your life easier. We are currently focusing on an end-to-end approach by working towards the complete digitalisation of the car cockpit and ensuring an immersive digital user experience. We have a dedicated team working on this scalable and consolidated platform called the HARMAN Digital Cockpit. The idea is to create a richer, better-connected in-car experience by bringing together new technologies such as head-up display, 5G telematics, supercomputing and autonomous systems.
What kind of work has HARMAN put into the Samsung Galaxy Home smart speaker? And where do you see it vis-a-vis Alexa or Google Home?
We believe in a customer-first approach when it comes to experience and design, and a platform-agnostic approach when it comes to technology. While we are developing our own smart audio solutions with Bixby, we continue to work with other platforms like Amazon Alexa, Google Voice and Microsoft Cortana. For instance, we have the harman/kardon Invoke with Cortana, JBL Link speaker with Google Assistant and the harman/kardon Allure with Alexa.
One of the worst things about streaming is the loss of quality. How is HARMAN helping keep the sound quality high across divisions? Taking the question forward, how do you offer good quality sound in low-end cars that are geared towards youngsters?
If you download, stream or play music on a digital device, your music is digitally compressed. Compression can remove up to 90 per cent of the audio details originally recorded in your favourite songs. So you're left listening to a reduced version of the real thing. HARMAN's Clari-Fi music restoration technology brings music back to life. This software can analyse music files in real time, rebuild lost details, and restore the high-fidelity to compressed music files. Our customers include many device makers and automakers. OEMs understand the opportunity to win consumers through experience. Almost every automaker now works with HARMAN for in-car entertainment and/or audio systems. The in-car experience we provide is second to none.
Your company has won multiple Grammy awards. Looking at the bigger picture, how important is it for a company like HARMAN to forge partnerships with shows such as the Grammys and American Idol?
Yes, HARMAN has been flaunting the exuberant light and sound solutions during the Grammys and pre-Grammy gala nights. It doesn't stop there. Not only does our audio and lighting technology power these star-studded music and award nights, our professional brands have also been winners of these prestigious awards for their contribution to artists in the studio and on screen. HARMAN's JBL, AKG and Lexicon brands have all received the technical Grammy award, and JBL engineers received an Academy Award.
Let's talk a bit about your childhood in India. What are some of the most memorable moments that shaped you as a person? How strong is your connection with your hometown of Agra?
I have really fond childhood memories of India and I do visit quite often, both for official and personal engagements. I have many friends and family across India, and my wife and I visit them as frequently as possible. I'm originally from Rajasthan, but we do visit both Agra and Rajasthan.
Having stayed in the US for decades, what do you miss most about India?
The energy! India is home, and always will be. But it also happens to be one of the most exciting markets for HARMAN in the world. We drive a lot of our innovation out of here, and we have seen significant growth in the market. India is home to our largest workforce — more than 9,000 employees in eight different cities are doing some pioneering technology innovation here.
You have worked with the late Sidney Harman for a few years. Any business lesson you learnt from him?
Pioneers like Sidney Harman are in a league of their own. They aspire to take the human race forward, and inspire and influence by action and passion to build something beautiful. The HARMAN brand has certainly benefited from his leadership, as have I. People say great leaders leave behind a legacy, I believe great leaders are those that leave behind organisations that continue to thrive even beyond them.
Finally, your friend Indra Nooyi is another very forward-looking business leader. When bright minds like the two of you sit down for a cup of tea, what do you discuss?
Indra is a very close friend and we also worked together at ABB. A true Indian at heart, she is what we can call a 'global business leader' and she did a marvellous job in transforming PepsiCo. We talk about a lot of things from business, to global markets and, yes, India, and there can never be a boring moment just catching up on old times.