Apple's self service repair scheme is a welcome move
This is a very interesting development for a company that's known to stay away from things getting repaired in stores outside its own network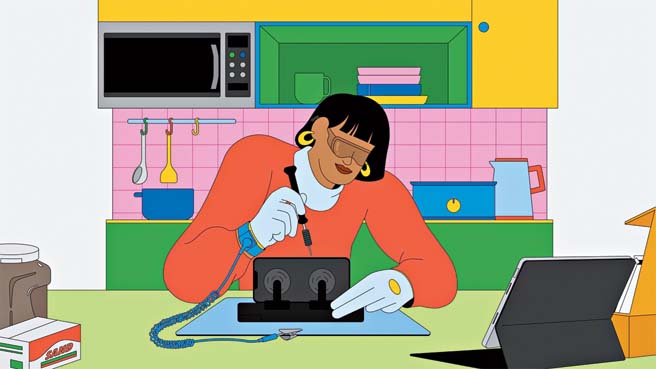 Apple's Self Service Repair will be available early next year in the US and expand to additional countries throughout 2022.
Picture: Apple
---
Published 20.11.21, 12:06 AM
|
---
Unexpected. That's the word that springs to mind when Apple announced Self Service Repair as part of which, individual customers will have access to parts, tools and manuals (starting with iPhone 12 and iPhone 13). This is a very interesting development for a company that's known to stay away from things getting repaired in stores outside its own network.
What's coming our way begins with customers in the US early next year and expand to additional markets throughout 2022. Besides iPhones from this year and last year, the company will soon allow Mac computers featuring M1 chips to be a part of this programme. Customers join more than 5,000 Apple Authorised Service Providers and 2,800 Independent Repair Providers who have access to these parts, tools, and manuals. At first, the programme will focus on modules that are commonly serviced, like the iPhone display, battery, and camera. More will come along the way.
According to Jeff Williams, Apple's chief operating officer, it is about "creating greater access to Apple genuine parts" and giving "customers even more choice if a repair is needed". This is an all-new self-repair service, which means if you are happy fixing your own kit and if you know repair tools well, Apple will ship you the parts, the tools and manual, and you will be able to complete your own repair. It sounds like a major move because Apple is known to keep every manual a secret.
All this means, you need to know gadgets inside out and feel comfortable with the process. Apple's amazing logistics should ensure you receive parts on time. That's not all, once you are done with the repair you can send back the old broken part to Apple and get a credit on the order. It will help Apple recycle everything.
The caveats. It's begins in the US and then expands to other geographies. Everything starts with the iPhone 12 and iPhone 13 displays, batteries and camera modules. It's meant for those who are well versed with repairing gadgets. Be realistic: If you think this is not your cup of tea, please visit the service centre.
According to TechCrunch, performing these tasks at home won't void the device's warranty, though you might if you manage to further damage the product in the process of repairing it. So, pay close attention to the manuals. The news comes at a time when right-to-repair advocates are pushing for legislation. This year, 27 US states have considered right to repair bills, and the first national right to repair bill was introduced to Congress in June. None have passed into law but the message is clear. And in July, US President Joe Biden signed an executive order encouraging Federal Trade Commission to come up with new regulations that would limit the ability of cell phone makers to restrict DIY repair. According to The Verge, the Apple programme "has been in development for well over a year".
It remains to be seen to what extent such repairs would be done at home. As smartphone tech becomes more complicated, devices are becoming increasingly more difficult to repair at home. It's no longer about just swappable batteries. But that's the reason why products like Fairphone have become popular, which allows a high level of repairability.
The popular how-to website iFixit has tweeted: "We never thought we'd see the day: Apple will offer parts, tools, and software to DIY fixers starting next year. There are some catches, but we're thrilled to see Apple admit what we've always known: Everyone's enough of a genius to fix an iPhone."
Earlier this year, Apple co-founder Steve Wozniak, who built the first Apple computers in a garage with Steve Jobs in the 1970s, spoke in favour of the right-to-repair movement. "We wouldn't have had an Apple had I not grown up in a very open technology world," he said.