What won't Netanyahu say to win?
His pledge to annex much of the West Bank reflects his panic that he might lose the office he has held for a decade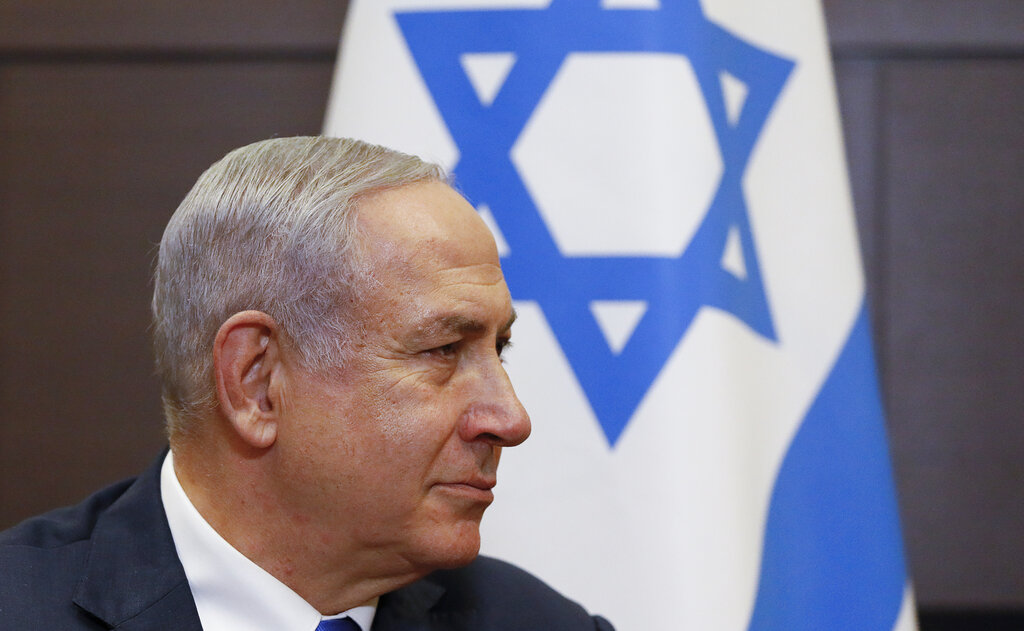 ---
Published 13.09.19, 11:28 AM
|
---
Benjamin Netanyahu's pledge to annex much of the West Bank if he remains Israel's prime minister after next week's election has nothing to do with "secure, permanent borders" or his purportedly special relationship with President Donald Trump. It's about Netanyahu's panic that he might lose the office he has held for a decade, and it amounts to exploitation of a critical issue for political and personal gain.

On Tuesday, Israeli voters return for a second round of voting in six months, and Netanyahu's arithmetic indicates he needs far-right votes to survive in office and stave off an impending corruption indictment. So he is doing what he did before the first round in April: portraying himself as the one man who has the connections to the Trump White House to get away with annexing occupied territories to Israel. His platform also includes the familiar assaults on the news media, the judiciary, the police, Israel's Arab minority and political opponents.
A gigantic election poster of Netanyahu shaking hands with Trump, and another with President Vladimir Putin of Russia, were supposed to underscore the message that the prime minister alone has real clout in superpower capitals. Two weeks before the April vote, Trump obliged by signing — with Netanyahu at his side — a presidential proclamation recognizing Israeli sovereignty over the Golan Heights, which Israel captured from Syria in the Arab-Israeli War of 1967. The rest of the world, and the United Nations, still regard the Golan Heights as Syrian land.
Trump's support was not enough to give Netanyahu a clear victory. His Likud party won 35 seats in Parliament, the same number as the Blue and White Party of Benny Gantz, a centrist former army chief of staff, and well short of the 61 needed for a majority. The Israeli president, Reuven Rivlin, tapped Netanyahu to try to cobble together a coalition government, and when Netanyahu failed, he forced new elections.
The trouble for Netanyahu is that the polling figures look no better this time around. Should Gantz emerge as prime minister, Netanyahu would not be able to use Parliament to try to block a threatened indictment. Attorney General Avichai Mandelblit — a Netanyahu appointee — has scheduled a hearing on whether to charge him with three counts of fraud and breach of trust and one of bribery for Oct. 2 and 3.
Netanyahu has also failed so far in this round to get Trump's blessing. The White House response to his pledge to annex the Jordan Valley, nearly a third of the West Bank, was that there is "no change in United States policy at this time," possibly because Trump and his son-in-law, Jared Kushner, plan to reveal their long-promised Middle East peace plan soon after the Israeli election.
Netanyahu, moreover, has lost a strong ally in John Bolton, the national security adviser pushed out this week, and Trump's evident willingness to meet with Iran's president, Hassan Rouhani, puts him at odds with Netanyahu's unrelenting hostility toward Tehran. Netanyahu's hope to get a boost from his meeting with Putin on Thursday was also blunted when Russia reacted frostily to his plan to annex the Jordan Valley, warning that this would "sharply escalate tensions in the region."
That it would, and for no good reason. The Israeli military establishment, Israeli public opinion and Netanyahu's challenger in the election, Gantz, a retired three-star general, have long held that Israel must retain military control of the Jordan Valley for some period after a peace treaty is signed, effectively maintaining a buffer between the Palestinians and Arab lands to the east. The valley, currently home to about 65,000 Palestinians and 11,000 Jewish settlers, remained under Israeli military control under the Oslo peace accords signed in 1993.
But outright annexation would be a blatant violation of international norms and an affront to the Palestinians that would snuff what glimmer of possibility remains for a negotiated two-state solution to the Israeli-Palestinian conflict.
Alas, none of that figures in Netanyahu's calculation. His sole focus is getting a few more votes Tuesday. His desperation is showing.