Weak links
High population density and domestic migration make India one of the world's hotspots for emerging infectious diseases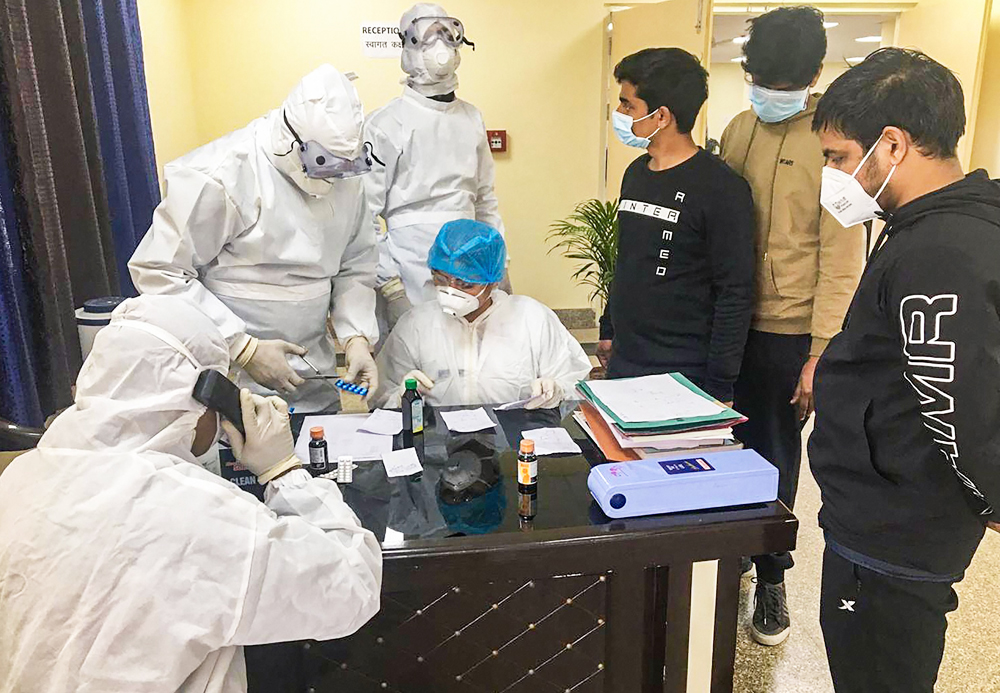 In this handout photo provided by Indo-Tibetan Border Police (ITBP), Indian nationals who were airlifted from coronavirus-hit Wuhan city of China's Hubei province, undergo tests inside a quarantine facility set by up ITBP, at Chhawla area of New Delhi, Monday, February 3, 2020.
(PTI)
---
Published 04.02.20, 02:07 AM
|
---
An emergency is no time for experimentation. The coronavirus — the World Health Organization has declared it to be a public health emergency — has killed more than 350 people in China's Wuhan district, where it originated, and infected over 14,380 people globally. Modern medicine has no cure for it yet; neither is a candidate drug at any stage of clinical trial. This makes it imperative for health authorities to issue the right kind of advisories. However, the circular issued by the ministry of ayurveda, yoga and naturopathy, unani, siddha and homoeopathy, prescribing alternative medicines for symptomatic management of the infection without saying anything about the symptoms themselves, is likely to do more harm than good. Not only have the alternative medicines mentioned in the release not been validated clinically — they require testing on people infected with the virus — but the Ayush ministry is also encouraging people to self-medicate. This is risky irrespective of the ailment. The circular also goes against the health ministry's good practice of isolating suspected cases to prevent the spread of the virus and providing patients with symptomatic treatment if found infected. The two ministries cannot work at cross purposes if lives are to be saved.
What is worse, the Ayush advisory may lull people into a sense of complacence where they do not report their symptoms. This is dangerous. In fact, reports show that China's efforts to keep the first signs of an outbreak a secret — just as it had done with SARS in the past — and WHO's willingness to believe Beijing's false reassurance have been instrumental in transforming the coronavirus into a pandemic. In 2018, India had risen to meet the challenge of the Nipah virus in Kerala, showing alertness and coordination between local, state and national authorities. But the Nipah virus surfaced in a state with a good clinical system and was contained by a well-prepared government. In 2001, in Siliguri, the same virus had killed 45 people within weeks of the outbreak, 30 of them health workers or casual visitors to the hospitals. The Siliguri example goes to show that rickety healthcare infrastructure cannot be expected to deal with such contagions effectively. Of course, the allocation of a meagre 1.6 per cent of the gross domestic product to health in this year's budget is unlikely to modernize India's healthcare institutions. High population density and domestic migration make India one of the world's hotspots for emerging infectious diseases. New Delhi should view the coronavirus outbreak as an opportunity to test its epidemic preparedness for future threats.