Sir — The decision of the prime minister of the United Kingdom, Boris Johnson, to prorogue Parliament for about five weeks amid the ongoing political turmoil reveals the uncertainties regarding Brexit ("Boris asks Queen to 'prorogue' House", Aug 29). Unsurprisingly, in recent weeks, the general public has taken to the streets to indicate displeasure at the prime minister's proposed no-deal Brexit. Several members of parliament, including Conservatives, have indicated their opposition to the plan.
However, I feel that Johnson is the only leader capable of leading the UK through the present upheaval. People must have greater faith in their leader and his policies. This will serve them well in the long run.
Rajyavishek Pradhan,
Siliguri
Sir — The no-deal Brexit proposal has encountered plenty of obstacles and challenges. As expected, the prime minister is finding it increasingly difficult to deal with the political situation in the UK. Part of the problem is the present political vacuum in the country. As such, the only way forward is through cooperation. Johnson must seek advice from veteran political figures who can guide him through the crisis.
P. Senthil Saravana Durai,
Mumbai
Sir — The democratic process in the UK seems to be in danger. Not only have Conservative MPs been warned to toe the government's line on Brexit, but Boris Johnson has also prorogued Parliament to ensure that a no-deal Brexit encounters minimal opposition. He has set a dangerous precedent by sacking 21 rebel MPs from primary membership of the Conservative Party.
Is such an elimination of the scope for dissent not indicative of the rise of extreme right-wing politics in the UK under the leadership of Johnson? Britain seems to be following the global trend wherein countries are being helmed by right-wing leaders who refuse to brook critique or dissent.
Jang Bahadur Singh,
Jamshedpur
Precious lesson
Sir — In a unique and much appreciated gesture, teachers and senior students at Visva-Bharati's Sangeet Bhavana greeted incoming students by gifting them saplings as part of the freshers' welcome. The students were asked to plant the 300 or so saplings — mostly mango, jackfruit and debdaru — on campus and around hostels. This comes at a time when the world is helplessly watching the Amazon basin, home to innumerable species of flora and fauna, burn. It is crucial that the importance of protecting the environment is inculcated in young people, and the best way to do this is through hands-on experience.
Shouvik Chakraborty,
New Delhi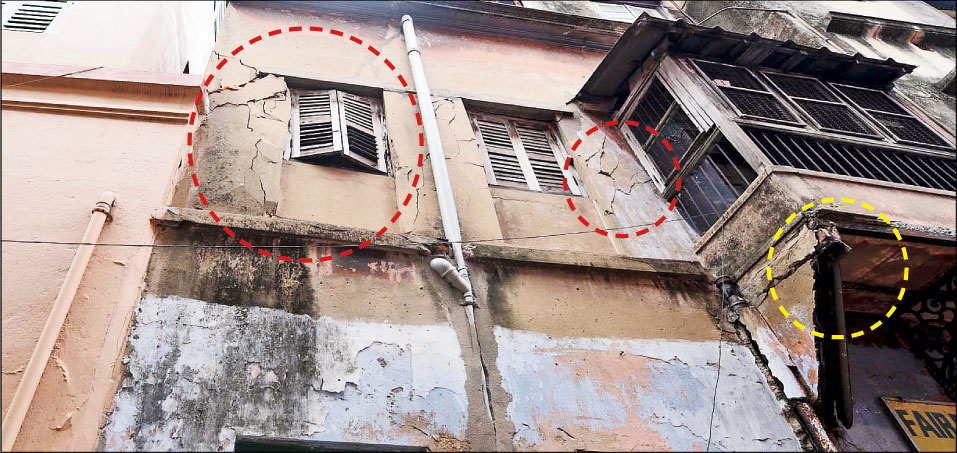 Cracks on a house (circled in red) in Bowbazar that developed while East-West Metro's tunnel-boring work was on. Residents said a portion of a shade (circled in yellow) collapsed. Picture by Gautam Bose
Lost treasures
Sir — Last week, 250 people had to be evacuated overnight from their homes in Bowbazar when parts of some buildings collapsed and several others developed cracks as a result of the East-West Metro's tunnel-boring work. Since then, more than 600 people have been evacuated and 64 buildings been identified as uninhabitable.
While development, particularly of public infrastructure, is essential, it must not take place at the cost of a city's architectural heritage. Some of the affected buildings are over one hundred years old and display an eclectic syncretism of Victorian and Bengali architecture. Damage to these buildings is an attack on Calcutta's multi-cultural identity and the authorities must do their best to preserve the fast-depleting heritage of our city.
Sourav Chunder,
Calcutta
Sir — The decision of the chief minister, Mamata Banerjee, to provide Rs 5 lakh as compensation to each family whose house has been affected by the metro expansion work is welcome ("CM call for Metro damages", Sept 4). However, it is unclear whether the incident was accidental or a result of the failure to assess and anticipate the likelihood of the damage. Had the families been notified earlier about the possibility of such an accident, they might have been able to move their valuables ahead of time.
Ajay Kumar Deb Biswas,
Calcutta
Mob mentality
Sir — Deben Dutta, a 73-year-old retired physician, was beaten to death by an angry mob at the Teok tea estate hospital after the demise of a tea estate worker led to accusations of medical negligence against the hospital. This is yet another instance of mob brutality that India has borne witness to in recent years.
Earlier this year, an attack on two junior doctors at a government medical college had led to massive unrest across the country. Frenzied attacks on doctors have become increasingly common. People should remember that most doctors in India work under less-than-ideal conditions and do their best to serve patients.
Banisree Saha,
Calcutta
Sir — The gruesome killing of a doctor in Assam must be condemned and the miscreants swiftly brought to justice. It is time we stand beside the medical fraternity of our country and ensure the safe working conditions that they deserve.
P. Mukherjee,
Calcutta